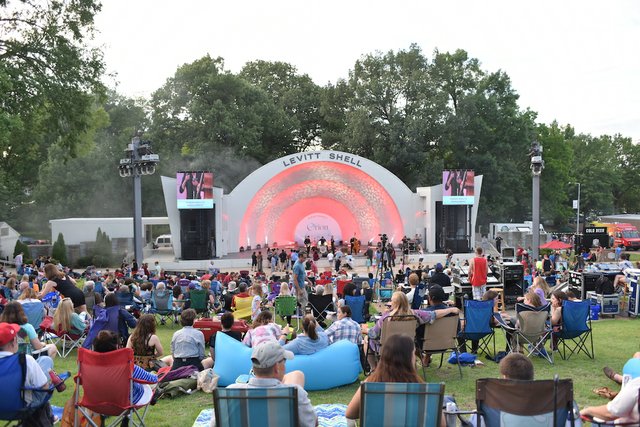 Thumbnail: Levitt Shell weathers the brutal financial storm caused by Covid-19 and prepares for a city without concerts and festivals this year while looking ahead to better days.
**
Natalie Wilson saw it coming early on.
Because of it, the staff and board at Levitt Shell made the difficult decision in late February and early March to adjust to the devastating impact of Covid-19.
It was painful: 40 concerts canceled and 78% of the revenues lost.
In addition, it blew up what was to be the turnaround year for Levitt Shell.  After years of being budgetarily fragile, it established a stronger financial foundation in 2019, and was prepared for great things this year as it executed its new plan of action.
Instead, the Levitt Shell team is now "weighing options when everything is in flux," said Ms. Wilson, executive director.  "The new normal is here for awhile, and as an organization, we have think about how to survive and to pivot really fast.  We're in survival mode like most nonprofit organizations, which are so important to the humanity of our community."
Balanced Priorities
Despite coping with the loss of $1 million in revenues, she is not rushing headlong to create concerts as quickly as she can, preferring instead to be cautious until there is a vaccine for the coronavirus.  "We're going to be slower than others," said Ms. Wilson, who is intent on balancing the Levitt Shell's bottom line need for concerts with a conscientious commitment to community health.
"Everyone is expecting a return to music in Phase 3, but under the city guidelines, Phase 3 requires social distancing and PPE guidelines (face masks).  The question isn't just can we do it, but should we do it?  If we don't do it well, it has impact at a reputational level but also it has to be an ethical response."
Within Phase 3, concerts and festivals will not be possible, and even music on the lawn at Levitt Shell is not viable because of the cost-benefit equation.  At this point, her educated guess – understanding that so many of the factors are completely outside her control – is that Levitt Shell will not hold events until a vaccine is developed, because that will be the point that Memphis moves beyond Phase 3.
"We want to bring back music and that's why we've entered the virtual world with our Orion Virtual Concerts," she said.
Making Lemonade
The Orion Virtual Concert Series is streamed every Friday at 7:30 p.m.  Its schedule and bands are:
May 29  – Snowglobe, recorded September 24, 2016.
June 5 – Bodeans, recorded June 9, 2019.
June 12 – Marcia Ball, recorded June 11, 2017
June 19 – Red Baraat, recorded October 10, 2019.
June 26 – Harlan T. Bobo, recorded June 17, 2018
It's been said that people are at their best when things are at their worst, and that adage applies to the team at Levitt Shell.  In dealing with the new realities brought on by the pandemic, Ms. Wilson said: "The staff culture is incredibly vibrant, the board has never been stronger, and our communications is intentional and thinking outside the box."
The good news is that no employees have been laid off and all subcontractors have been paid, which was a priority for the Shell with so many of them working in the music business and with all other income drying up.
With Covid-19 bringing concerts to a temporary hiatus, the Levitt Shell team is focused on the kinds of priorities for which there is often no time.  They have turned attention to long-term planning, to financial planning, a health and safety plan to submit to city government, and raising money for renovation.
Ways To Help
And with the well-conceived financial plan for 2020 a victim of the coronavirus, attention turns again to sustainability.  Levitt Shell is donor-driven, and chief among its needs is $4 million for to pay for deferred maintenance, a new roof, and a stage and its improved underpinning.  Donations can be made here.  Other options for support are the purchase of bricks or to join as a member.
In a tip of the hat to tradition, there is also the virtual bucket for donations.
In its first iteration, Levitt Shell was called the Memphis Open Area Theater (MOAT) when it opened in 1936.  Light opera, orchestra performances, and musicals were performed, and after one performance, a bucket was passed in the audience for contributions.  It has continued until this day and without any performances, it is taking a virtual form.
For Ms. Wilson, named executive director in December, 2018, it's been an unexpected 18-month journey.  "I was a fan and I knew what we have with the Shell is so special," she said.  "Transparency is healthy, and we say that the Shell needs your support.  Its story is important and so is its high-quality, professional entertainment."
As Levitt Shell prepares to celebrate its 85th anniversary next year, it's never been a better time for the community to step forward to celebrate its continued contributions to our community's quality of life.  It's hard to think of Memphis without it.
**
Join us at the Smart City Memphis Facebook page for daily articles, reports, and commentaries that are relevant to Memphis