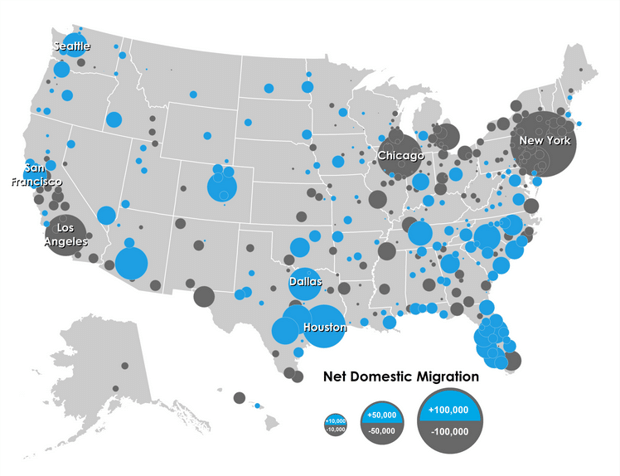 By Jimmie Covington, The Best Times
The nine-county Memphis area ranks sixth among the country's large metro areas in loss of residents to movement elsewhere in the country, according to an analysis of census estimates by a financial news and opinion firm.
During 2010-2017, about 30,000 more people moved away from the Memphis area than moved in, the analysis by New York City-based 24/7 Wall Street says.
The Chicago area had by far the greatest loss at 296,350.
Los Angeles ranked second at 93,959 followed by Detroit, 54,640; St. Louis, 39,894, and Cleveland, 33,117. Ranking behind Memphis in seventh place was Milwaukee with a 27,959 loss to migration.
The numbers for Memphis used by the analysis firm show an estimated increase in population during 2010-2017 of 23,533 (1,324,827 to 1,348,260). The natural growth of resident births exceeding deaths for that period was 54,388.
Those figures would have meant a migration loss of 30,855.
A local breakdown of the Census Bureau estimates reflects that most of the loss to outward migration results from people moving away from the city of Memphis.
However, estimates for the eight suburban counties show that only two—DeSoto County, Mississippi, and Fayette County, Tennessee — have more people moving in than moving away.
And the numbers of people moving into those counties fall far short of the numbers leaving Memphis.
The other counties in the area are Tipton County, Tennessee, Crittenden County, Arkansas, and Marshall, Benton, Tunica and Tate in Mississippi.
Numbers from the federal decennial 2020 Census count, which will be taken next spring, will allow Census Bureau personnel and demographers to determine the accuracy of the census estimates over the decade.
In his recent successful re-election campaign, Memphis Mayor Jim Strickland cited the large amount of business investment in the city in recent years.
Over the decades, major business investments and the construction of major new facilities have failed to reverse the large movement of residents out of Memphis.
In contrast to the Memphis area, the fast-growing 14-county Nashville metro area has a lot more people moving in than moving away.
The Census Bureau estimates show the area grew from 1,690, 883 to 1,903,045 during 2010 to 2017, an increase of 232,162. The natural increase of births over deaths was 71,409 which means that 160,753 came from more residents moving in than leaving.
This post is written by Jimmie Covington, veteran Memphis reporter with lengthy experience covering governmental, school, and demographic issues. He is a contributing writer with The Best Times, a monthly news magazine for active people 50 and older, where this article is published in its current issue.  
***
Join us at the Smart City Memphis Facebook page for daily articles, reports, and commentaries relevant to Memphis and the conversations that begin here.