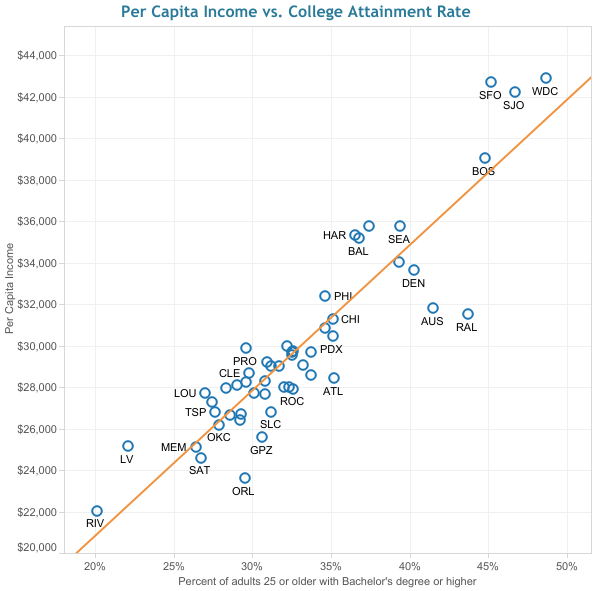 It is a favorite political talking point: what makes our community special are its people.
And yet, often, when this is said, the special people who have the greatest opportunity to improve the trajectory of Memphis and Shelby County are not being referred to: children and youth and adults who attended college but did not get a degree.
In fact, they are often cast as problems rather than the opportunities they are.  And yet, they can define our community's future more than any others.
After all, together, these two groups of people amount to 44% of Shelby County's population – 414,525 people.
We need to see them through the talent lens, because, and at its essence, that is what our schools and colleges are – talent developers.
Cause and Effect
In considering the importance of children under 17 years of age and adults who attended college but didn't get degrees, it is one of those times when common sense and research converge.
It only makes sense that anytime almost half of our people in Shelby County have potential that can be tapped to drive an economy, they should be a priority.
Then too, we've should already know this.  After all, we've been told for at least a decade how our economic success, like all other cities, will be determined by how talented our workers are.  Back then, Portland economist and urban analyst Joe Cortright said at Leadership Memphis' annual meeting that the competition between cities for talent would intensify and more and more college educated workers would drive communities' economies.
A few years ago, Mr. Cortright returned to speak to New Memphis Institute along with Carol Coletta, vice-president of community and national initiatives for the $2.3 billion Knight Foundation.  They had pioneered research about the importance of talent with an emphasis on the its relationship to cities' success.
Ultimately, they determined that about 60% of a city's economic success stems from its percentage of college-educated workers. If we needed a reminder about the importance of an educated workforce, we got it a few weeks ago when Brookings Institution issued a report on today's "talent-driven economic development."  The Brookings graph above shows the connection between educational attainment and incomes and the Memphis MSA's low ranking when compared to the 50 largest regions.
On The Wrong End Of The List
Just as Mr. Cortright and Ms. Coletta had demonstrated in their reports, our community was moved in the wrong direction – downward – in key economic indicators when compared to the 50 largest MSAs, and much of it is tied directly to talent.
While there have been some big "wins" in economic development, they have been few and far between and for each of them, city and county governments would forego tens of millions of taxes.
To get an idea of how excessive they are, children who were graduating from high school when the largest tax breaks were approved will be eligible for AARP before these companies ever pay taxes – if they do then, because unless EDGE policies are reformed, they can continue to grant tax holidays for the serial tax avoiders.
More often, however, EDGE tax breaks have gone to companies that do nothing to create the workforce of tomorrow – or even one that is competitive with other cities today.
Getting Better Jobs Is Key
It has been said that many tax breaks show a distinct lack of respect in the ability of Memphis and Shelby County workers to handle more than just low-wage, low-skill jobs.
In response to a recent blog post here, University of Memphis economics professor emeritus David Ciscel made a comment that suggested the same:
"While workforce development is fine, and education/training is even better, the workforce development model has the issue backwards. The labor force gets better when the jobs get better. Workers will rise to the occasion.
"While there are exceptions to the rule, we tend to develop new jobs that do not demand, technical training or university/college educations. I know that new employers want a ready-built workforce. That is why most new good jobs go to the places where there are already a lot of goods jobs — so the new employer can hire trained workers from the old employers.
"But if a large employer — in manufacturing, transportation or service — arrived in Memphis tomorrow, the workforce would quickly improve and deliver high quality laborers in the next 6 months to a year."
Low Salaries Inhibit Investments Into Innovation
But the problem isn't just low wages and tax break rewards to companies that do not require technical training or college education.  It's that these kinds of jobs are drags on our economic growth in another key way.
Dr. Ciscel explains: "Low wages do not inspire new capital investment. Business finds that using old technology is sufficient to make a good return – in the present. But without development, the future is very uncertain.
"Looking across all occupations (Occupational Employment Survey for 2016), Memphis has a mean salary of $42,940. That average salary is 78% of the mean salary in Minneapolis and 80% of the mean salary in Chicago. Closer to home, it is 85% of Atlanta and 94% of Nashville.
"Usually, this would be represented as good news: you can move your business to Memphis, pay lower wages, and be more profitable. But the opposite may be true. The lower salaries here – with a tradition of very low salaries for African American workers – will have the impact of thwarting economic development.  The low salaries result in business sluggishness; the lack of need to innovate and invest to make a profit.
"Traditionally, we tend to believe that high wages drive businesses to relocate – to Latin America or Asia, as many of our manufacturing concerns seemed to have done during the 1970s and 1980s.  But could it be our fate that Memphis salaries are just too low to inspire innovation and development in the local economy?"
A Competitive Advantage
So, back to where we began: the trigger to the transformation that we need is the presence of a college-educated workforce, but to get there requires an equally dramatic transformation of our thinking about talent.
It has been documented that a handful of cities are soaking up most of the talent in the U.S., particularly college-educated millennials.
Memphis is not one of them.  That's the bad news.  The good news is that while others are competing for these workers, they are sitting in our classrooms today.
As we said, those in schools in Memphis are too often labeled as problems rather than the raw talent that we need to compete for better jobs tomorrow.
This is a distinctly Memphis advantage because of the bulge of our population is that is under 18 when compared to some of our rival cities.  For example, while the population within the city limits of Memphis is substantially the same as the population within the city limits of Nashville, Memphis has more than 17,500 more children and youth.
For example, in Memphis, 25% of the population is younger than 18.  In Nashville, Austin, Baltimore, and St. Louis, it is 22%.
Fundamental Momentum
In other words, if Memphis can find the paths that move youths from secondary school classrooms to university graduation lines, it will have taken a major step toward the workforce that allows our community to compete with our rivals for the best jobs – and win.
But there is another reservoir of talent to be mined as well.  Shelby County has a large number of its population who have attended college but never graduated – today, that's 181,520 people.  That's more than 13,000 than there were in the 2010 census.
Just think of the ripples throughout our economy if we could get only one-fourth of them back to complete college.
The impact would result in the kind of structural momentum that would move our community up the grid at the top of this blog.  It suggests the kind of progress that Memphis and Shelby County could unleash for its long-term and sustained growth.
***
Join us at the Smart City Memphis Facebook page for daily articles, reports, and commentaries relevant to Memphis and the conversations that begin here.