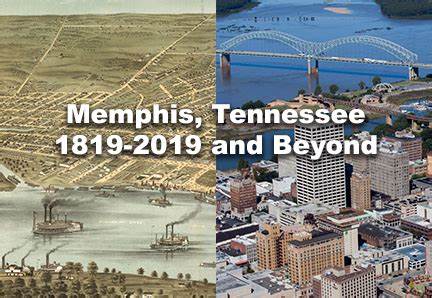 The Memphis Bicentennial has one of those marketing hooks – A New Century of Soul – that is more suggestive than precise, more open to interpretation than setting a clear context for understanding the city, and more about a tagline than a specific aspiration for the future.
That was likely done on purpose so that as many people as possible can project themselves into the slogan rather than have it offer a message that requires a clear reaction from each of us.
It's why some people have criticized it for seeming to lean on the city's African American legacy without clearly advancing an understanding of the debt that Memphis' history owes to people of color.
Hopefully, among the bicentennial celebrations, there will be an effort to illuminate as must as celebrate and as much about examination of where we need to go as recitations about where we've been.  It that happens, A New Century of Soul should be centered on what Memphis' third century for its African American majority.
The Mandate
For three-fourths of the 200 year history of Memphis, it has been a history about African Americans being marginalized, exploited, and victimized by slavery, the failed promise of Reconstruction, the  Memphis riots of 1866, more than three dozen lynchings, Jim Crow laws, separate but equal justifications,  neighborhoods allowed to deteriorate, manipulation by a political boss, laws and regulations that prevented wealth creation, erection of Confederate statues, income inequity,  an economy built on low-wage jobs, and workforce training rarely aimed at the jobs of the future.
If there was a time when the dynamic shattered and shifted, it was in 1968 with the sanitation strike and the murder of Dr. Martin Luther Jr.  Rather than acquiesce to the status quo established over 150 years, African Americans called for changes and backed them by greater political power and influence over public policy.
Unsurprisingly, the willingness of African Americans to speak truth to power and tell it like it is was categorized as "Memphis' race problem" when it was actually nothing more than people whose voices had been long ignored taking their places as full participants in their own city's future.
All that is context and ultimately suggests the mandate for the bicentennial.
Institutionalized Exploitation
In the midst of the present focus on 200 years of history, it's worth remembering that a large segment of our population won't necessarily see two centuries of triumph and progress because African Americans were routinely excluded from it.
That's why when we interpret the bicentennial tagline of "A New Century of Soul," it is through the lens of the lessons from the past 200 years and how it informs what the next century should be for Memphis' majority minority population.
It's been accurately said that Memphis is in large measure an African American city, and it is inarguable that the city's character has been defined by African American culture, music, cuisine, and labor.  In fact, 130 years ago, the forerunner of the Memphis Chamber of Commerce acknowledged the exploitation on which the economy was built when it said "our advantage is the Negro."
That exploitation today is institutionalized in Tennessee in one of the U.S.'s most regressive tax systems, which means that the more a family earns, the smaller percentage it pays in taxes.  It's as if a fair and equitable tax system were turned inside out to benefit the wealthy and punish low-income families.
For example, the tax burden in Tennessee for a family of four earning $25,000 is 12.3%; for a family earning $50,000, it is 6.1%; for a family earning $75,000, it is 5.5%; for a family earning $100,000, it is 5.3%; and for a family earning $150,000, it is 4.8%.
Cavalier Attitudes About Poverty
All of this is compounded by the fact that Memphians generally earn less than workers in similar jobs in other cities, as University of Memphis economist emeritus David Ciscel posted last week.  That is particularly true in the transportation, logistics, and distribution sector where Memphis has a disproportionate percentage of its workers.  Memphis has twice the proportion of workers in this industry as comparable cities but they earn about $1.50 an hour less.
All of this takes place as Memphis doles out more tax incentives than any city we can find in a wealth transfer that is staggering in its impact on reduced funding for government services, shifting the tax burden even more to poor families and small businesses, and removing discretionary income from the local economy.
Meanwhile, $15 an hour is treated as if it's a living wage when it is only a living wage if you are a single person with no children, and yet, approving $15 is treated by many as an act of largesse.  That is, unless it's the county board of commissioners, where the Republican members refused to use their bully pulpit to urge public agencies to at least pay $15 an hour.  Commissioner Brandon Morrison was even quoted as saying she abstained from voting for the non-binding resolution because she doesn't believe a higher minimum wage will reduce poverty.
It's a cavalier attitude that African Americans have grown accustomed to from people born on third base who complain when poor people have a chance to get to first.  Of course, research – and common sense – is merely logical: more money does in fact reduce poverty.
It's hard to believe that we're still having to say this in 2019, because as usual, such comments are cloaked with a disregard for poor people and an impact that disproportionately falls on African Americans.
Making the Most of the Bicentennial
The Memphis system, with the undertow of institutional racism, is designed to create low incomes, concentrated poverty, and deep economic inequality.  It speaks to one of the most uncomfortable facts of life in Memphis: where someone is born largely sets out their options for the futures.
More to the point, a child born into the lower fifth of Memphis families in income has the lowest odds in the continental U.S. of reaching the top fifth.
We could go on, but you get the picture.  What is all means is that the bicentennial is not just a time for celebration, it is a time for illumination by leveraging the celebration to have the most important discussion Memphis can have: how to become a city known as a center of African American talent where closing the racial income gap is built into every program, activity, or plan.
When concentrated poverty is amplified by challenges like economic segregation, sprawl, and a languishing economy, there is no city in America with greater motivation than Memphis to create a culture of opportunity for every citizen.
Improving The Trajectory
There is an abundance of rhetoric about Memphis' history and what its third century will hold and while the occasion naturally lends itself to cheerleading and sanguine commentaries, what Memphis becomes in its third century hinges on disrupting the city's present trajectory.  That can only happen by improving the trajectories of African American lives.
By 2050, the population of the entire Memphis region is projected to be 68 percent people of color, and because of it, Memphis' third century will be determined by the seriousness that is displayed now in attacking the structural issues that keep roughly a third of its citizens trapped in poverty.
That is not to say that there are not valuable conversations under way now in Memphis, but they generally take place with the already converted.  If the bicentennial can accomplish something that really matters for the next century, it is in making this the conversation for all of Memphis.
Until it is, the future is merely an extension of the present.
***
Join us at the Smart City Memphis Facebook page for daily articles, reports, and commentaries relevant to Memphis.