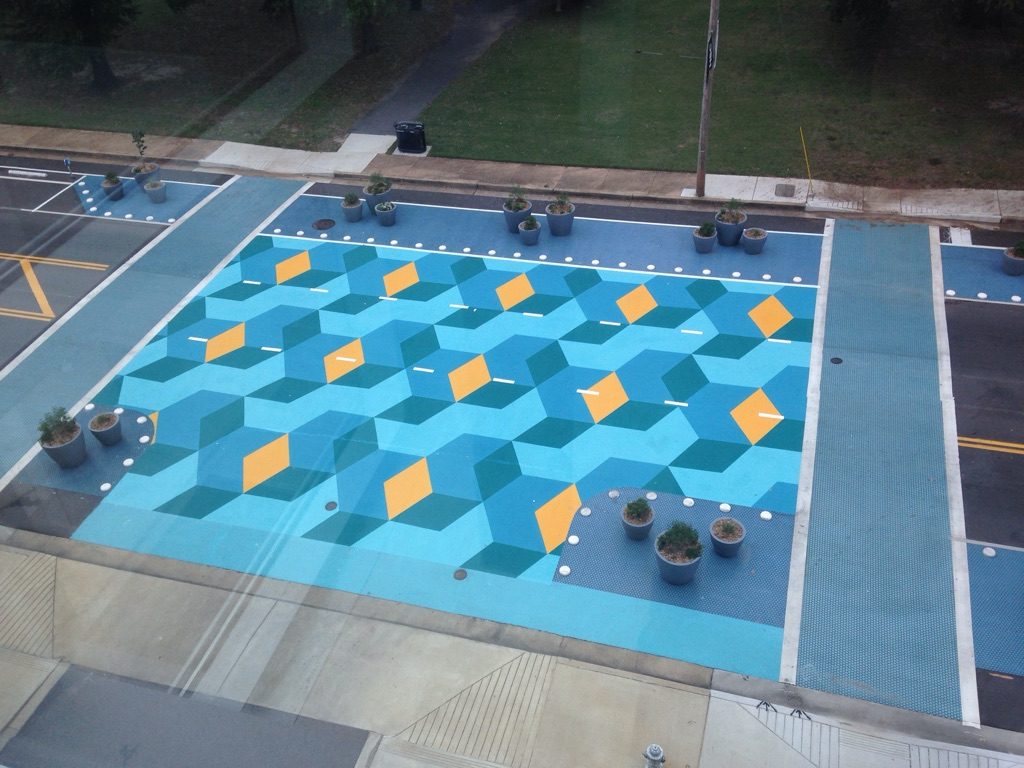 Manassas facelift calms traffic and beautifies the Street
Manassas Streetscape Celebration Event Details
Date & Time: Wednesday, December 5th, 7am-9am
Locations: Manassas at Washington, Manassas at Beale, Manassas at Health Sciences Park
The Memphis Medical District Collaborative (MMDC) hosts a celebration event on Wednesday, December 5th at several sites along Manassas Street to unveil its most recent streetscape enhancement project. MMDC staff and partners aim to receive feedback about the enhancements from the Medical District's residents, students, employees, and visitors. MMDC will provide free donuts and coffee, music, and giveaways.
Manassas Street is phase two of MMDC's streetscape enhancement projects implemented in partnership with the City of Memphis (the City). Following the resurfacing of Manassas from April to June 2018 by the City, MMDC added street design features to further improve the safety and aesthetics of this critical north to south connector.
"Our priority was to create a safer street for all users – pedestrians, cyclists and vehicles, and we're very proud of the results.  We hope that Manassas will serve as an example for street re-design projects throughout our City and help put Memphis on the map of cities making huge strides in creating great, safe streets," says MMDC's Quality Public Spaces manager Susannah Barton.
The City's resurfacing project reduced the roadway from five to three lanes to better accommodate traffic flow from Poplar to MLK Avenues and added dedicated bike lanes to connect existing and future bicycle routes in the city.
"Thanks to a shared vision and collaborative effort between City Engineering and the MMDC, Manassas Street now boasts some of the most attractive and safest facilities for walking and bicycling of any street in Memphis," says Nicholas Oyler, Bikeway & Pedestrian Program Manager for the City of Memphis. "What's more, come spring the bike lanes on Manassas will connect with new bike lanes scheduled for installation on Dr. Martin Luther King, Jr. Avenue –establishing a seamless connection by bike between Downtown, the Medical District, and Midtown."
Key Enhancement Features along Manassas
*  Pedestrian bump outs and crosswalks provide additional visual cues to drivers to reduce speeds and watch for pedestrians; reduce crossing time and distance for pedestrians
*  Concrete traffic domes further calm traffic and protect pedestrians
*  Bike lane protections including wheel stops and delineator posts keep cyclists safe
*  70 self-watering planters buffer and beautify
*   Dual flow waste and recycling receptacle
*  High visibility crosswalk
*  Artistic crosswalk designed by Cat Peña in partnership with Anthony Lee and Kaleob Elkins
Art at the Center
The focal point of the project is the artistic mid-block crosswalk located between Madison and Union Avenues, positioned between the University of Tennessee's Cancer Research Building to the west and Health Sciences Park to the east. Local artists Cat and Nick Peña designed the piece which covers nearly 2,600 square feet of roadway.
"This crosswalk is not only aesthetically pleasing but provides safe spaces for pedestrians, bikes, cars and an artistic feature in an unexpected place," says Cat. "Whether you walk through it to enter Health Sciences Park, drive over it, or see if from above, the dynamic, layered geometric pattern offers a different kind of experience in a public space we all too often take for granted."
Local artists Anthony Lee and Kaleob Elkins partnered with Cat Peña on installation.  The artistic installation is bordered by two crosswalks and aids in the traffic calming at this highly-used mid-block crossing.
For more information on the project and celebration event, please visit mdcollaborative.org
###
Jeff Hulett
901-859-9430