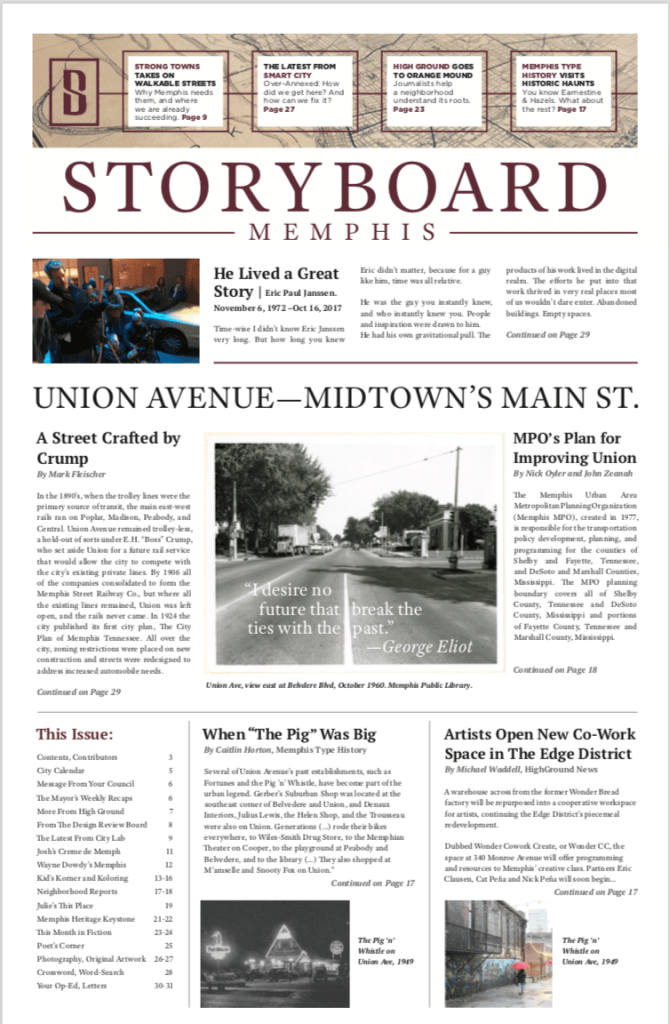 There's a lot of interest in the new digital media outlet being put together here – likely to be called dailymemphian.com and with photographer Jim Weber and reporter Clay Bailey now joining Geoff Calkins, Jennifer Biggs, and Chris Herrington there – and with a tentative launch date of September.
As for us, we are also deeply interested – and excited – by another new media outlet to be unveiled September 3: Mark Fleischer's StoryBoard monthly newspaper.
It's a print newspaper that will embody his tagline: "Stories. Ideas. For Memphis, By Memphis."  It will complement Mr. Fleischer's outstanding StoryBoard website that has become essential reading since he began it in March, 2016, a few months after he moved to the city with his wife, a native Memphian, after spending most of his life in California.
His passion for storytelling, neighborhood history, and historical preservation enliven a fine writing style that gracefully offers new insights into Memphis and the chance to see the city through his eyes is a special pleasure.
Already, StoryBoard has attracted a cadre of like-minded writers to share his exploration based on a core belief that "The Past Is Our Greatest Asset" and in pursuit of the answer to Mr. Fleischer's motivating question: "What Makes Memphis Memphis?"
Walking The Walk
As he explained it on the StoryBoard website: "While neighborhoods and businesses are thriving and developing along corridors that run from South Bluffs to the Pinch District and from The Edge to the 240 at Poplar, many neighborhoods south and north continue to struggle: with poverty, with blight, with economic stagnation, and in some cases, with a complete absence of self and hope.
"The stories of all of these perspectives need to be told, taken out of the history books and class rooms and into our present-day awareness. Many of these stories may be well-known, maybe even common knowledge to long-time Memphians, but some of these stories have only been told in barrooms or living rooms or at our grandparents' dinner tables, stories that have shaped Memphis history in ways not yet realized. It is the hope of this publication to capture these hidden narratives in addition to those widely-known."
It was a bold mission statement, but the good news is that he is delivering on it every day.
Mr. Fleischer is not only shining light on fascinating forgotten stories, but he is also the driving force behind the Memphis Neighborhood Collaborative Facebook group, vice-president of Midtown Memphis Development Corporation, and a member of the board of directors  of Central Garden Association.
It was fortuitous when he decided to move eastward to his wife's hometown, as his upcoming newspaper demonstrates.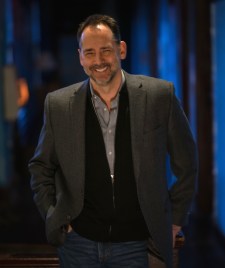 Here are answers to key questions about Mr. Fleischer and StoryBoard:
So, how did you come to be in Memphis?  You jumped into your new city with both feet.  How did that come about?
I arrived in Memphis in the fall of 2015 from the beaches of southern California, arm in arm with my wife, a native Memphian. I did not know what to expect, having spent most of our previous visits here in East Memphis and along the Poplar corridor.
But quickly I fell in love with Memphis, started writing about it at the urging of my wife, and started getting to know the people and places of this town.  I spent a lot of time learning about how the city works, and about its history.
I am still learning about this complicated river town.  My love for the city only deepens.
So what about your experience motivated the idea for StoryBoard?
I have a background in consulting and communications in the corporate world.  I am not a journalist, but I am a storyteller, after some college years in film school and years of and a half-dozen unfinished historical novels.
I am a big admirer of the late Anthony Bourdain, who gave us unflinching looks at cultures without judging them and told damn good stories in the process.  And like Mr. Bourdain, I am not a millennial. A prominent leader in Memphis once dared to ask me, "So are you retired, or what?"
I started StoryBoard at a time when Gannett was about to push our Commercial Appeal off a cliff.  I see gaps in communications all over the city. We may have food deserts – we also have information deserts.  I see a city still desperate for good stories, for information, for a deeper look into the news.
Why publish a newspaper in addition to the website?
I see huge talent and intelligent voices here in Memphis, but voices that are fragmented and relying on a digital model that is sure to satisfy millennials but does not reach more than half the population. Much of our city does not "do" online anything. The elderly, some retirees, the poorer communities, and many of our African American communities.  They still need print.
Besides that, I believe in print.  Print is a respite from the race and the pace and the digital domain.  Like vinyl records and movies on the big screen, it still has a place in American cities.
I believe StoryBoard can be sustainable, even healthy. A 24 to 36-page "long tabloid" monthly newspaper that is free for pickup, like the Flyer and the weekend Memphis News, is very doable in today's environment.  With a model that relies on a combination of good old advertising, sponsorship, monthly subscriptions, and underwriting, I believe I will eventually have enough to produce 30, 40, 50,000 or more copies a month.
As for content and mission, I will quote my own tag line:  "Stories. Ideas. For Memphis, By Memphis."
Where will all that content come from?
All the outstanding and important – yet fragmented – digital voices out there:  I am giving them opportunities to expand their audiences in print.  These are digital platforms and journals known by many fragmented audiences, but that collectively few Memphians have heard of.
These digital voices will now be heard and read across those parts of our city that don't do online, who still value the paper, that still want to spend hours with good storytelling.    Things like online neighborhood newsletters, blogs, editorial journals like Smart City, High Ground News and Strong Towns, a revived Memphis Heritage Keystone, the wonderful Memphis Type History site, etc., will have a printed home at StoryBoard. We will publish city calendars, accept good old letters to the editor, an old classifieds section, and in general help communities connect.
We will also look forward.  In working to assemble teams of planners and architects, we will bring to readers visions of the near future, community-based ideas in how to improve streets and neighborhoods, or how to repurpose our rich architectural heritage, one beautiful building or storefront at a time, one district at a time.
And there will be something for kids.  Eventually a section for kids geared toward helping them understand their own neighborhoods, encouraging them to read and interact, and a place for them to submit their own little stories.
Kids, millennials, planners, visionaries, commentators, fiction writers and poets, artists and local filmmakers, heck even musicians … I hope StoryBoard becomes a community board, bringing back the spirits of those town square information booths and college bulletin boards.  A place for folks to look back, look at the present with fresh eyes, and look forward.
10 or 20,000 copies of the inaugural issue come off the presses Sept 3.
***
Join us at the Smart City Memphis Facebook page for daily articles, reports, and commentaries that are relevant to Memphis.