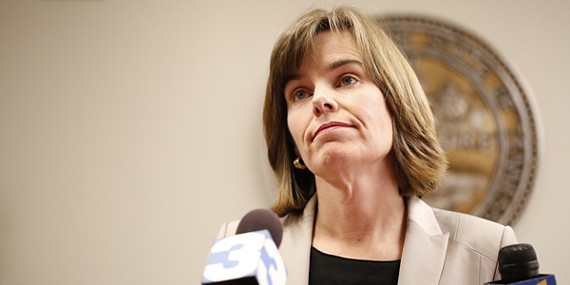 The main problem with siege mentality is that you don't even recognize that you have it.
Because of it, you lose the ability to accurately size up a problem.  You think pat talking points make things better and you think your own survival and that of your organization are one and the same.
You begin to believe your own justifications and lose sight of how badly they sound to other people.  You issue prepared statements that you think are buying you time while they are seen by most people as the stonewalling they are.  You find it impossible to admit a mistake or utter the simple word, sorry.
To compound things, your staff has the same mentality and their groupthink offers little help in dealing with death by a thousand pin pricks, squandering your reserve of good will.
Crisis of Confidence
We're thinking all this as we read Shelby County District Attorney General Amy Weirich's comments after the Fair Punishment Project report told us what we already knew: her office is in the midst of a crisis of confidence.  The report said our prosecutor's office has the highest number of misconduct findings in Tennessee.
Mrs. Weirich's response was a mix of ad hominem attack politics, denial, and diversion: "This is a grossly inaccurate and incomplete account of these cases as seen through the eyes of a defense advocacy group.  I became a prosecutor to hold the guilty accountable and to protect the innocent in every case, and that is what I have tried to do throughout my career.  I will never apologize for trying to seek justice for victims of crime."
Left unsaid was a denunciation of the "win at any cost" attitude that appears to have resulted in overturned convictions and complaints of misconduct.   Absent from Ms. Weirich's response, however, was any data to contradict the conclusions of the Fair Punishment Project, a joint initiative of the Harvard Law Schools' Charles Hamilton Houston Institute for Race & Justice and its Criminal Justice Institute, the Accountable Justice Collaborative and the Bronx Defenders.
Contrary to the attorney general's attempt to cast the organization as soft on crime, its Council is comprised of about two dozen law professors, prosecutors, defense attorneys, and Supreme Court litigators, which allows it to provide high caliber legal analysis on issues in criminal law and procedure.
Just The Facts
However, here's the thing: even if the conclusion was delivered by a stridently defense-oriented group, the burden of proof is on the Shelby County Attorney General's Office to present evidence that the research and statistical basis for the report are faulty.
So far, we've heard nothing along those lines.
In the early 1970s, a young newspaper reporter asked Phil M. Canale, district attorney general from 1955 to 1974, what the conviction rate for his office.  He said he could provide it, but that it wasn't what he was focused on.
"My job is not to seek convictions, but to deliver justice," he said.  "That's a big difference."  Upon his retirement, he said of his career as top prosecutor: "A clear conscience is a soft pillow."
Mr. Canale also often made the point that the culture of the office was driven by the person at the top.  Perhaps, that's why he so carefully lived his principles and why his assistant prosecutors generally revered his leadership.
It's About Justice
Much has changed since Attorney General Canale served as attorney general, but one thing should never change: the purpose of the office is justice.
Unfortunately, based on the court reversals and reprimands, it appears that the attorney general's office today has a culture that sees no problem with cutting corners and bending, if not ignoring, the rules on occasion.
In this regard, the current attorney general's comment is revealing with its single emphasis on justice for victims of crime.  It may not be politically popular but the emphasis should be on everyone in the criminal justice system, including every defendant, particularly in a county that is majority African American.
That's because research shows that African Americans receive more severe punishment in school and in juvenile court, and it's hard to imagine that this doesn't continue with the criminal justice system.  One indicator is that there is never a crime reduction agenda that doesn't call for tougher sentences and more prosecutors, perpetuating the policy choices that fuel a cycle of poverty and mass incarceration.
Basic Rights
But we digress.  Comments by Mrs. Weirich seem to suggest that prosecutors are being subjected to unfair criticism, but that ignores the fact that prosecutors wield more power than almost anyone in this community – the power to charge someone, to seek the maximum sentence, and to set priorities for prosecution, all while serving what is essentially a lifetime appointment.
It is an awesome responsibility and it should be exercised with a clear and unshakeable commitment to the Fourteenth Amendment to the U.S. Constitutional: the requirement for states to provide due process of law in all actions, including criminal laws, and to give equal protection to every citizen.
This means that no one should get preferential treatment, and at its essence, that is the chief failing of the attorney general's office in the cases that have been reversed.  After all, when the office doesn't follow the legal procedures to the letter of the law, it is in fact engaging in preferential treatment.
More to the point, it is violating the most important constitution right guaranteed by the Fifth Amendment: the right to due process.
Indicting Misconduct
In its report, the Fair Punishment Project said: "Earlier this year in Memphis, Shelby County District Attorney Amy Weirich faced formal disciplinary proceedings after the Tennessee Supreme Court concluded that she withheld key evidence from the defense in a murder trial and made improper arguments during her closing statement.  This kind of misconduct has devastating results on people's lives."
After a review of every state appellate court opinion dealing with allegations of prosecutorial misconduct, Fair Punishment Project determined that among Tennessee's 95 counties, Shelby County Attorney General's Office ranked #1 in misconduct, #1 in reversal, #10 in misconduct rate per capita, and #6 in reversal rate per capita.
The report was particularly critical of Mrs. Weirich's "misconduct problem."  "The misconduct was so egregious that the Tennessee Supreme Court overturned (Noura) Jackson's conviction in 2014, and chided Weirich for attempting to sway the jury by making inflammatory comments about Jackson's constitutionally protected decision not to testify."
"Given that the impropriety of any comment upon a defendant's exercise of the Fifth Amendment right not to testify is so well settled as to require little discussion, it is not at all clear why any prosecutor would venture into this forbidden territory," the report said of the 2014 case.  "Unfortunately, this was not the only misconduct that occurred during the case," since the attorney general's office failed to disclose exculpatory material  in the form of an inconsistent statement by the prosecution's star witness.
Public Distrust
The report also cited a Tennessee Court of Criminal ruling that overturned a conviction because of an "improper" argument in a 2004 capital murder trial and mentioned another 2004 case in which an envelope initialed by Mrs. Weirich's with a note, "Do not show defense," disappeared from the file.  In another case, the Sixth Circuit Court of Appeals reversed a conviction in a death penalty case after she failed to disclose that one of the main witnesses was paid for her cooperation in the companion federal case, the report said.
In conclusion, the Fair Punishment Project said that Mrs. Weirich and the two other district attorneys general – she was the only one in Tennessee profiled in the report – had "violated" the public's trust.  "Our research shows that these prosecutors are failing in this task in very serious ways," it said.
Rob Smith, executive director of the Fair Punishment Project, told The Commercial Appeal: "We found these (three) prosecutors regularly cross legal and ethical lines to win convictions at any cost.  When prosecutors hide evidence, lie, or illegally try to influence juries, innocent people are convicted, unfairness seeps into the system, and public trust in the justice system is eroded."
It is inarguable that the Fair Punishment Project is right when it says that how prosecutors exercise "their power can be the difference between fairness and inequality, justice and corruption, and a community with faith in its justice system or one that feels betrayed by it."
Time To Turn It Around
At this point, Mrs. Weirich has become experienced in defending mistakes by her office, but so far, her default position is to provide justifications ("human error") or political talking points ("grossly inaccurate").
We believe that she is misreading the depth of concern in Shelby County about the continuing controversies about the record of the Attorney General's Office.
Attorneys general in Tennessee are elected for eight year terms, and Mrs. Weirich has five years remaining on her term of office.  That's two lifetimes in politics, and we can only hope that she will understand that her present approach to restoring public faith in her office is not working well.
Hopefully, she will understand that it is not weakness to admit that you will learn from your mistakes and that you are recommitting yourself to a prosecutor's office where there will be no tolerance for misconduct and that you will deliver what the public deserves: highly professional prosecutors dedicated to the highest possible standard of justice.
Her oath of office requires nothing less.
**
Join us at the Smart City Memphis Facebook page for daily articles, reports, and commentaries that are relevant to Memphis.