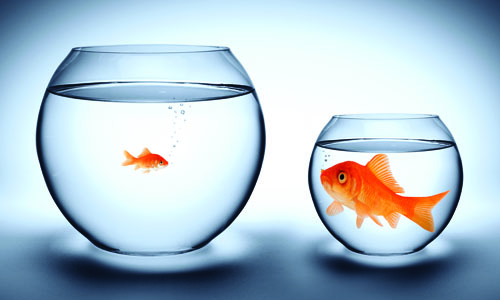 It's really not a negotiation when one side has a gun pointed at its head.
That's the situation City of Memphis found itself in as it considered if it was willing to shrink the size of the city.  Considering that the state legislature made sure Memphis never had a level playing field for the deannexation discussion, city government seems to have found the sweet spot likely to satisfy state legislators who have been pandering on this issue for years.
After all, there was no question that absent the recommendation by the special deannexation committee, the Tennessee Legislature would pass legislation to make it happen.
Yes, City of Memphis had the Strategic Footprint Review Task Force chaired by a thoughtful, politically astute chairman, City Councilman Bill Morrison, with commitment from members of the Strickland Administration led by Chief Operating Officer Doug McGowen, and financial analysis by PFM (Public Financial Management), the respected national public finance advisory firm.  There were also committee members from Shelby County Government and the Tennessee Legislature.
Tale of the Tape
But the fact was that everyone in the room knew that a Tennessee Legislature that engages in regular overreach into local government affairs would not hesitate to force deannexation if city government wasn't willing to do it.
As a result, the committee's job wasn't ever really to come up with anything short of deannexation, and in that regard, the city committee members seem to have overachieved in that they created a rational context for making a reasoned evaluation.
So, the good news is that City of Memphis has navigated the political shoals, but the best news is that the process could continue with the careful policy analysis that has been missing in urban policy here for decades.  Meanwhile, the size of Memphis grew by 55% while its population only grew by 5%, driving density to about half of what it was before the 27 annexations of 100 square miles that have taken place since 1970.
Here's the tale of the tape: in 1970 Memphis, the population was 619,757, and today, within those same city limits, the population is 449,930. In other words, the equivalent of the population of Chattanooga has moved out, and they did it while the land area of Memphis grew to be twice as large as Atlanta, four times larger than Baltimore, five times larger than St. Louis, and 10% larger than New York City. Meanwhile, the densities of these cities are on average more than two times higher than Memphis.
Mismatches
The mismatch between size and density drove up the costs of services in many neighborhoods where more than half the people who used to live there were gone. In the inner city, poverty rates were as high as 60 percent in some census tracts, accompanied by dramatic declines in revenues at a time when services were being spread more thinly over an expanding area.
The impact of that imbalance and the policies that created it ripple throughout the City of Memphis budget, increasing the cost of services, pitting quality of life investments like libraries and parks in a losing battle against climbing police costs, and requiring core city taxpayers to pay for a larger and larger Memphis while their own neighborhoods declined.
It is inarguable in hindsight that aggressive annexation by the city was not a race to prosperity as much as it set in motion dynamics that temporary stalled but ultimately deepened Memphis's serious budget challenges. While it is easy today to see the pitfalls of increasing the size of Memphis by almost 60 percent while cutting its density in half, it is not as easy to dismiss city government's rationale of chasing people and revenues through annexation, which was widely considered enlightened public policy by urbanists at the time.
As more and more people moved to sprawling areas where county government promised urban level services at a lower tax rate and to municipalities where Shelby County was subsidizing their lower tax rates with county tax money (which came largely from Memphians) for their services and roads, the City of Memphis felt under siege and with no choice but to chase people and tax revenues by annexing them into Memphis.
Density Matters Most
For these reasons, annexation decisions were never treated as the choices they were — between paying for extending existing services to a larger area or making investments in core city neighborhoods. Even if Memphis had decided against future annexations in 1970, without major changes in county policies, it is hard to imagine that city government would not have been just as financially stressed (not taking into account the impact of equally aggressive PILOT tax abatement program that waived about $750 million in city taxes over 10 years).
In the first few months of this blog, in November 3, 2005, we wrote about the importance of increasing Memphis' density and why it should be a priority for local public policy.  In the ensuing 11 years, the mantra about density became more and more widespread, culminating in the recommendations in the deannexation committee report.
If there is one overriding theme for the report, it is density – the value of increasing it and the impact on city government.
It was our focus on increased density that led us to be the first people to write in 2008 (and often afterwards) about Memphis joining the shrinking city movement that began in Germany and was adopted as a theory for future planning in American cities, which in getting smaller had opportunities to reinvent themselves.
Answering The Big Question
The title slide for the recommendations by the deannexation committee likely answers the political question but the fundamental question remains: "Rightsizing Memphis."  Other sides said: "Rightsizing our city is the right thing to do" and "by limiting new suburban-type growth in our annexation reserve, we will advance our opportunity to grow the urban core."
Those are the right objectives, and we don't know the answer to achieving them.
Because of it, the deannexation report should not be treated as the final step in resolving the political dilemma but as the first step toward resolving the "rightsizing" question.
That is a seminal question facing Memphis.  The methodical, data-driven process of the deannexation committee points a way to reach the answer.
Mr. McGowen, in his role at the helm of the Mayor's Innovation Delivery Team (MIDT), was an advocate for increased density, less car-centric development, and calculating life-cycle costs of capital projects rather than their initial construction prices.  That and the other principles shaped at MIDT by Mr. McGowen and Tommy Pacello, now president of the Memphis Medical District Collaborative, make for a strong construct for continuing the rightsizing discussion.
Getting To The Answer That Matters
Now that Memphis has moved beyond the saber-rattling for the Tennessee Legislature, there is now the opportunity for the calm debate and definitive research that could spark a citywide conversation about the right size of Memphis and create a factual framework for making the smartest decision.
It may be that after the deannexations that will result from the committee's recommendations, the conclusion may be that the footprint that is left is the optimal one, but it would be helpful to determine that once and for all.  Or if it makes more sense to increase Memphis' density beyond the 2,037 people per square mile that will result if all seven areas ask to be deannexed and the city's land area will be 8% smaller at 312 square miles.
The city will forego just under $9.6 million a year in revenues (net $7.6 million), which is a long way from the $79 million lost revenue projection from city government about a year ago.  Perhaps, this is evidence that the city's footprint can be reduced without the massive loss of revenues.  After all, it's the area within the 1970 city limits that produces the most tax revenue.
Getting Smaller Can Be Getting Better
On May 7, 2009, we wrote: "A friend of ours offered a lesson for us. Faced with similar scenarios, he made his shopping center smaller. He consolidated the stores that are still successful and ran a smaller, more efficient and more profitable operation.  So, here's the question: if businesses can downsize, if nonprofit agencies and private institutions can downsize, if the military can downsize, why can't cities like ours?
"We're not saying that shrinking Memphis would be the magic answer to solving our city's problems, but it would allow us to target our energy, our efforts and our resources to an area that allows for more efficient deployment of city services.  It's unlikely that Memphis will ever see a return to the population within the beltway that it once had, but a smaller area just may be our best chance of stabilizing things long enough to triage our problems."
On December 9, 2009, we wrote: "Memphis is a shrinking city…We've masked the fact by annexations that prop up our population numbers and grant us a false sense of security.  As a result, we've side-stepped the serious discussion that is needed about whether annexation today is actually a boon to the budgets of Memphis city government and whether stretching already faltering public services over a larger area is the sound public policy for our city.
"No amount of annexation is cosmetic enough to prevent the inescapable conclusion that in pursuit of new taxes, Memphis may actually have escalated the decline of the urban center. Operating on the theory that annexation areas are the sources of much-needed new property taxes, city government has taken a decidedly optimistic viewpoint of the overall net fiscal effect. Perhaps, it's not enough to calculate the costs of the new services to the new area. More to the point, the analysis needs to evaluate carefully and thoroughly what the impact is on services and neighborhoods in the former city limits."
**
Join us at the Smart City Memphis Facebook page for daily articles, reports, and commentaries relevant to Memphis.