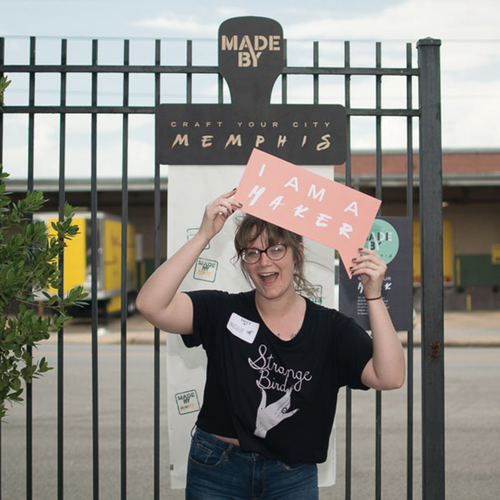 MEMPHIS, TN — Etsy, a marketplace where people around the world connect, both online and offline, to make, sell and buy unique goods, today announced that Memphis has officially received the designation of being a "Maker City," a network of "strong municipalities that value entrepreneurship, sustainability, and responsible manufacturing with the creative and innovative spirit of the Etsy community," according to Etsy.com.
In a letter to a consortium of Memphis makers and artisans, Etsy CEO and President Chad Dickerson praised the strength of region's maker economy and the collaborative investments that have been made to support it. "We've learned so much from the opportunity to work with teams like yours," says Dickerson. "By connecting the many Memphis makers across various sectors to the skill-building and technical resources provided by community and city partners, your engagement work has sparked new and innovative ideas for programming that will bolster the growing community of makers and micro-businesses."
"Receiving the Etsy Maker City designation is another terrific step forward for this growing industry, and on behalf of the entire City of Memphis, I want to let each and every member of our maker economy know how proud I am of their work," says Memphis Mayor Jim Strickland. "I was very proud to sign the Mayor's Maker Challenge at City Hall earlier this year, and remain so impressed with our local artisans' entrepreneurial spirit and creativity. One of my chief priorities as your Mayor has been to increase the growth of minority and women-owned businesses, many of which are included in our city's maker economy. I will do everything in my power to make sure this industry continues to thrive in Memphis."
In awarding the designation, Etsy singled out the contributions of Made By, a pioneering effort to understand the lives and livelihoods of makers, artisans, and micro-manufacturers in Memphis and create a roadmap for support and creative success. Led by Little Bird Innovation and their implementation partner EPIcenter Memphis, Made By surveyed and consulted over 300 Memphis-based makers over the summer and fall of 2016 about how their unique endeavors could be enhanced and better supported.
"Makers sold $2.4B in goods on the Etsy platform last year, making Etsy not just a critical sales channel but an important voice in the maker community." says Nicole Heckman, co-founder of Little Bird Innovation. "I'm excited that Etsy is advocating on behalf of makers and thrilled that our efforts via the Memphis Action Team and Made By project are being recognized. Our inclusion in the Etsy Maker Cities Summit in June served as a catalyst, bringing the City of Memphis into the conversation and energizing our efforts to understand, support and grow our local maker economy. This momentum is translating into exciting developments for 2017."
Made By's findings — including a series of specific, collaborative recommendations for growing this sector  — will be made public in late December.
"The MadeBy Project has been crucial in highlighting both opportunities and challenges within our vibrant Memphis maker community," says Leslie Lynn Smith, President of EPIcenter. "The Maker City designation from Etsy will amplify so many of the positive economic benefits that we know these local makers and micro-entrepreneurs generate, particularly now that the holiday shopping season is here. We look forward to leveraging the MadeBy plan to provide critical resources that can help these creative entrepreneurs grow and scale their businesses in neighborhoods throughout Memphis."
Members of the Memphis Action Team include Brit McDaniel, owner of Paper & Clay; Lisa Toro, owner of City & State; Maria Furhmann, City of Memphis grants coordinator; Jessica Taveau, director of marketing and communications for Memphis Bioworks and EPIcenter; and Nicole Heckman, partner at Little Bird Innovation and organizer of the Made By project.
For more information about Made By, please visit MadeByProject.org.
For more information on Etsy Maker Cities, please visit Etsy.com/makercities.
Thanks to Kerry Hayes for sending this news release.
***
Join us at the Smart City Memphis Facebook page for daily articles, reports, and commentaries relevant to Memphis.