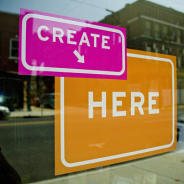 Josh McManus was the leader for CreateHere movement in Chattanooga that we mentioned in last Monday's post about guerilla urbanism in Memphis.  It set in motion an energy and civic entrepreneurship that are pivotal to Chattanooga's recent burst of achievements.  Here's a speech that he gave to the Chattanooga Rotary Club in August, 2008, that should remind us why the work of our local guerillas is so important and why all of us should be supporting it.
Here is his speech:
Good afternoon. It's a privilege and an honor to stand before you today. I'm truly excited to be here, as Corrinne's invitation has offered me the opportunity to discuss three of my favorite things.
First though, I would like to say that I stand before you as one voice speaking on behalf of many. The words that I'm about to share with you are in large part not my own. They belong to scores of bright, young, innovative, and creative people, some of whom are here to visit with you today. They also belong to countless mentors who have invested unselfishly in the development of many, many emerging leaders. Furthermore, these words belong to my co-founder, Helen Johnson, who has shared every responsibility of leadership and accountability for the efforts that I'm about to discuss with you. And most importantly, they belong to my wife Kristy, whose time in Leadership Chattanooga opened our eyes to the future of this city we call home and who has supported me in pursuing my dreams for the entirety of our eleven years together.
Now, here are a few of my favorite things:
1. Chattanooga
2. Creativity
3. Entrepreneurship. In particular today, I'd like to talk about one entrepreneur who has left a lasting impact on Chattanooga and many other places.
Before we talk specifics, I guess a little background is in order.
Let me tell you a bit about CreateHere. CreateHere is:
A non-profit project engaged in stimulating the creative economy along with retaining and attracting creative, innovative and entrepreneurial citizens.
The project was founded in July of last year as an exploratory review of the ways that creativity and creative individuals can stimulate a local economy
We started with the basics, by asking our fellow Chattanoogans four simple questions:
What do you love about Chattanooga?
What should never change?
What could be better?
What's your wildest hope for the next two years?
The answers came by the hundreds and were wildly varied but equally beautiful. From someone's love for the salsa at La Altena to another's wildest hopes being split between a Bass Pro Shop or … Metropolitan Government. We heard from far and wide, and interesting themes started to develop.
A third party data analyst helped turn qualitative data into quantitative measures, and we got a snapshot of popular sentiment on our city
While the data was being processed, we visited and studied 10 other mid-size cities who have differentiated themselves in creative economic and cultural development; we talked to over 200 local stakeholders; and we read and listened to every scrap of information we could lay hands on about this subject matter.
That led us to a unique set of solutions in an unprecedented shell. That shell is what the chronicle of philanthropy might call a fiscal sponsorship. I call it "a non-profit lean-to." That means that we have no back office. All of our day-to-day efforts are dedicated to being at the grassroots level, working to create sustainable change. We are supported in numerous ways, far beyond financial capital, and including human resources, accounts payable and accounts receivable by the Lyndhurst Foundation, the Benwood Foundation, and the Community Foundation.
We derive multiple layers of accountability and strategic direction from an independent advisory council of seasoned professionals from the for-profit and non-profit sectors who bring expertise in all of the fields in which we work. We are also accountable to the consultants, program officers, and ultimately the trustees of our first-round funders on a semi-annual basis.
By design, we seek funding in one-year increments so that we are consistently evaluating return on investment and the economic and cultural value-adds of our work. Furthermore, we've declared a life cycle for this project insuring that we will not leave our philanthropic community with a long-term infrastructure burden.
As a team of emerging leaders and as a movement of concerned citizens we share common principles. Specifically, we….
*  enjoy and protect what is authentically 'Chattanooga,'
*  dialogue about the potential for our city's bright future
*  invest energy into a groundswell of change in our city's neighborhoods and marketplaces
*  encourage a spirit of entrepreneurship, creativity, and stewardship of our natural landscape
*  foster innovation, creation of businesses, and sustainable development
*  develop and invest in social initiatives that cut through the knot of poverty and liberate human potential.
*  challenge the inequalities of educational and economic opportunity by supporting public education and patronizing locally owned businesses
*  put out the welcome mat to people around the world, showing them that Chattanooga provides abundant opportunities to better themselves and their community.
We have pledged to each other and this city that we love….
*  to make the world a better place, starting at home.
*  to reset the expectations for our city to achieve greatness.
*  to see the real world not as something that happens to us, or even around us, but as something that is made of what we believe and do.
*  to shape our lives around sustainable practices at home, at work, and at play.
*  to be active, involved patrons of Chattanooga's arts, local businesses, schools, and outreach programs.
*  to do one thing every day to fight passivity and embrace the urgency of now.
With all of that said, this is how the rubber meets the road:
We believe in the power of emerging leaders. In fact, you might call this strategy the tip of our arrow. We invest in emerging leaders through one existing and two emerging programs.
LeadHere is an extremely competitive fellowship program for upcoming and recent college graduates. Our fellows have literally come from cities across the world, a variety of schools, and extremely diverse sets of experiences. They are the primary reason that we've covered so much ground in an extremely short period of time. Through the fellowship program, these young leaders obtain end-to-end project management experience that will propel them into the creative workforce. They also participate in a leadership-training program in order to grow their connectivity to community and civic responsibility.
Plugdin will offer interns from across the city a leadership training experience modeled after LeadHere and the social connectivity that we hope will retain more of these bright young visitors, as well as amp up the regional and national buzz about Chattanooga.
40Below will serve as a call to action for emerging leaders under the age of 40. With intensive dialogue and platform development on many facets of community-building, 40Below will harness the collective will of upcoming generations to look forward and not only imagine, but act on, a vision of Chattanooga in the year 2040 and beyond.
Now, if you will, allow me to introduce Freddie, the entrepreneur that I previously mentioned. Freddy was born in a small town. His father was a metal worker. When his older brother was killed in an accident, Freddy was forced into the family machine shop. In this environment, it is safe to say that his spirit was less than content. One day, while delivering parts from his family's business to a factory, Freddy caught the attention of the factory owner. That owner, in an act of selfless leadership, invested time in Freddy by sharing the factory's technologies and innovation. This investment in emerging leadership caused Freddy to start to experiment with new technology. We'll follow Freddy as we go.
The next layer of our pursuits is feeding the creative spirit.
This is accomplished in part through a progressive work space, an idea factory, if you will. Located on resurging East Main Street, our offices have no interior walls, no wires, and infinite configurations. It's highly collaborative and exponentially more productive than other environments that our team members have worked in.
Citizens are fueled by the thought that they are not alone in their many pursuits and there is no bound to the creativity that comes from unexpected social interactions. To this end, we help people gather. From MAINx24 to Writers' Workshops, we constantly work to create intersections of new people and places. In fact, you should have found an invitation in your chair to 35-85. If you don't know, 35 and 85 are the latitude and longitude coordinates of Chattanooga, and this unprecedented event on the evening of Monday, Aug. 18, is a "do not miss" for all that love our city.
Also, we pride ourselves on putting feet on Main Street and work daily with incredible partners to animate the engaging world just outside of our office walls.
Let's return to Freddy. Freddy was not immune to the need for feeding his creative spirit. He accomplished this by sneaking into classes at a technical school, participating in groundbreaking trade shows, and winning awards for unequaled mechanical aptitude.
Creative Economies demand creativity density. Achieving creative density demands very targeted programming.
ArtsMove Chattanooga is a targeted retention and relocation program offering forgivable moving assistance to creative individuals through a competitive jury process. This happens in revitalizing neighborhoods in exchange for a long-term commitment to the community and the anticipation of significant economic value-add. To date, we've relocated 25 artists, resulting in over $3.8 million in home sales and multi-fold return on investment for the community.
MakeWork is an arts grant program open to emerging and established artists and artisans within a 50-mile radius of Chattanooga. Earlier this year, Makework infused $150,000 of capital directly into Chattanooga's creative community. Grants were awarded in three categories: Studio Assistance grants assisted the rental of studio space for one year; Career Advancement grants funded the purchase of tools and alleviated travel costs or fees for workshops; and Project grants enabled artists to pursue ambitious creative projects across Chattanooga and beyond. This year's 24 MakeWork artists, including cheesemakers, portrait artists, hammered dulcimer players, cutting edge graphic designers, and muralists, are committed to sharing their work with the community and attending a sustainability workshop with SpringBoard our business training curriculum.
CreateHere's Gallery is a progressive, multi-use space, highlighting the talent of Chattanooga's artists and artisans. Rotating every six to eight weeks, the curated exhibitions include new media, installation, 2D and 3D works. With each new exhibit, CreateHere hosts a reception that is always free and open to the public, highlighting Chattanooga's great local music and food.
Back to Freddy… a good many leaders had the foresight to retain and reward his creativity. From challenging leadership positions in his industry to an honorary doctorate at that same technical school that he used to sneak into, Freddy was told loud and clear… you are needed.
A belief in the creative economy is worthless without defined programs for entrepreneurs at all sizes and stages of growth.
A recent research study of the Federal Reserve Bank of Kansas City found that over a 13-year period, companies employing fewer than 20 employees accounted for 79.5 percent of the net new jobs in the U.S. Aimed to fuel this growth in our community, SpringBoard is a business resource center for artists, artisans, and creative entrepreneurs targeting sustainability and durability in small business. Committed to the power of creativity in economic development, SpringBoard offers entrepreneurs a variety of resources to achieve their creative and economic goals. An 8-week Business Planning Course enables participants to build a comprehensive business plan, learn valuable skills, and receive constructive feedback and group support. SpringBoard has trained and graduated 61 entrepreneurs in just six months. Class topics include personal finance, determining overhead costs and a break-even point, tracking cash flow, and marketing strategies. Furthermore, Chattanooga's entrepreneurs are spreading the word; over 75% of participants discovered SpringBoard by word of mouth!
Peerspectives comes from an innovative body of work being driven by foundations nationally who are also investing heavily in stimulation of free market economies in order to create more prosperity for all citizens of a given region. This innovative curriculum avoids a significant number of competitive issues presented by older models of industry clustering by pairing entrepreneurs in dissimilar industries, but matched by size and growth pattern, in order to achieve innovation through facilitated dialogue. The program is already demonstrating tremendous success in a number of other cities.
We believe that growing a healthy creative economy demands that we pay attention to creative entrepreneurs and companies during all the stages of their development. In addition to SpringBoard's Business Planning Course, CreateHere plans to expand its programs to include Individual Development Accounts [IDAs], OpportunityKnocks, and a CEO Roundtable. Through these collective efforts, we are laying out a holistic approach to creative economic development. This approach to mentorship and business development is aimed at cultivating self-sustainability and independence amongst all of our creative entrepreneurs.
And once again we find Freddy. Our friend played an integral role in building a creative economy. Like most entrepreneurs, he started with virtually nothing. He financed one of his most notable projects by taking a loan against his only life insurance policy. His efforts would eventually lead to the economic independence of thousands of individuals and families.
Finally, let's talk about Collective Imagination. Mayor Ramsey stood at this podium two weeks ago and celebrated one of the biggest wins in this community's history. But he did not leave it at that. He put before us a challenge to use this opportunity as the catalyst for propelling this community forward in uncharted new ways. I think the questions that Mayor Ramsey started are worth adding to. How will we go from good to great? What will we make of this unprecedented opportunity? What do we dream for Chattanooga? Think about it. 2040. Will we continue to be the beautiful convergence of blue and green and endless opportunity that is celebrated worldwide as one of the most amazing turnarounds of modern time?
I've heard it said that the completion of the waterfront paired with the landing of VW is a giant exclamation point at the end of a chapter in our communities history that has lasted thirty years strong. We would offer to you that it's time to once again develop a set of core principals for our community, determine the collective imagination of all citizens and then set a bold course for another 30 years of collective action. Why must we dream? The reply is simple, how can we not?
What if Freddy hadn't dreamed? You see Freddy's real nickname was Ferdi. Ferdinand Porsche was his full name. Three prototypes were built in his garage that were the foundation of the company we today know as Volkswagen. Big ideas start in small places. We celebrate today because of the blood, sweat, and tears of countless leaders. But we also celebrate because of the spark of the creative spirit that took hold in Ferdinand Porsche and thousands of other entrepreneurs without whom there would be no Chattanooga.
I'll close with a personal story. I recently had one of the most transformative experiences of my life. I had the honor of leading 41 contractors, 50 parent leaders, and over 500 citizens in reclaiming a public school building. As momentum built for our week long extreme makeover, contractors started staking their corporate signs in front of the old R.H. Hunt designed building at the corner of East Dallas and Mississippi in North Chattanooga that has served our community for over 78 years. All of those signs were remarkable but one of those signs touched my soul. The contractors logo was very small and above it in big bold letters the message simply said "HERE TO HELP". We live in a world of great uncertainty, but we can all be "HERE TO HELP". It's our shared responsibility to "cut through the knot of poverty and liberate human potential". Let us not forget that our neighbor across town drives and walks the same streets that we do. This is his home too, and he deserves every chance that WE have the ability to throw at him. Also, let us never forget that people and good ideas come from all backgrounds and in all colors, shapes, ages and sizes. Today, we must quiet our internal monologues, throw out our individual agendas and our well-laid plans, and simply listen. And then we must start acting.
I started by saying that I am one person standing before you representing many voices. On behalf of those voices, especially a generation of emerging leaders, I've shared with you many ideas that represent that one simple sentiment. We are "here to help" and we are excited beyond words at the thought of what we'll create here as we move forward together.
For more about Josh McManus and CreateHere:
http://www.huffingtonpost.com/2010/11/29/huffposts-greatest-person_11_n_789427.html
http://www.nooga.com/158090/mcmanus-of-former-local-nonprofit-createhere-featured-in-forbes/#
http://www.popcitymedia.com/features/joshmcmanusoncities091926.aspx