We guess we spoke too soon.
We were euphoric about last year's improvements to Main Street after at least 15 years of dereliction by City of Memphis as shown by broken pavers, amateurish plywood repairs over broken grates, dead plantings, and more.
The improvements were made as part of the "Main Street to Main Street Multi-Modal Connector Project" whose big play is to add a pedestrian/bike connection to century-old Harahan Bridge.
But what always excited us even more was that the overall plan "enhances this historic downtown commercial corridor (Main Street) through streetscape improvement, including period-style lighting; street trees; landscaping (ground cover, shrubbery, flowers); new curb, gutter, and handicap accessible sidewalks."
Best of all, in this instance, it was more than a plan. It became a reality.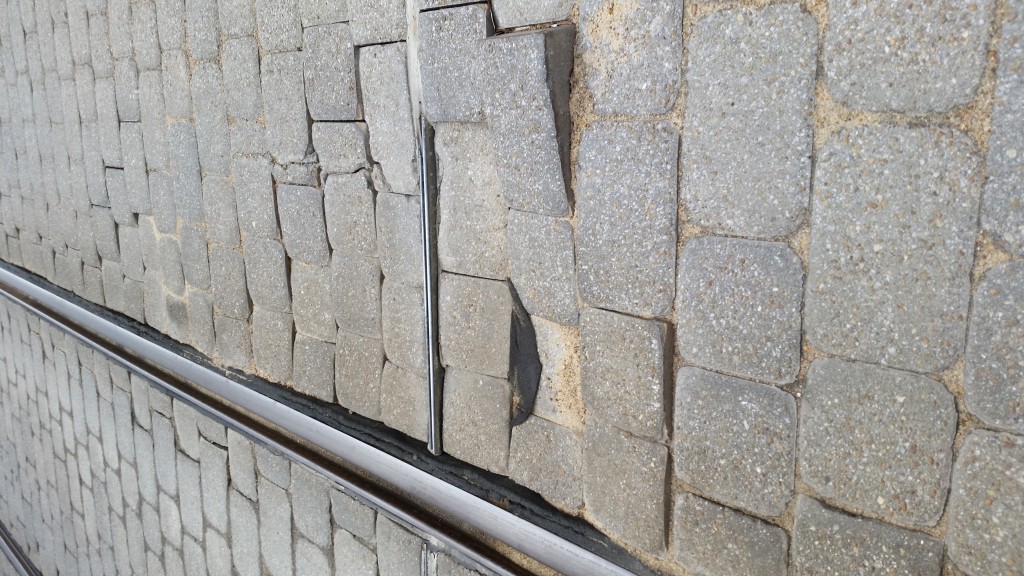 Under the direction of former Downtown Memphis Commission President Paul Morris, the plywood and broken pavers became things of the past. As we wrote in the wake of Mr. Morris' departure from the downtown redevelopment agency, "Main Street is a place where we can proudly walk again with visitors in Memphis."
Well, it turns out that we may can walk proudly, but we sure need to walk carefully.
Again, Main Street is already an obstacle course. It appears that the new MATA buses posing as adequate replacements for the long AWOL trolleys have been tearing up the pavers that were only recently repaired.
Up and down Main Street, there are askew pavers along the trolley track route. People are tripping and falling as they cross from one side of Main Street to the other, and this week, a man in his sixties in front of Aldo's Pizza feel over one such hazard, hitting and cutting his head on the trolley tracks, gashing his knee, and sustaining other cuts and bruises.
On Main Street between Union and Gayoso, there are about a dozen similar obstructions.
We often hear rhetoric that the first priority for government is the safety of its people. Surely, that applies to people walking down Main Street.
Hopefully, someone will address the problem before the injury toll mounts.
Staying Put
Meanwhile, we were excited some months ago to read that the Memphis Fire Department would be moving into the former Donnelley Hill State Office Building at 170 N. Main.
There's no question that the move to 170 N. Main is a major upgrade for Memphis Police Department, which today works in cramped Justice Center working conditions resembling a rabbit warren that defies productivity. If the fire department had joined the police department in the building, it offered opportunities to combine some administrative and back office functions, as suggested in the City of Memphis Five-Year Strategic Fiscal Plan.
In fact, the five-year plan concluded that the consolidation of back office support services would save $1.8 million a year for five years for a total of $7.6 million. Cleveland and Indianapolis have combined similar functions, and based on their experiences, the plan suggested that the workforce could be reduced by 35 positions.
While the merit in bringing all of public safety functions into one building appeared obvious, what intrigued us more was the opportunity to activate a prime corner in downtown Memphis that could be put to better use. After all, the Fire Department Headquarters on the northwest corner of Union and Front today is largely a dead zone.
It's often been said that City of Memphis is actually an ambulance department, not a fire department. After all, the fire department answers about 10 times more ambulance calls a year than fire calls. We're not trying to minimize the work of the fire department, because, when compared to cities with more than 500,000 residents for the number of fires per 1,000 population, Memphis has about 6.6 fires compared to the national average of 3.6 and the Southern average of 3.3.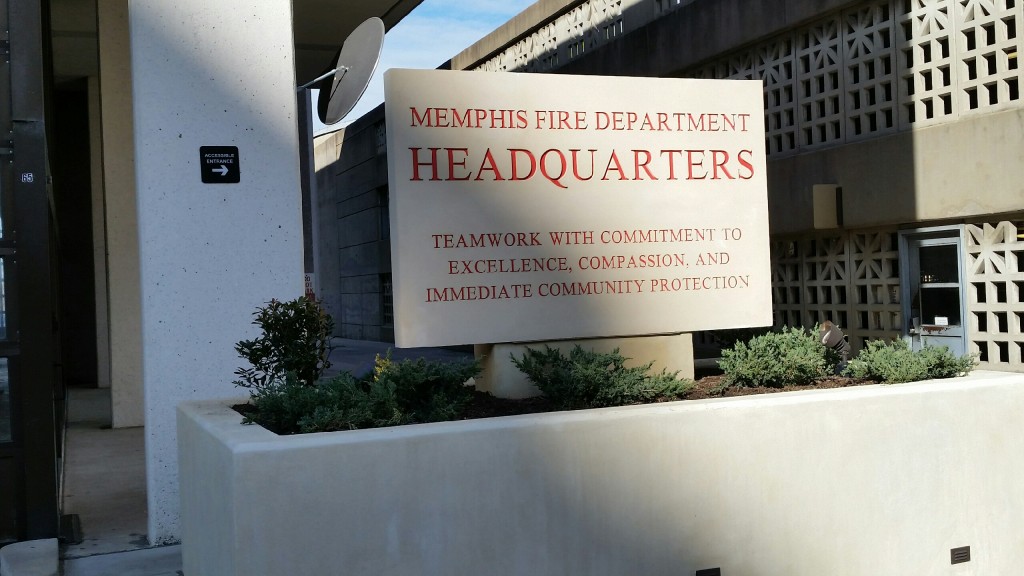 But there is no ambulance at the fire department headquarters and it often seems that the one fire truck there answers a call only infrequently, providing secondary coverage for downtown where primary coverage comes from fire stations in and around downtown.
In other words, that large building taking up a half city block is largely unused for fire calls, and the administration functions of the fire department are in the back third of the building.
It's a massive underutilization of one of the riverfront's most valuable sites – in terms of location, vista, and potential.  There are so many other uses – better uses – for the building.
Some years ago, it was proposed for it to be part of the Memphis Art Park, but suffice it to say that there has to be a better use than the present use, which creates a yawning gap of inactivity on a key downtown block.
We can appreciate the fact that the Fire Department did not want to move from this location, and we understand that although former Memphis Mayor A C Wharton wanted it to move, he didn't want to order it. As a result, they stayed where they are.
And in what appears to be an effort to put a punctuation mark on that decision, the Fire Department has erected the first sign for its headquarters since it was constructed decades ago. We guess that it's a way of telling the world that it has staked out its turf at the present location in perpetuity.
**
Previously published as Memphis Magazine's City Journal column.
Join us at the Smart City Memphis Facebook page for daily articles, reports, and commentaries that are relevant to Memphis.
**
In response to this post, John Kirkscey added this comment:
In my designs for Memphis Art Park, a downtown community arts center on the Promenade, I did propose incorporating the fire station building and converting it into a visual art gallery (and preserving the brutalist architecture): http://www.memphisartpark.org.  
A few years ago when I met with Alvin Benson, then the Fire Services Director, he unequivocally stated that he understood that there was a much better use for that plot of land than a fire station. He said that while those stationed at that fire station enjoyed the best sunset BBQs in the city from behind their building, he himself thought that it would be better for Memphis if the public got to enjoy that amazing view instead. As some know, the city's founders placed a public-use easement on the Promenade (the stretch of river-bluff along Front St from Union Ave going south) upon which the fire station is located. Their intention was for that part of the bluff with the river view to be preserved for public use and enjoyment. With two "public use" garages and a fire station on the Promenade, the City has obviously and grossly violated the spirit of that public-use easement.  
Director Benson further stated that the two other fire stations in and around downtown at 211 Jackson Ave. and 474 S. Main fully serve downtown and that the Front St station is unnecessary. As Tom mentions in the article, it's mainly used for office space and not much for fire services, which Benson stated as well. In fact, Director Benson mentioned to me that he'd be perfectly happy with just expanded office space since they had outgrown their space at their Front Street HQ. So in turn, I suggested to Director Lipscomb that the Fire Services Headquarters be moved into the Donnelley Hill State Office Building. He agreed and later announced that move.  
It has been disconcerting to me to see a new HQ sign being erected at that location as well, especially since there was already a HQ sign there before. They just replaced it with a prettier one and, as Tom states, to provide an exclamation point of their stay. All in all, It seems to be a waste of money…but even more so, another missed opportunity by the City to create a more vibrant downtown for the citizens.