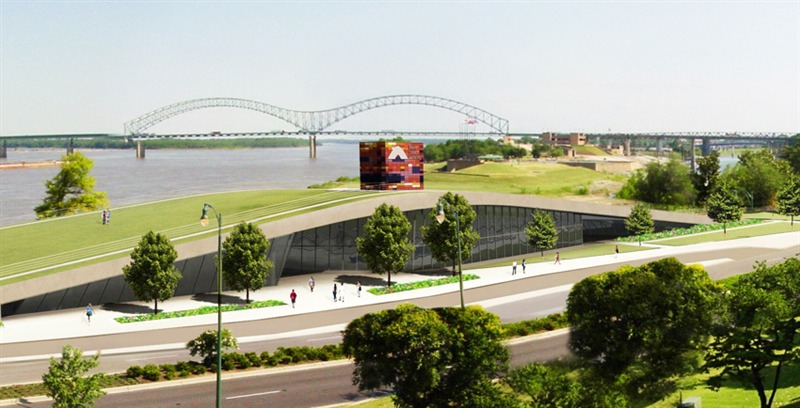 The opening this week of Beale Street Landing gives Memphis an opportunity to test its civic maturity.
The challenge is whether we can set aside our gripes and grievances and give this much-needed addition to the riverfront a chance to be a success.  And make no mistake about it, whether it is perceived to be a success or not will depend on our attitudes about it.
We remember our enthusiasm when Mud Island River Park and Museum opened.  We loved the river model, the museum, the eateries, and the landscaping.  And yet, it became a failure, and we recall the day that happened.
The park opened and attendance over time was below projections, which should have been no surprise since it was the first city park which people had to pay to enter.  There was the notion in City Hall that Mud Island needed to make money but there were also some who thought the entry fee would keep out the undesirables.
The coup de grace and the day that it became a failure was when Memphis City Council called it a "white elephant" and a "failure."  Its members saw it as a magnet for the tourism industry and a source of considerable revenue for city government.  These were counterproductive expectations and coupled with Memphis's tendency to denigrate its own investments in its quality of life, it was set up to fail.
New Attitudes
Today, we find ourselves with a similar opportunity.  We can revert to our "let's do everything cheap" attitude or continue to act on the lack of self-worth that suggests that we never deserve the best.  We can dredge up all the complaints that have surfaced during construction of the project and about the RDC.  And in doing it, we can set up Beale Street Landing to be a failure.
We know that there are honest differences of opinion when it comes to Beale Street Landing and the Riverfront Development Corporation.  We've written about our own concerns, primarily design issues, but that said, we have never shrunk from our conviction that Memphis needed what most waterfront cities have – a sense of arrival and a place to celebrate the riverfront.
Only in Memphis would the $43 million spent on Beale Street Landing be considered extravagant.  We grouse about the cost of Beale Street Landing while cities all across the United States are spending as much on their waterfronts as we spent on FedExForum.  It seems a false economy if we are content to let our riverfront to languish with a lack the vibrancy that drives so many successful cities and to look for a bargain project when it comes to the most-visited attraction in our region – the Mississippi River in downtown Memphis.
A couple of months ago, a news media outlet stated that "the RDC proposed Beale Street Landing as a riverboat docking service where passengers can grab a bite to eat and hang out…a destination for riverboats on the Mississippi." It underscores another danger for Beale Street Landing – the temptation to rewrite its history to suit headlines.
Docking the Denigrations
Beale Street Landing was conceived first and foremost as a place for Memphians and for people on the shore, a place where they could enjoy a distinctive perspective and unique experience with the river, where they could finally grab something to eat and drink on the riverfront, and where downtown would connect with the water that fundamentally defined its history and its character.
The opportunity to provide a better dock than tying up riverboats to trees in waterfront parks was a benefit, but it was lagniappe.  This was more than anything a place-making project to enhance and celebrate Memphis's relationship to the river.
There are those who enjoy the opportunity to label the tourist attraction and destination retail in the transformed Pyramid as a "bait shop" and there are some who equally enjoy the chance to refer to Beale Street Landing as a "boat dock."  But snarky comments aside, these bookend projects on the riverfront will transform our front porch from a largely unfulfilling experience into one that attracts hundreds of thousands of people drawn to our riverfront and bringing it more vibrancy.
After all, the average Bass Pro Shops attracts about 1.8 million people.  That's the average, but The Pyramid is not an average store.  First, it's a megastore with 40% of its space dedicated to non-retail exhibits and attractions. Second, the outdoor cantilevered glass balconies at the apex will surely attract even non-Bass Pro Shops fans to pull off the interstate and spend some time on our riverfront.
A Sense of Arrival
From our point of view, those who call Beale Street Landing a "boat dock" confirm a lack of understanding about what makes waterfront cities work, because it creates a center of gravity, a sense of arrival, and a hub of activity that has long been needed for our riverfront to keep pace with the major waterfront investments being made by smart cities around the world.
In a project of this complexity, it is no surprise that there have been complications that gave us opportunities to second guess and criticize, but our support for the overall project has not waned since the design competition was set in motion about a decade ago to build a place that would become an icon for Memphis, to connect our future to our past, and to create new grand vistas and activities on the front stoop of our home.
The winning architectural firm envisioned a sense of arrival for the riverfront, and we believe that has been accomplished.  What's left for us to do is to project it positively to the rest of the country instead of offering up the rancor and animosity that seem to accompany almost everything in Memphis that would be hailed as progress in other cities.
Hopefully, we can take a break from the normal venom directed at all things RDC.  Whether they continue to manage riverfront parks is ultimately up to Memphis City Council, and its members are weighing this decision carefully and deliberately.  For now, however, we should celebrate that after almost 200 years, we finally have a spectacular, distinctive place where we can experience the river with renewed joy in our relationship with one of the most impressive and important natural resources in the United States.
Old, Big Man River
The relevance of the Mississippi River has never been greater than it is today.  Just yesterday, there was the announcement by Memphis's entrepreneur and good citizen Charles McVean about "The Big River Crossing," the renamed Harahan Bridge project that will add a boardwalk to the north edge of the 98-year old railroad bridge.  He also is moving ahead on his partnership with National Geographic magazine on the geo-tourism for the river, and he has hired prominent trail builder Terry Eastin to help him achieve the potential for the project.
It's impossible to overstate the spectacle of the river, the sunsets that nightly put artists to shame, and the power of a river to shape Memphis and its people today just as it has for 200 years.  It is highly likely that in only a few years the riverfront will be transformed with shoppers, tourists, cyclists, hikers, and Memphians drawn once again to the Fourth Chickasaw Bluff on the Mississippi River.
Because of this optimistic future that is taking shape before us right now, we're taking the pledge to keep our eyes on the positive and to give voice to a project that is a vast improvement for our riverfront in that it guarantees a sense of vitality and vibrancy that downtown needs so badly.
Best of all, as we meet visitors to our city on the sidewalk outside our office on Union Avenue a half block from the river, we can again make eye contact, because we finally have a place to send them.  No longer will they walk to the river, stand for a few minutes, take a photo, shrug, and walk back up the hill toward Front Street.
Now, there is a place for them to enjoy and experience, and whether we like everything or anything about Beale Street Landing, its opening ushers in a new era for the riverfront, and when it is coupled with the millions of people visiting The Pyramid, there is little question that we are on the cusp of a level of activity unseen since the days when the riverfront in Memphis was punctuated with four landings.
Surely, that's something all of us can celebrate.