Vibrancy: Pulsing or throbbing with energy or activity, such as the vibrancy in the streets of a big city.
There's little question that urbanists today are obsessed with vibrancy.
With good reason.
More and more, it is vibrancy that is the ultimate indicator that a neighborhood or a city is working.  It is the ultimate measurement of whether redevelopment projects are successful and vibrancy is a factor that determines in particular whether a city can attract and keep young professionals.
If you ask a downtown development official anywhere in the country what they are working to create, the answer is most often vibrancy.  That underscores the biggest challenge facing the Downtown Memphis Commission.
Highest and Best
If downtown Memphis is notable for anything, it is its routine lack of vibrancy.  There are pockets of activity for sure.  Usually, it's the oasis of activity that blooms nightly on Beale Street.  Other than that, it's event-driven like special occasions in South Main Arts District, where the prevalence of nonprofit organizations with a handful of employees contributes little to daily vibrancy.
That's why we are unabashed supporters of Memphis Art Park.  There is nothing proposed for downtown – or for anywhere else, for that matter – that promises to create as much vibrancy as this single project.  There's no proposal for an arts-related project with as much potential.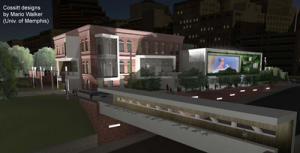 At a time when the term, game changer, has been devalued by overuse, Memphis Art Park is nonetheless a game changer.  Unlike any other project, it has the power to transform Memphis in a way that is nationally significant.  It does without question have the ability to convert a block of a half of prime real estate that is now wasted into a hub of activity, energy, and creativity.
Doing Something Better
At this point, the block and a half on Front Street that includes the Cossitt Library, the Monroe garage, and Memphis Fire Department offices are the highest and best real estate in Memphis and used for the lowest and worst use.  The library is in deteriorating condition, an eyesore made even more bleak by splendor of its new neighbor, University of Memphis Schools of Law; the garage is one of three that are blemishes on the face of our riverfront and a testament to our indifference to better uses of our most valuable land; and the MFD headquarters that use only a small part of the building and is past time to be relocated.

A former visionary City Hall official suggested a phased-in approach for Memphis Art Park, starting with Cossitt Library as phase one.  In this way, she conceived that it would be a way to demonstrate dramatically what the project can do and to build public interest and support for it.  Already, Memphis Art Park has the support of a number of arts organizations and key civic and educational organizations, but it's time for its full constituency to call for City of Memphis to help the project get a fair hearing and chance for success.
One aspect of the plan that appeals to us is the involvement of University of Memphis' architectural students.  They have done impressive work in imagining the design and programming for the art park and their latest ideas have been featured in the Memphis Flyer and are posted to MAP's website.
On the Money
The MAP website says it best:
What would Memphis Art Park (MAP) do? It would…

– create a community arts center and public art park on the Memphis bluff;

– incubate, empower, and showcase our city's emerging filmmakers, musicians, dancers, performing artists & visual artists;

– serve as a collaborative forum for local artists, arts groups & entrepreneurs;

– congregate and connect on its "campus" a variety of arts-focused entities whose common mission is artist support and development;

– offer arts education and community outreach programs for children; and

– provide an engaging public destination to enjoy our city's emerging art.

Located on the Front St. Promenade in downtown Memphis between Union Ave. and the University of Memphis School of Law, MAP would: (i) renovate the Cossitt Library buildings into an arts center for film, music, performing arts, and dance; (ii) replace the neighboring parking garage at Front and Monroe with an art park built on top of a new underground garage or a restored bluff; and (iii) convert the adjacent fire station at Front and Union into a visual art center.

As a public-use art park, MAP offers the city a compelling plan that would honor the letter and spirit of the Promenade's public-use easement; help stimulate our city's arts and culture; further beautify and energize downtown Memphis and its riverfront; and help make Memphis a city of choice among creatives.