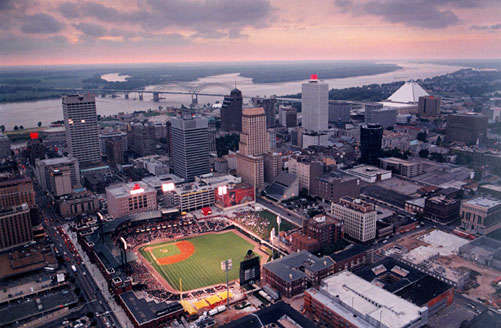 Memphis goes into bouts of anguish when we finish on the wrong side of the list in some of these rankings that sprout like mushrooms these days, so it's time to pay attention to some that are casting us in a positive light.
The reason that we like these rankings is that they essentially frame up our competitive advantage in attracting young, talented, college-educated workers, and we've been bleeding this demographic for a decade.  With more interest by this group in moving to cities where they can make a difference  (think New Orleans), we need to use these four rankings to our advantage.
Memphis' latest rankings:  #2 cheapest city in the U.S., #4 happiest cities for job-seeking college grads, #6 happiest city to work, and #5 in best places to buy a home.
Branding for Talent
All in all, it adds up to great news for talented workers looking for a job, particularly young professionals.
Years ago, we were talking with some of the "fellows" who work at St. Jude Children's Research Hospital about what Memphis could do to keep them here.  (That was the first time we met Aaron Shafer so we count it as one of our favorite conversations.)
A fellow at St. Jude Children's Research Hospital summed it up well.  Asked why he chose Memphis over Boston and Paris, he said: "Because in Memphis, I don't have to live like a student any more.  I could buy a house in a nice neighborhood.  I don't have to live with two roommates in an apartment with my bike on the fire escape."
Memphis – the city where you don't have to live like a student any more.
It sounds like a great brand for us when marketing our city as a special place for young workers.
Affordable
The quarterly report by the Council for Community and Economic Research named Memphis as the second cheapest place, and wrote: "Tennessee's largest city offers below-average costs on all six categories that the Council for Community and Economic Research measures.  Utilities cost just 81.3% of national average, while miscellaneous goods are 10.2% below average, transportation 9.1% less than average, groceries 6.9% cheaper than average and health care discounted by 3.6%.
"But it's in real estate where the Bluff City really shines.  Housing in the 663,000-population locale costs 31.3% below national average — tying Winston-Salem, N.C., as the nation's fourth-cheapest market.  There are some 4,400 Memphis properties listed for sale on Realtor.com. Prices range from $2,000 for a three-bedroom home (yes, you read that right) to $4.6 million for a 102-year-old urban estate."
To top off the good news, not only is Memphis affordable, people working here are happier.
Happy, Happy, Happy
Just a few weeks ago, Career Bliss ranked Memphis as one of the best places to work, right behind San Jose, San Francisco, Jacksonville, Miami, and Washington D.C.  It's a pretty impressive peer group for our city. The ranking was based on benefits, career advancement, compensation, growth opportunity, job security, recommend to others, senior management, and work-life balance.
Memphis recently ranked fourth as the happiest city for college grads looking for a job.  The ranking is based on analysis of more than 140,000 data points from reviews submitted by employees with jobs that require less than two years of work experience. Employees all over the country were asked to evaluate 10 factors that affect workplace happiness. Those include one's relationship with the boss and co-workers, work environment, job resources, compensation, growth opportunities, company culture, company reputation, daily tasks, and control over the work done does on a daily basis. They evaluated each factor on a five-point scale and also indicated how important it was to their overall happiness.
Memphis made the list with its relatively high salaries when adjusted to the cost of living.
New Peer Group
Finally, Zillow, an online home and real estate marketplace with a database of more than 100 million homes, ranked Memphis as the fourth best place to buy a house in 2012.   To create its list, the real estate website looked at housing prices and compared them with local incomes, home value trends, unemployment rates and whether buying makes more sense than renting.
Maybe one reason these workers are so happy is precisely because they "don't have to live like a student anymore."
Bonus ranking: In only three years, Memphis has gone from being ranked as one of the worst cities for biking to being named this year as one of the most improved.  After installing 35 miles of bike lanes in the last two years, Memphis has gone from being named one of the worst cities for riding by Bicycling Magazine in 2008, to the "Most Improved City" in Bicycling Magazine's annual Best Bike City Rankings for 2012.
The progress is underscored by another honor bestowed on Memphis last week when it was included with Austin, Chicago, Portland (OR), San Francisco, and Washington, D.C. in a new national project for bikeways.
Grassroots, Not Grasstops
The national bicycling nonprofit Bikes Belong Foundation (www.bikesbelong.org) launched its Green Lane Project, bringing protected bikeways to Memphis and five other U.S. cities over the next two years. The initiative (www.greenlaneproject.org) will work with Austin, Chicago, Memphis, Portland, Ore., San Francisco and Washington, D.C., to support the cities' development of world-class bicycling facility networks.
Green lanes are dedicated, inviting spaces for people on bikes in the roadway, protected by curbs, planters, posts or parked cars. The goal of the Green Lane Project is to support the selected cities in their efforts to develop and install these kinds of facilities.
Every city is fighting for 25-34 year-old college-educated workers. This group is highly coveted, not just because they are highly educated but because they are highly mobile. And cities like ours who want them and want to keep them have to prove that they have the kind of quality of life that these talented workers say they are looking for – clean, green, safe, and tolerant.
It's easy in our city to feel overwhelmed by its challenges and undervalued as sources of change. But we are the ones we have been waiting for. The most exciting things happening in Memphis today aren't coming top-down from leaders of government, the Chamber of Commerce, or high-profile civic groups. Rather, the best reasons to be excited about Memphis are the number of grassroots and neighborhood programs begun by people like you who care about their city and are determined that it can be better.
The Gift
It's what Commercial Appeal sports columnist Geoff Calkins called "Memphis' special gift."
He said a few years ago in one of the best speeches we have ever heard that what he loved about this city is that "people care and look out for each other. Sometimes in the midst of the drumbeat of fear and negativism here, I have to stop and remind myself what I love about Memphis: the opportunity is there for all of us to shape Memphis. Every one of us can make a difference. It's not that we have an obligation. It's a gift. It's an opportunity that doesn't exist in other places. You can easily get involved in what gives your life purpose and meaning."
That, too, is a theme for this city.  Every day.