It's not the official City of Memphis name for its newest division, but for us, it will always be the Division of PLACE.
PLACE: Parks, Libraries, Arts, and Cultural Enrichment.
We'd like to claim credit for the name, but it was suggested by David Williams, executive director of Leadership Memphis and chair of the library board.
Heading up the new division is Janet Hooks, former City Council member for 14 years who was appointed to a manager's job in 2005 by former Mayor Willie W. Herenton, moving up the ranks to deputy division director to division director.  Her former Division of Public Services is now part of a three-division merger orchestrated by Mayor A C Wharton.
Connections
The official name is Division of Neighborhoods and Parks, and now, she not only notably has the animal shelter and libraries, but she also has neighborhood parks, community centers, senior centers, zoo, botanic garden, Pink Palace, Liberty Bowl stadium, and City Beautiful.   Ms. Hooks has a reputation as a savvy, no-nonsense, effective manager, and her new job is a testament to the confidence that city government has in her.
It's a promising time for a division focused on some of the primary ingredients that define place.  In fact, if Ms. Hooks could find new ways to connect services within her division, it would go a long way to elevating and maximizing them.  For example, what about connecting library services to senior centers, Pink Palace outreach into community centers, pet adoption information at libraries, computers connecting library information at all facilities, joint programming between the division's departments, and connections between city services and Memphis City Schools through their respective libraries and recreation programs.
Parks and libraries exist in an interesting new era.  Across the U.S., new ideas about park services and recreation and the role of libraries are producing exciting changes as they adjust to the impact of technology and changing citizen expectations.
Here, both services in Memphis have not received the attention – nor the funding – that they deserve or that the public wants.  Both parks and libraries regularly received some of the highest approval ratings in the old Memphis Poll (which was inexplicably halted two years ago) but despite the public's interest, funding for the services has been largely flat during the Herenton years.
New Rules
Hopefully, the new alignment of services in this new division will result in a new emphasis on these fundamental quality of life indicators.  Most institutions these days are coping with changes and technologies that are transforming all city services and the ones in this division are no different.  It's no secret that libraries are under the greatest pressure, and the greatest challenge is to provide its services without being site-specific.
The days when citizens have to travel to a specific place to access services are ending.  People want what they want when they want it and where they want it.  That's why libraries need to find new ways to reach people and why ideas like books at community center should be pursued.
There's no argument that as a physical place, libraries are common ground where people can gather regardless of their race, income, or social status.  And yet, the ultimate purpose of libraries is as vehicles for "lifelong learning" rather than as places with books and computers, and when they're seen in this light, it changes the options.
This is especially relevant in light of another important responsibility that libraries have: to serve the underserved.  It's about being more than an on-ramp for the digital superhighway.  It's about giving people a voice and finding new formats and ways for them to do it.   It's about promoting diversity so that there is no "one size fits all" approach to its services, materials, and diversity of equal access.
Up To The Task
The good news is that the present library management and board are already thinking about these issues.  Recently, the staff presented its ideas about innovation and what our library system should be doing to prepare for the brave new world of 21st century libraries.  Their ideas included virtual digital branches, limitless libraries, corner libraries, homeless book club, learning and homework center, spring library camp, and more.
The corner libraries are a special favorite of ours.  They're also called guerilla libraries.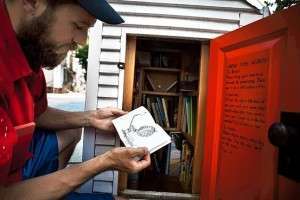 "While public libraries struggle financially and bookstore chains succumb to the e-revolution, privately funded micro-libraries are popping up in cities.  Their founders—mostly artists and bibliophiles who tire of Googling their way to enlightenment—share a reverence for conventional libraries and their tradition of community programming," the Wall Street Journal reported.
It's clear that the library staff and board are up to the challenge, and now what they need is our support to send the message that quality library services are a priority for all of us.
Stepping UP Attention
Meanwhile, parks are scheduled for more attention as part of the next four years of the Wharton term.  He announced in his State of the City Address three weeks ago that he's moving parks up on the administration's agenda.
Mayor Wharton said: "We will work in the next 100 days to develop procedures to determine the condition of every park in Memphis, to develop a consistent plan of maintenance and consistent standards for equipment and programming, and to recommend ways to partner with neighborhood groups so city government helps them oversee and operate their own neighborhood parks.
"Neighborhood parks are the backbone of our parks system, and we will ensure the equitable distribution of resources and connect parks to greenlines to open up new opportunities for healthier lifestyles."
It's good timing.  The Memphis MSA is dropping like a rock on the ACSM American Fitness Index.  This year, Memphis ranks #48 out of 50 largest metropolitan areas, a drop from #35 since the last ranking.
Warning Signs
Among our trouble signs are:
*High percent of obesity
*High percent of diabetes
*Higher death rate for cardiovascular disease
*Higher death rate for diabetes
*Lower percent of city land area as parkland
*Fewer acres of parkland per capita
*Fewer farmers' markets per capita
*Lower percent using public transportation to work
*Lower percent bicycling or walking to work
*Fewer park playgrounds per capita
*Fewer parks per capita
*Fewer recreation centers per capita
*Lower park-related expenditures per capita
*Lower number of primary health care providers per capita
The Network
It sets out daunting challenges for Ms. Hooks' new division as Memphis tries to scratch our way up the list, and clearly, changing these indicators will take help from many quarters.  That's why yesterday's announcement by Shelby County Mayor Mark Luttrell about the Healthy Shelby program, a new initiative of Memphis Fast Forward, was especially good news.
As for parks, chief among the obvious opportunities are to connect Memphis' greenlines, bike path, bike lanes, and walking paths into a seamless, integrated system of recreational opportunities centered on connectivity with  neighborhood parks.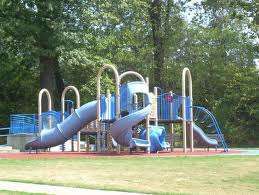 Mayor Wharton was right: they are the backbone of Memphis' park system.  They are also the parks most valued by the public (according to Memphis Poll results over the years).  The general norm is for every child to be within a 10 minutes' walk of a park, and it's a standard that we're not achieving.   Most of all, city government wants to make the point that while conservancies are proven ways to improve large parks, people without the means to do the same with their neighborhood parks must be guaranteed adequate, quality facilities as a top priority for city government.
The most promising initiative being launched by city government is to create partnerships with neighborhood groups to manage and operate their own parks.  It's a model that's been highly successful in Indianapolis, not just in reducing costs, but more importantly, in creating community ownership in their parks.  Then too, there is talk about developing a master plan for Memphis' parks so that citizens understand what the vision for the future is, how parks fit into it, and how important they are to Memphis neighborhoods.
After years of neglect and lack of direction, the Division of PLACE mayoffer rays of hope for the future.