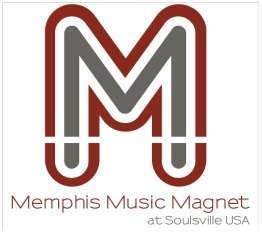 It's always gratifying for us to see people who love Memphis and possess a vision to move it ahead have the opportunity to make it happen.
When the three people are Charles Santo of University of Memphis, Cardell Orrin of Linx Consulting, and Eric Robertson of Community LIFT, it's even more satisfying because it is a validation of their hard work for the Soulsville neighborhood. 
That's why we were so excited by the announcement by ArtPlace to grant $678,195 in funding for the Memphis Music Magnet at Soulsville.
It's one of the two arts-based projects in Memphis that excite us the most.  The other is Memphis Art Park, and hopefully, someday soon, it will get the support it needs and deserves from City of Memphis.   In the meantime, we'll be gratified that the Memphis Music Magnet is getting the chance it deserves to prove itself.  It shares with Memphis Art Park the same special imagination, the ability to catalyze a neglected part of Memphis, and the potential to intensify uniquely Memphis assets. 
Community of Choice
We've been writing about the Memphis Music Magnet since 2009, and in the intervening years, the trio behind its concept have worked methodically and carefully to put together a sound business plan that can leverage creativity to remake the storied neighborhood of Soulsville.
We're not saying it's going to be easy.  It's a bold plan and it will need uncommon diligence and discipline to succeed, but if we were betting on three people to pull it off, Mr. Santo, Mr. Orrin, and Mr. Robertson would be them.  They are dedicated, smart, and creative, and they believe,  as Mr. Robertson said: "Failure is not an option."
The Memphis Music Magnet's ambition is to make Soulsville into a community of choice for musicians, music-related creatives, and other artists.
The grant was made to Community LIFT and Memphis Symphony Orchestra.  The total project budget is roughly $1.6 million, so the ArtPlace grant is not the panacea but an important jump start on a project that deserves strong community support. 
Place Matters
The support of ArtPlace says volumes about Memphis Music Magnet.  It was one of 47 "creative initiatives" chosen from 2,200 applications for funding from the $15.4 million in this cycle.  Memphis Music Magnet was funded under the heading of using "Using Art to Spark Redevelopment" and it received the third largest funding of all the projects.
ArtPlace is an impressive collaboration of 11 of the nation's top foundations, eight federal agencies including the National Endowment for the Arts, and six of the nation's largest banks.  They joined hands to "accelerate creative placemaking across the U.S.  ArtPlace is investing in art and culture at the heart of a portfolio of integrated strategies that can drive vibrancy and diversity so powerful."
ArtPlace – headed by the smartest person we know, Carol Coletta – is funding the most imaginative, transformational arts-based projects in the country, and with its grant, Memphis Music Magnet can begin within weeks to renovate a warehouse to be used by Memphis Symphony Orchestra for concerts and to turn the nearby home of Memphis Slim into an arts center with exhibits, a recording studio, and practice rooms called "Memphis Slim's Collaboratory."
Remember Memphis Slim.  His is a classic Memphis Music story: the story line begins in South Memphis, includes honky-tonks, dance halls, and gambling joints in the MidSouth, then a move to Chicago where he recorded with the other greats of his day, and finally to live in Paris, France, where he died in 1988 at the age of 72. Two years before he died, he was named a commander in the Order of Arts and Letters by the Ministry of Culture for France.
Music Can Change Things
It's the kind of story that has been replicated so many times in the Soulsville neighborhood as legendary musicians walked from the neighborhood and drove in from across the South to record at Stax Records with its legendary musicians and timeless sound.  
The idea for the Memphis Music Magnet grew out of Dr. Santo's graduate planning classes at University of Memphis, where students conceived of a way to tie creativity to revitalization. The concept was to create neighborhood-level change by attracting and supporting musicians and by using music as a tool for community engagement; to target homeownership incentives and housing programs for musicians; and to develop affordable rehearsal space.
To see the Memphis Music Magnet plan, click here.
Back in 2009 when we wrote about this plan, Jeffrey Higgs, executive director of Lemoyne-Owen Community Development Corporation (CDC) sent his comments, which remain important today:  "The idea of creating an artistic community in SoulsvilleUSA is a great idea, not only for what it brings to this City but what it tries to capture …the essence of the music industry TODAY. Which is a vital part of the history of Memphis, and it is not just EP or BB, it is the creative class of minds young and old that says yes we can, have a vibrant and lively music scene and residential community as well that celebrates music and the economics associated with it.
Proud and Welcoming
"And why not SOULSVILLE USA? Over $150 million in revitalization activity, the City's only HBCU, Elmwood Cemetery, Soulsville Foundation, East Trigg Missionary Baptist Church, Memphis Slim's House, Aretha Franklin Childhood Home, J. E. Walker House, Historic Fountain Court, Rouhlac Mansion Bed and Breakfast, Firehouse Black Arts Alliance, Boys and Girls Club, Four Way Grill, College Park, Towne Center at SoulsvilleUSA and the people who make this neighborhood vibrant and contribute to the mosaic of diversity and a sense of being…a sense of place.
"All this to ensure that change in its self-image is one positive step to being a better neighbor and neighborhood. One cannot stand on the outside and get involved in this notion of perception, but one must immerse themselves in the fabric of the neighborhood to see the good and the changes that have occurred.
"SOULSVILLEUSA and its residents are working to become a place that welcomes everyone, everyone that is trying to make this neighborhood a better place to live, work and play.  I can assure you that the people of this neighborhood are hard-working and honest people that want the same things that others may want for their own neighborhoods – positive economics, green spaces, and an environment that is lively and inviting to all."
Just Do It
The overlapping goals of the Memphis Music Magnet are
1) Promoting neighborhood revitalization through physical and cultural renovation;
2) Supporting an economic development target industry through an alternative approach to economic development;
3) Infusing and sustaining creativity in Memphis; and
4) Creating a catalyst for development and growth in Soulsville USA.
To all of this, we can say only one thing about Memphis Music Magnet: Let's get it done and done right.