We are grateful to Memphis City Councilmen Lee Harris and Kemp Conrad for looking out for downtown's best interests.
A few months ago, as part of our occasional posts called Urban Indifference, we had a discussion here with several readers about the way that sidewalks are blocked with seeming impunity downtown.  The poster child for this problem was the Hickman Building, across the street from the downtown YMCA on Madison Avenue and closed since 1971, and collapse of 118 Madison which kept the street blocked for more than six months.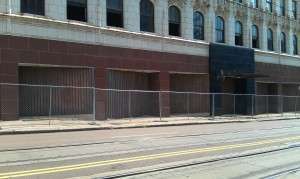 As for the Hickman Building, John commented: "The Hickman has ridden out the wave of unprecedented residential development, the lowest interest rates in history, the highest condo prices in history, the development of a $72 million ballpark across the street, a new elementary school next door, 400 new(ish) neighbors and the introduction of the trolley. Its current owner has outlasted this and two city mayors, three county mayors and three downtown development agency administrations. During this time 20 year tax abatements, subordinating low interest loans and historic preservation tax credits have all come and gone. Granted, its across the street neighbor is in a similar state… just with the lipstick in mural form… but surely the residents, visitors and employees of this area deserve a better effort than a fence?"
Urbanut added: "Seeing as a common element and practice of owners that are incapable of maintaining their properties is to simply erect a chain link fence to absolve themselves of the risks inherent in the structure, I would propose the city enact a hefty right-of-way fee be enforced where any structure requires the closing of a sidewalk or street (or any public right of way) due to negligence or lack of maintenance for the property owner's structures. If a daily fee is assessed for these situations we might see owners take more interest in their properties. Simple maintenance would be far cheaper than the daily fee and a lack of fencing would risk a lawsuit should someone be injured by these properties."
Because of these nuisances, Downtown Memphis Commission President Paul Morris weighed in with his support for such authority.
That's the background.  Here's the good news.
Councilman Harris has introduced an ordinance amendment that will make owners of blighted property pay fines for blocking the public right-of-way.   The amendment will be on the Council agenda Tuesday, and it will clarify Section 14-4-36.  It will call on property owners to pay the costs of closing adjacent streets and sidewalks and authorizes the city treasurer to assess the special tax against the property.
The amendment gives property owners 14 days to mitigate the problem, or after that time, a daily fine of $200 will be imposed. The city can also take any other actions allowed by city ordinance.
We appreciate Councilman Harris' attention to this nagging problem, and if you want to express your support, please email him at Lee.Harris@memphistn.gov.
Meanwhile, in a recent meeting of City Council, Mr. Conrad called for more attention to one of our biggest pet peeves about downtown – the pathetic condition of Main Street with its damaged grates and the patchwork of plywood repairs.
Councilman Conrad said that he had an out-of-town guest in Memphis and it was impossible in a walk downtown to ignore the sad state of Main Street.  In response, he asked Mr. Morris for his attention to the problem.  It's our understanding, however, that City of Memphis Division of General Services is charged with responsibility for Main Street maintenance, but as far as we know, no one has asked for an assessment of the cost for getting downtown's main drag up to a standard expected of a major city.
There's no question that it helps in City Hall to have a Councilman's interest in solving a problem, so Councilman Conrad's attention is greatly appreciated.
It's time to get these repairs on city government's agenda, because it's a problem long overdue for action.
Here's what we've written previously:
"We've noted before how city government's idea of repairing Main Street is to affix plywood over it…with apparently little intention to ever do anything else.  Recently we took inventory.  We walked down Main Street from Poplar Avenue to Peabody Place.  There is not one block without one of these ugly plywood repairs, and the block with the most — 18 — just happens to be the one in front of City Hall.  And that's with several places where the grates were damaged and left unrepaired.
"It's hard to be a downtown worker, resident, or visitor and not take notice of these reminders of urban indifference.   The message they send is clear – no one is paying attention to the details, quality urban design means nothing to us, and city government is a major contributor to the eyesores that we have come to accept as business as usual.
"Here's a number that startled even us.  From Poplar to Peabody Place, there are 59 plywood patches passing as repairs to broken grates on Main Street.  And some of the plywood patches are eight feet long."