A successful urban park should be a vibrant shared space full of people.  Designing one is a rather simple task when the design space is surrounded by pre-existing activities,  small businesses and adjacent neighborhoods-think of a vibrant town square park.
What do you do when you want to bring people into a large unused space like the Fairgrounds?    You can either rebuild the entire area with new businesses and multiple activities or take a more minimalist approach by designing a park with a few features that attract people first and then organically phase-in businesses and activities that are sustained by the gradual influx of new people.  Or perhaps you apply a mixture of both approaches.
My suggestion in this post is to make a few minor modifications in the urban park design that accommodates and attracts urban skateboarders and soon you will have a park vibrant with people and other activities or at the very least a park that is well used and appreciated.
First please allow me to give you a little history lesson in urban skating.
Back in the 1970's skateboarding was heavily influenced by the surfing culture.  We see this influence reflected in the design of the skate parks that were built during that time period. Skate parks were large swirling curvy non-linear concrete structures that had the appearance of several waves frozen in concrete. The term used to describe the best park designs was the quality of its "flow".
By the early 1980s, many of these 'Mom and Pop" owned concrete playgrounds had closed down as a result of escalating liability insurance premiums that could not be offset by low margins of profit.  Skate parks, similar to neighborhood baseball fields, were never very profitable business ventures.  Memphis had two of these pay-based parks that were eventually destroyed.
Cities become skate parks
With the disappearance of skate parks, skateboarding was forced to adapt to the urban landscape thus leading to the birth and emergence of the urban skate scene. City parks hosting old ledges and stair-sets became the main features for new urban skaters.  Any rail, ledge or flat surface was fair game. Consequently, urban parks and downtowns have become a utopia for "street" skaters.
Almost two decades after the birth of street skating, urban landscape architects are beginning to recognize that skateboarders are an important aspect of the city culture as well as tourism. They provide entertainment and a vital animated presence to city parks and downtown areas.  With a few design tweaks, an average looking park can become a mecca for traveling skaters.
One of the pioneers of this movement is professional skateboarder Rob Dyrdek who started a foundation dedicated to building skate-able urban parks. Below is a picture of the Kettering skate plaza that opened in 2005.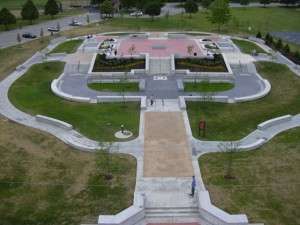 As you can see, the lay-out is nearly identical to urban park design. It shares similarities to our own Beale street landing design. What sets this park apart is the materials that protect the concrete edges from the grinding tricks performed on the edges. Embedded in the edges is a smooth decorative steel plating that prevents wear and tear of the concrete.
A Fairgrounds companion to Tobey
One of the first places I thought would be perfect location for this type of layout is in the Fairgrounds area. Since Tobey will host our first traditional skate park, having an urban skate park companion only a few miles away would be a fantastic complement to the Tobey skate park.  Emily Young of the CYDC was looking into incorporating skate park plans for the Fairgrounds, so the urban design would be a good fit for their plans that create a synergy not redundancy with Tobey skate park design.  Basically, you get an urban park that can be enjoyed by the general public while serving a secondary function as an urban skating playground.
Ugly skate stoppers!
Next time you go to Overton Park, look at all the worn down ledges that now have ugly "skate stoppers" on them to prevent skaters from grinding on them.  Had the park been built today, with a few cost-effective modifications you'd have a hidden gem of a skate park as well as a park able to withstand the wear and tear resulting from the inevitable use from skaters. That's a win for city maintenance departments, park users and urban skaters.