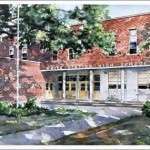 UPDATE: Newsweek has admitted that it blew it, and White Station High School is now #1,090 out of the top 1,600 high schools in the entire U.S.
The written statement from Jay Mathews, Researcher and Contributing Editor with Newsweek Magazine:
"Newsweek made a big mistake in leaving White Station High School off of its 2010 Best High Schools list. We had an out of date contact for the school and should have worked harder to get to them after they did not respond to our messages. We are gathering their data now and expect to be adding them to the list in our July update. We apologize for our error. We better do much better next time. —Jay Mathews, Newsweek contributing editor
Yesterday's post:
Most of us who keep up with school issues were surprised to see that White Station High School was not on Newsweek magazine's list of top U.S. schools.  According to its principal, David Mansfield, it's because of an error by the magazine.  A member of Memphis City  Schools communications staff sent the following to school board members today:
Dear Board Commissioners,
On behalf of Superintendent Cash, I am sending an update on White Station High and Newsweek's list of America's Best High School.
After researching why White Station High School was not on the Newsweek list of America's Best High Schools, we have learned that the magazine failed to include the "Challenge Index" score of White Station High School in its calculation of America's Best High Schools.  We are not able to detect why this omission occurred, however, Newsweek has provided us an opportunity to correct the error by allowing the school's administration to contact Jay Mathews, Researcher Newsweek Magazine to inform him of the error, and the magazine will seek to resolve the issue.
Having appeared on the list of America's Best High Schools since 2007, White Station's 2010 ranking index of 1.4936 will likely place the school in the top 1,100 schools and above local schools, Collierville High and Houston High.
According to College Board sources, White Station's AP passing rate — a substantial 76.7% — is among the highest in the region.
Below is the text of an email sent to Newsweek's Jay Mathews from White Station High School's principal, David Mansfield:
I am the principal of White Station High School in Memphis, TN.  We were on the Newsweek list of America's Best High Schools in 2007, 2008, 2009 but were not on the list this year.  After reviewing the formula you use to calculate the Challenge Index and our data for the 2009 school year, I believe White Station High School should have made the 2010 list with a 1.4936 Index.  This would place us at about number 1090 on the list.
Here is our data for your review:
AP exams given – 708
AP exam pass rate – 76.7%
Number of graduating seniors – 474
708/474 = 1.4936
Please note that we do not offer International Baccalaureate (IB) or Cambridge tests at our school.
To ensure accuracy of the data presented above, please note that the Advanced Placement test and pass rate data was provided by the College Board and the number of graduating seniors was provided by the Tennessee Department of Education.
Please review the White Station High School data and make any corrections to your list that are appropriate.
With thanks,
Principal
White Station High School