Note: Every time I write about Tom Lee Park, I get emails questioning my motives and my integrity, so let me point out the facts yet again: My first blog post, Turning Tom Lee Into A Park, was published in 2010, long before the Memphis River Parks Partnership was created and long before anyone was proposing what a great park these 30 acres could be.  I also wrote a Memphis magazine column on the same subject in 2011.  The blog post 12 and a half years ago started with this sentence: "Tom Lee Park is the worst riverfront park in the country."  I am thrilled to see what the park is becoming.  It fulfills the last sentence in that blog post from so long ago, that Tom Lee Park would become a "symbol of the new spirit and new thinking that's taking grip in our city right now."
**
From the beginning, Memphis in May presumed that it could kill the idea of turning Tom Lee Park into a grand riverfront parks.
After all, it had done it before. 
The playbook was to mobilize loud voices on its board, some volunteers, barbecue teams, and the ideologues in the hotel industry to scream loudly and long that the sky was falling.  The last time the idea of an improved Tom Lee Park was proposed about 15 years ago, the shrill and overheated complaints and the hyperbolic threats killed the notion before a detailed proposal was even made for how the 30 acres of underutilized riverfront real estate would be better off as an actual, spectacular park.
This time was different.  After a better use of Tom Lee Park was mentioned in many of the more than 20 studies about the riverfront over 50 years, it was finally an idea whose time had come.  Reports for decades had called for a use that would do justice for Tom Lee Park's spectacular vista and would create a place of 30 acres of civic pride rather than an unadorned and bleak field.
In fact, it was almost 100 years ago, in Memphis first comprehensive plan in 1924, legendary urban planner Harland Bartholomew referred to the riverfront as "not merely unattractive, but represents a flagrantly unprofitable use of the property…With proper architectural design, attractive lighting, and the exercise of care in both public and private construction, this riverfront could be transformed into a picture of combined commercial and recreational activities truly representative of the city's character and unsurpassed in attractiveness in any other city." 
Finally, it is happening.
Dreams Become Reality
By 2017, Memphis had a mayor willing to do something about it.  That's when Mayor Jim Strickland announced a new task force whose mission was to develop a new vision for the Memphis riverfront.  The concept plan that was developed by the task force proposed a spectacular Tom Lee Park.   
Memphis River Parks Partnership was created to make it happen.  And once this happened, just as it had before when a better Tom Lee Park had been announced, Memphis in May declared war on the new design by firms with international credentials and numerous design awards.  It fed an outrage machine that attacked it to the point that staff and board members were personally slandered and even stalked. 
Memphis in May was outraged that someone would advance a vision for the 30 acres that it treated like it owned.  It also was outraged that the process continued despite its protestations and the over-the-top tirades of some downtown hoteliers – despite the fact that four other months have higher occupancy rates than May.
The festival's loud and persistent complaints eventually inspired the mayor to set up a mediation process to respond to what Memphis in May said it needed and to what could be done with Tom Lee Park's design to transform it into a spectacular park on the Mississippi River.
As part of that process, Memphis in May was given the opportunity to set out its specifications that would allow its even to be successful.  Today, festival officials say that the park was not designed to its specifications, which is audacious, considering the facts are in black and white, and that so much of the site is what Memphis in May has always loved most – open fields.  
Do the math for yourself.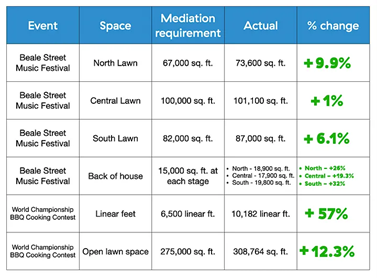 Source: Memphis Flyer
The Outrage Machine
Put directly, the mediation requirements for Memphis in May reflects the amount of space that the festival said it needed – and then some – for success, but now it whines that its specifications weren't met.
If the specifications in the above chart don't meet their approval, why did they submit them?   If the specs don't meet their approval and want to blame someone, they need only to look in the mirror. 
Now, in yet another attempt to incite their outrage machine to direct its animus at Memphis River Parks Partnership, Memphis in May stirs up again its barbecue teams, a regular and dependable source of hostile grievances.   
This time, the festival reduced the number of barbecue teams competing in the yearly contest and sent out emails blaming it on the park's design.  The letter said the new park "is not built to Memphis in May's requested specifications" although all documents contradict that statement as well as the deliberations of the special committee in City Hall to oversee that the mediation agreement was followed to the letter. 
If the space for barbecue teams is wrong, why did Memphis in May only ask for that much?
Living Up to Memphis in May's Mission 
It even appears that Memphis in May is cherrypicking which barbecue teams to eliminate in an effort to achieve maximum anger and generate maximum insults targeting Memphis River Parks Partnership staff and board. 
It's gotten to the point that a volunteer official for the festival has even suggested bulldozing the park after the barbecue contest while others have smeared Tom Lee Park contributors like Pitt Hyde, despite the inconvenient fact that Memphis in May would not exist without him.  He saved it from bankruptcy – twice; signed on AutoZone, the company he founded, as an early and crucial sponsor of the music festival; and who, with then festival executive director Cindy Ham, conceived of the music festival moving from Beale Street to Tom Lee Park.
If Memphis in May really celebrates Memphis, as its mission statement claims, it would ask its incendiary supporters to stand down.  Their scorched earth approach, sowing division and disunity, comes at a time when Memphis needs more unity and positive civic conversation.  
In that way, it is not just poor judgement. It is reckless.
This new riverfront park is an opportunity to put Memphis' best foot forward and the first step in getting off on the right foot is for a successful Memphis in May in a beautiful new setting.  But success depends on the end of the verbal assaults and threats, and for Memphis in May to stop its rants for the Partnership to be eliminated and misinformation about the mediation process.
A transformed Tom Lee Park is going to take visitors' breaths away.  Being part of that celebration is in keeping with Memphis in May's stated mission and proves once and for all that Memphis in May is truly about supporting positive change in Memphis. 
Let us celebrate Memphis in May's seven days of events and hope it sells tens of thousands of tickets, but let's celebrate even more that the riverfront will now be home to one of the nation's great waterfront parks and open at no cost for Memphians the rest of the year.
All it requires is for Memphis in May to put Memphis first.
Next, Wednesday:  Putting Memphis First, Part 2