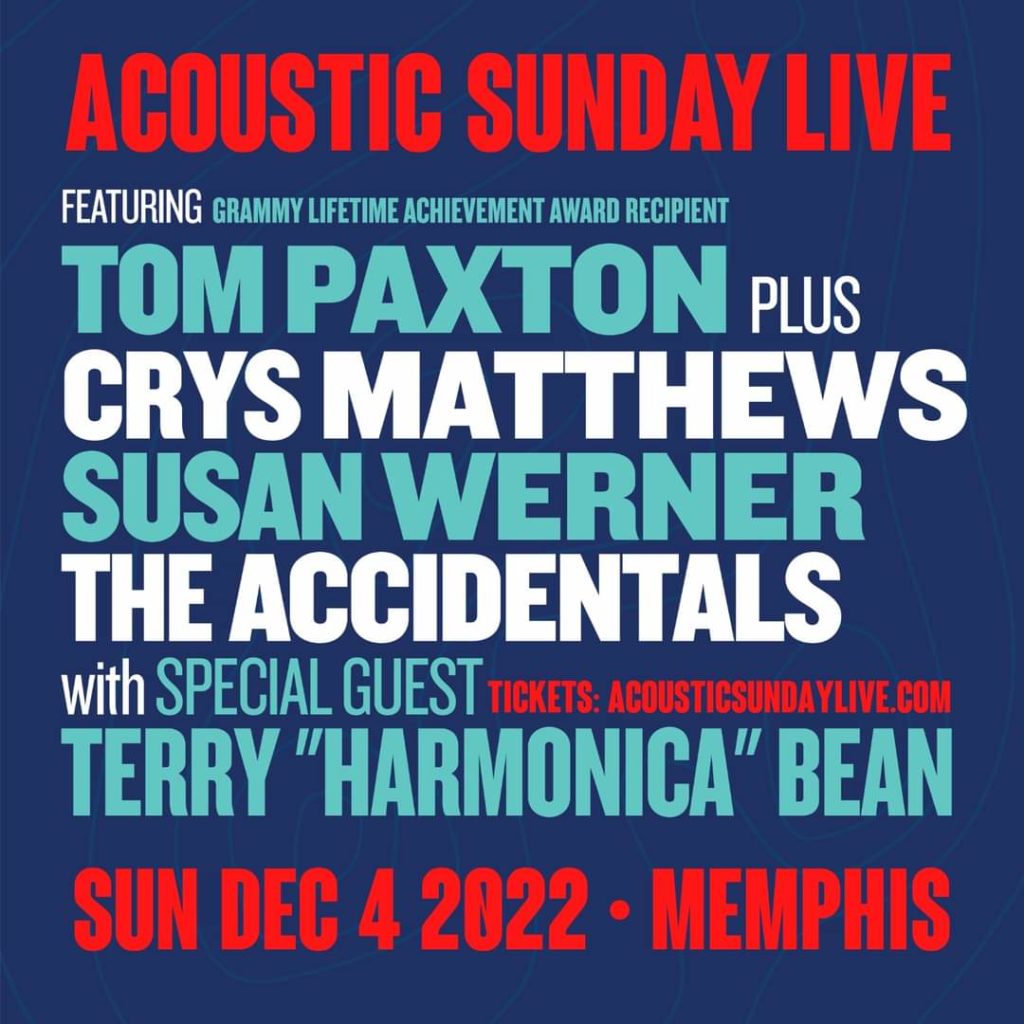 In a city whose music is a gift to the world,  Acoustic Sunday Live is each year a gift of music to Memphis itself.
This year's edition will be Sunday at 7 p.m. on December 4 at First Congregational Church. 
It will star Tom Paxton, Crys Matthews, Susan Werner, The Accidentals with special guest Terry "Harmonica" Bean. 
Buy tickets here 
The music series is made possible by a couple of special supporters of Memphis music: husband Bruce Newman, entertainment attorney, blues promoter, and host of WEVL's Folk Song Fiesta, and wife, Barbara Ballin Newman, former president of the Blues Foundation who developed a fund that has raised $250,000 in support for low-income blues musicians during the pandemic.
Community Support
The three decades of concerts began in 1994 when the couple decided to leverage their considerable connections and influence to organize events to benefit local nonprofit organizations.  They began with comedy shows with the likes of Howie Mandel and Alan King but evolved in 2000 into what it is today.  Along the way, it has featured legendary singers,  including Richie Havens, Tom Paxton, Ramblin' Jack Elliot, Odetta, Josh White Jr., Roger McGuinn, Melanie, Dave Von Ronk, and more.
The first beneficiary was the Bornblum Solomon Schechter Day School and this year, for the third time, it will benefit Protect Our Aquifer. "This is a cause close to everyone's heart," said Mr. Newman, who handled the legal work to set up the nonprofit organization fighting to protect the source of our community's drinking water.
He has known Ward Archer, one of the founders of Protect Our Aquifer, through the music business and admires how the organization has created a growing constituency for the issue.  "When TVA drilled into the aquifer, we realized our risks," said Mr. Newman, one of the few entertainment lawyers in Memphis. "Water is not a political issue.  It's neither left or right."
The community's ability to block the Byhalia Pipeline through poor South Memphis neighborhoods was a victory that showed the power of grassroots activism, he said.  "I thought it (Protect Our Aquifer) was going to be a small organization and that Ward would go down to City Hall fighting fights.  But he saw the vision and the past 18 months showed how important it is. Now, it even has a new executive director, Sarah Houston.
"I would not have thought Memphis would have jumped on the band wagon.  We've been called the unhealthiest and fattest city but things are changing because people are fighting for their environment.  Memphis is better when we are together."
A Special Evening
Acoustic Sunday Live is much like Protect Our Aquifer.  "We see all races, all colors, all religions, and political persuasions," Mr. Newman said.  "Over the years, we moved around to different venues, and First Congregational Church opened up its arms," Mr. Newman said.  "They've been very gracious. They've upgraded the sanctuary's sound system so this year's concert is going to be really special."
The format for Acoustic Sunday Live is an homage to a Hootenanny song swap popular in the  Greenwich Village folk scene in the Sixties.  There will be an opening act and then all singers will come on stage where they will engage in spontaneous collaborations and storytelling.
It's a personal and intimate evening unlike any other music event, a gift from its founders, two people instrumental in reviving the Memphis music business.
Here's more on this year's Acoustic Live Sunday! Performers:
TOM PAXTON is an American singer and writer of folk music whose songs have had enduring appeal and include modern standards such as "The Last Thing On My Mind". In 2009, he received a Grammy Lifetime Achievement Award. Paxton was born in Chicago, Illinois, the youngest child of Burton and Esther Paxton. The Paxton family moved to Bristow, Oklahoma in 1948, where Tom grew to  adulthood and which he still considers home. He attended the University of Oklahoma and majored in drama, developing an interest in folk music. After time  in the Army Reserves, Paxton moved to New York City where he frequented the city's Greenwich Village coffeehouse circuit. His early success in Greenwich Village coffeehouses led to an ever-increasing circle of work. He made his professional debut at the Gaslight, the renowned folk haunt that also issued the singer's first album. At age 85, Paxton continues to collaborate with artists such as Cathy Fink & Marcy Marxer, The Don Juans, as well as many others.
CRYS MATHEWS is a prolific lyricist and composer who has found inspiration in her surroundings driving through the Blue Ridge Mountains. Thoughtful, realistic and emotional, Matthews' songs speak to the voice of her generation and remind us why music soothes the soul. In August, she simultaneously released both a new full-length album. Songs from both projects have already won her recognition and awards. She was one of ten finalists from a pool of 5,000, in this year's New Song Music Competition, and, after performing at Lincoln Center last year, she was names grand-prize winner. Matthews also won the People Music Network's Social Justice Songs contest at Northeast Regional Folk Alliance. Matthews blends Americana, folk, jazz, blues, bluegrass and funk into a bold, complex performance steeped in traditional melodies punctuated by honest, original lyrics.
SUSAN WERNER was raised on her family's farm near Manchester, Iowa about an our west of Dubuque. She became interested in music at a young age and went on to receive a bachelors degree in voice at the University of Iowa. In 1987, she moved to Philadelphia, and earned a masters degree in voice at Temple University. Werner initially wanted a career in opera, but after seeing a Nanci Griffith performance became inspired and began composing songs of her own on acoustic guitar. Performing around Philadelphia, Boston, and New York City, Susan began making a name for herself in the folk scene of the early 1990s. She recorded five albums from 1993 to 2001, and in 2001 she moved to Chicago.
THE ACCIDENTALS are an American band, formed in Traverse City, Michigan in 2012 by singer-songwriters and multi-instrumentalists Sav Buist and Katie Larson. The group has featured an eclectic blend of indie folk, pop, bluegrass, rock, classical, and other genres. They have released five full-length albums, three EPs, and two live albums. Buist and Larson grew up in musical families, released their first two albums while in high school, hired percussionist Michael Dause in 2014, and began touring nationally. The band signed with a major label by the time the members were around age 21, but they later returned to releasing their recordings independently. Now based in Nashville, Tennessee, they also lead music workshops at schools across the US. Larson and Buist met as young musicians in 2011 at their public high school, Traverse City West in Traverse City, Michigan.
TERRY "HARMONICA" BEAN (born January 26, 1961) is an American blues harmonicist, guitarist and songwriter. He has released seven albums since 2001, and appeared in three film documentaries charting present day blues experiences. Bean has dedicated himself to promoting older blues stylings, such as Delta blues and Hill country blues. "What's stimulating to me," he said, "is people hearing the blues played like they used to hear it." Bean was born in Pontotoc, Mississippi, United States, where he has remained living to date. His father, Eddie Bean, was a blues guitarist who played in an electric blues band, and encouraged his son to play both harmonica and guitar. A sharecropper, he also enlisted his twenty-four children in assisting in picking cotton to earn a living. Terry Bean played for his school and in American Legion baseball, beforetwo traffic accidents meant that his competitive career finished in his early twenties. In 1988, Bean saw Robert Lockwood, Jr. play at a music festival in Greenville, Mississippi, and this experience inspired Bean to perform regularly in and around Greensville for the next few years. Bean became more versatile, appearing as a one-man band, accompanist or band leader and he variously worked with T-Model Ford, Asie Payton and Lonnie Pitchford. Bean's first solo recording, Here I Am Baby, was released in 2001. This has been followed by six more albums, using a variety of musical ensemble
settings. He plays both harmonica and guitar, occasionally at the same time, and has performed at blues festivals, and in juke joints, to supplement his regular income gained from working in a furniture factory in Pontotoc. Playing solo, or with his own blues ensemble, Bean also made an appearance as himself in the 2008 documentary film, M For Mississippi, making mention of his daytime employment.