By John Branston
Unless the Ford family decides to throw in their Detroit Lions to sweeten the deal, it is hard to see Memphis as a big winner in the economic impact of Blue Oval City 50 miles east in Haywood County.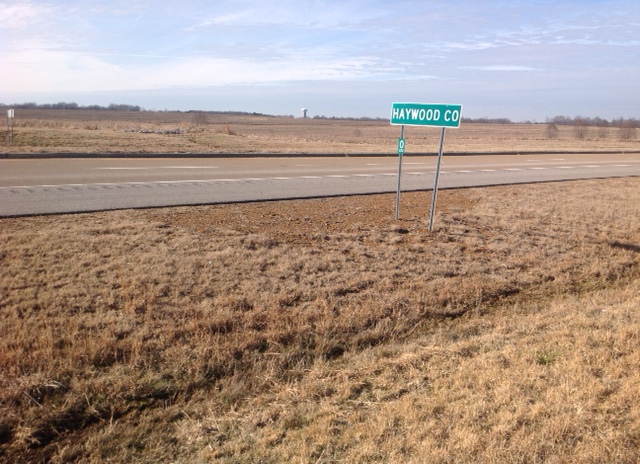 This unscientific judgment is based on living in Memphis for 40 years and seeing what anybody can see for themself when driving past the car plants outside of Jackson, Miss., Nashville, and Tupelo.

The Shelby County suburbs of Arlington and Lakeland are half an hour closer to Blue Oval City. Put another way, it is about the same driving distance from Arlington or Lakeland to Blue Oval City as it is from downtown Memphis to Germantown. Whether that drive takes 30 minutes or 90 minutes depends on traffic, weather, and wrecks. The suburbs have their own school systems, new buildings, churches, hospitals, new housing, and residents who can afford Ford trucks – electric or gas=powered. They can and probably will badmouth Memphis as a crime-ridden city with high taxes and failing schools.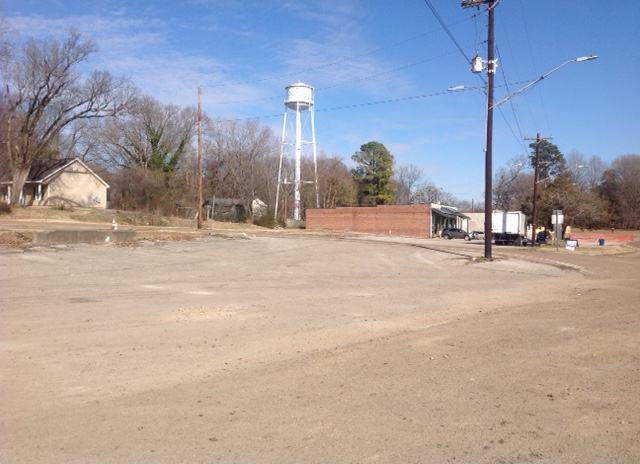 Stanton, the nominal home of Blue Oval City, is a tiny hamlet with a single yard sign promoting the Ford deal (Lakeland has a billboard on westbound I-40), a railroad, and cotton fields that will make good build sites for Ford suppliers and partners.

Jackson, 40 miles east of Stanton, is the sleeper prizewinner. A racially balanced population of 68,000 and several established old neighborhoods that aren't evident to motorists zipping along Interstate 40 because they are a few miles south and north of the highway.           
Covington population 9000, is just 23 miles northwest of the Ford plant and looks like another winner.           
Last Thursday I drove from Midtown Memphis to Stanton to have a look. 
Ten minutes to Sam Cooper Boulevard, 20 minutes to Germantown Road, 25 minutes to Interstate 269 and the 385 outer loop that connects Collierville and Millington. 30 minutes to Arlington, past the new high school and sportsplex, and a stop for gas at $3.49 a gallon ($20 worth for a round trip Memphis to Stanton). Then east on two-lane U.S. Highway 70 with little traffic and very few trucks. Into Fayette County, across the Loosahatchie River to Mason and lunch of Gus's Fried Chicken with beans and slaw for $9.25. 
Just over an hour to Haywood County and Stanton, where the local librarian directed me to the Ford site south of town on four-lane Highway 222.  "You should see some signs when you are near there," she said.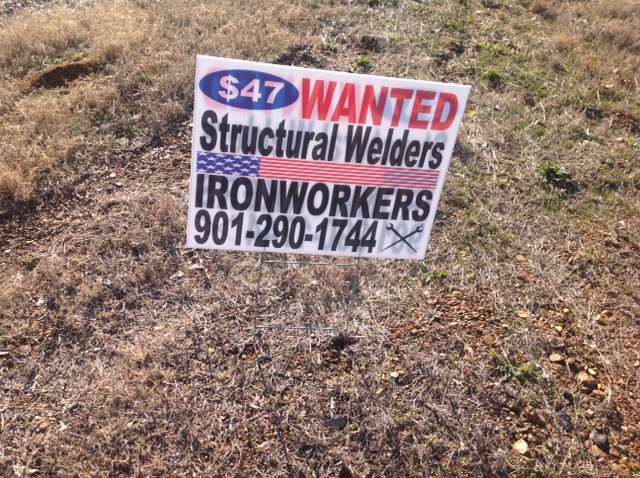 Yes, I did, but just one, seeking ironworkers and welders for $47 an hour. Otherwise nothing but plowed-over cotton fields looking pretty in the afternoon sun.           
I took some pictures and drove less than mile to get back on Interstate 40 at mile marker 40. I was home in light traffic in just over an hour, but I wouldn't want my paycheck to depend on making the trip that easily ten times a week if I could help it. I-40 from Nashville to Little Rock has become America's Truck Route with semis boxing you in at 80 miles an hour. No thanks.             
A century ago, Henry Ford looked south – way south – and decided to buy the future by investing in the rubber business in Brazil to make tires for his Model T and Model A Fords. His company town was called Fordlandia, as described by author Greg Grandin in his 2009 book of that name. Within a decade it had reverted to jungle.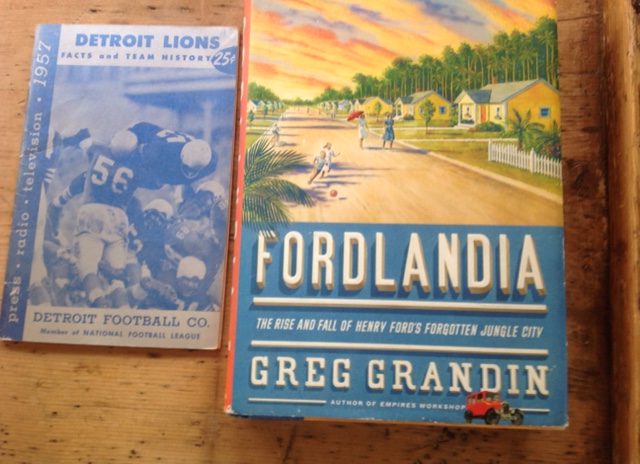 Electric trucks and batteries seem a better bet, but who knows?            
(Memphis and Detroit each has a population of about 635,000 although Detroit was a city of 1.5 million 50 years ago. Detroit's economic woes are sometimes blamed on its large land area, roughly 140 square miles. Memphis is more than twice as big.)

As for the Lions, they are not for sale, although it might be a relief to fans in Detroit if they were. They are — with numbers to prove it — the worst team in the history of the National Football League. The last time they won a championship was 1957, the year this 25-cent program with Joe Schmidt backing the line was published and I became a fan for life. The Curse of Bobby Layne, some say, in reference to the Hall of Fame quarterback who was benched and traded after the season. The same year, Ford came out with its "E Car", better known as the Edsel.

Let's hope the curse doesn't apply to "E Trucks."             
*****
John Branston covered Memphis as a reporter and columnist for 35 years.
***
Join us at the Smart City Memphis Facebook page and on Instagram for blog posts, articles, and reports relevant to Memphis.