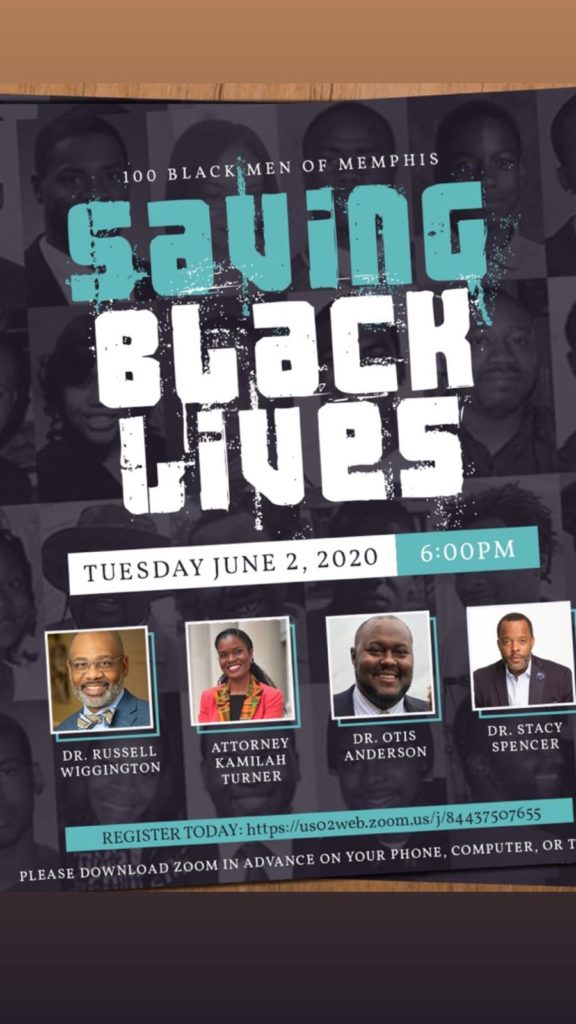 Thumbnail: 100 Black Men of Memphis sponsors "Saving Black Lives" and a plea from Memphis Urban League president to "save our sons."
100 Black Men of Memphis is sponsoring a crucial discussion – Saving Black Lives – at 6 p.m. tonight.  The link to register is on the above poster.
Participants are four outstanding Memphis leaders – Dr. Russell Wiggington, Attorney Kamilah Turner, Dr. Otis Anderson, and Dr. Stacy Spencer.   Moderator is Dr. Adriane Johnson-Williams, founder and principal of Standpoint Consulting 
A Message from Tonja Sesley-Baymon, Memphis Urban League President: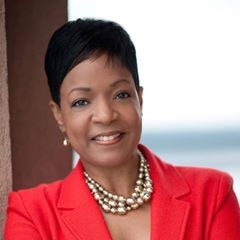 Across the Urban League Movement, we are appalled by the injustices that continually deteriorates the moral fiber of our country and specifically, OUR communities of Color.  Time and time again, far too often, we witness the inappropriate actions and racism of authority figures, law enforcement, and self-appointed vigilantes that Blacks have endured for generations.
We cannot allow ourselves to become numb to these harsh realities and inappropriate actions.  There must be accountability in this continuing narrative of racially motivated violence that plague our communities.  America stands at a crossroad. The choice is clear – do we have the will and the determination to finally rise above four hundred years of bigotry and racism?  Unhealed wounds bandaged and glazed over by the acceptance of inaction and narrow-mindedness that choke the promise of freedom and true equality; the essential essence that launched and guided us throughout our history.
I cannot and do not condone intentional damage and destruction to property and senseless lawlessness.  I do however affirm that the literal and figurative incidents of past injustice will provoke outrage. It does not matter if injustices come packaged as overt acts or unspoken assumptions.  It makes no difference if a false sense of superiority is fostered by ignorance or fed by hate.
What we are seeing are people who are tired of feeling powerless. If you want peace, you must use your power to access and guarantee justice – not just for you but for all of us. We heard your critique of Colin Kaepernick as he peacefully kneeled, but we don't hear you loud enough when an officer kneels on the neck of George Floyd, murdering him in broad daylight in the middle of a busy neighborhood. What would have been the story if there were no cameras?
When we are accused, justice is swift. However, when we are the victims, justice is nowhere to be found. In addition to no longer tolerating intolerance, we also must protect and empower boys and Men of Color and our entire community.  The color of our skin cannot make us an easy target. As a nation, we must do better … and as recent events remind us, we have to do so! Racism and inequality towards anyone are intolerable …Save Our Sons!