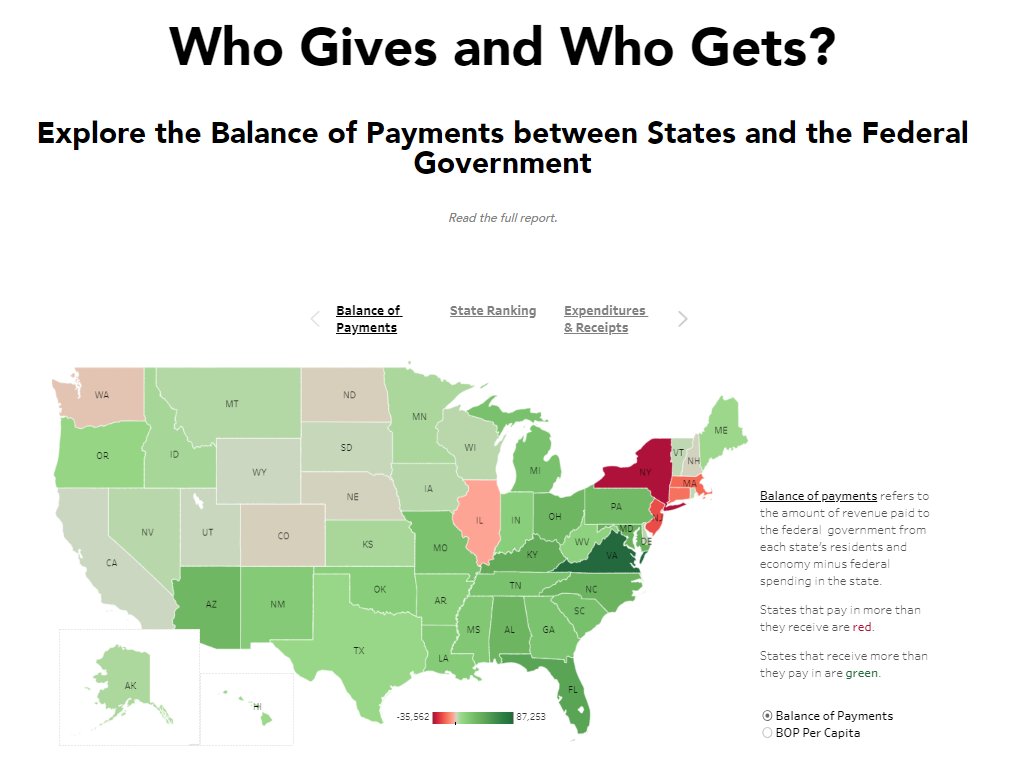 When Senate Majority Leader Mitch McConnell issued his gratuitous red meat talking point about states filing for bankruptcy, he spotlighted a fact of life rarely acknowledged: the bluest of states, those in the Northeast, are the top donor states to the federal government.
While Mr. McConnell was taking a shot at blue states like New York, Governor Andrew Cuomo was quick to point out this fact, suggesting that if Kentucky would just send back the money that it gets from New York, his state would be in a better position to weather the Covid-19 pandemic.
It's the dirty little secret of the givers and takers in federal revenues from states.  Kentucky for one is addicted to the tax revenues generated from Northeastern blue states.  When the amount sent by the Bluegrass state to the federal government is compared to the amount it gets back, it is #3 in its dependence on the revenues produced by other states.  From a per capita standpoint, it is #2.
Tale of the Tape
A 2019 report by the Rockefeller Institute pointed out that the cluster of New York, New Jersey, Massachusetts, and Connecticut has a combined negative balance of payments of $87.3 billion.
Put another way, the Northeastern states generate almost 17% of all federal receipts but are home to only 12% of the U.S. population.
The math is clear: the federal income tax and Social Security taxes collected from higher earning Northeastern workers subsidize other states, primarily in the Southeast.
As for New York, for every $1 it sends to the federal government, it gets back 86 cents.
Compare that to Kentucky: for every $1 it sends to the federal government, it gets back $2.35.
On the list of "takers," Tennessee is #13.  For every $1 it sends to the federal government, it gets back $1.50.
The Donors
Here are the 15 largest donor states and the amount of federal spending for every $1 remitted to the federal government (the ranking is in order of millions of dollars in federal receipts and expenditures):
1.  New York – $0.86
2. New Jersey – $0.82
3. Massachusetts – $0.83
4. Connecticut – $0.74
5. Illinois – $0.97
6. Washington – $0.98
7. North Dakota – $0.94
8. Colorado – $0.99
9. Nebraska – $0.98
10. New Hampshire – $0.98
11. Wyoming – $1.06
12. California – $1.00
13. Utah – $1.04
14. South Dakota – $1.15
15. Vermont – $1.41
The first nine on the list are the only states that receive less in federal revenues than they send to Washington, D.C.
The Takers
The biggest 15 taker states:
1. Virginia – $1.97
2. Florida – $1.24
3. Kentucky – $2.35
4. Maryland – $1.53
5. North Carolina – $1.44
6. Alabama – $1.99
7. Ohio – $1.60
8. Arizona – $1.60
9. Pennsylvania – $1.23
10. South Carolina – $1.73
11. Michigan – $1.29
12 Missouri – $1.50
13. Tennessee – $1.46
14. Georgia – $1.29
15. Mississippi $2.19
In other words, the next time you hear Senator McConnell talk about letting states go bankrupt as a political shot at the Northeastern sea of blue states, keep in mind that it's his state that is the biggest beneficiary of the imbalance.
If he's that concerned about bankruptcy and budgetary discipline, perhaps a start is for Kentucky to live within its means.
Source: Rockefeller Institute of Government, 2019
**
Join us at the Smart City Memphis Facebook page for daily articles, reports, and commentaries that are relevant to Memphis