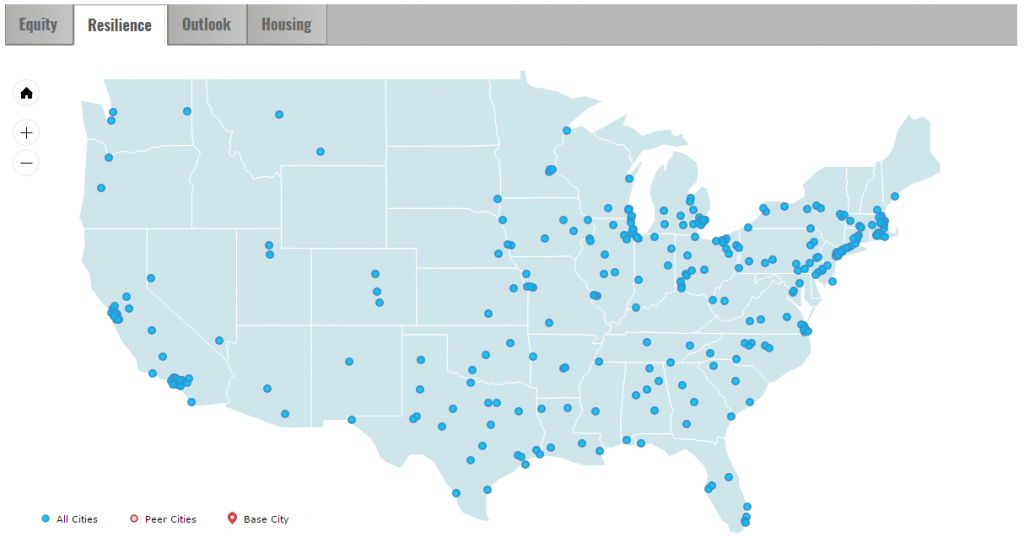 It's hard to think of a place that refers to "peer cities" more than Memphis.
For twenty years, we've been talking about our peer cities, and often, it has felt at times as much like wishful thinking as candor about the cities that are our actual peers.
After all, as the economic indicators dropped the Memphis region to the bottom of the rankings of the largest 50 metros, we continued to pretend that Nashville and Charlotte are  peer cities.
The list of peer cities that our economic development types are using these days are Nashville, Charlotte, Louisville, Jacksonville, Kansas City, Omaha, Indianapolis, Cincinnati, St. Louis, Oklahoma City, Birmingham, Greensboro, Little Rock, Tulsa, and New Orleans.
While EDGE is the target of intense criticisms on many days, those of us who value data admire it for entering into a partnership with the University of Memphis Sparks Bureau of Business and Economic Research to post key data points that compare us with other cities.  In addition, the opportunity to read the opinions of the city's leading economists on all matters economic are also a welcome injection of fact over hyperbole, even if it's the latter that seems to gain the most traction in decision-making.
At a time when there is so much cherry-picking of data points to suggest economic momentum, it is refreshing that a public economic development arm is willing to publish statistics that can in turn be used to criticize its performance.
But there is value in seeing ourselves as others see us.
Other Distressed Peer Cities
Here are our peer cities, according to the Economic Innovation Group's Distressed Communities Index:
* Cleveland
* Newark
* Buffalo
* Detroit
* Toledo
* Milwaukee
* Stockton CA
* Philadelphia
Federal Reserve Bank's Peer Cities – Equity
Then there is the well-respected Federal Reserve Bank of Chicago, which publishes a "Peer City Identification List" in the categories of equity, resilience, outlook, and housing.
The equity peer cities are based on Hispanic-white dissimilarity index, black-white dissimilarity index, poverty rate, change in poverty 2000-2017, wage-based Gini coefficient, change in inequality 2008-2014, percent white, percent with a bachelor's degree, and share of metropolitan area population.
Memphis' peer cities for equity:
*  Birmingham
*  Jackson MS
*  Milwaukee
*  Philadelphia
*  Pine Bluff
*  Rochester NY
Federal Reserve Bank's Peer Cities – Outlook
The category of "outlook peer group" explores cities' economic and demographic future includes factors like percent of foreign-born, percent in change of population 2000-2017, percent of families with children, percent of population 20-64, total population, and share of metropolitan area population.
Memphis's peer cities in outlook are:
*  Albuquerque
*  Baltimore
*  Colorado Springs
*  Honolulu
*  Indianapolis
*  Jacksonville
*  Louisville/Jefferson County
*  Kansas City
*  Oklahoma City
*  Omaha
*  Tampa
*  Tucson
*  Virginia Beach
Federal Reserve Bank's Peer Cities – Housing
The housing peer group measures housing affordability, age, and tenure.  Its categories include percent of housing units built pre-1980, vacancy rate, home value to income ratio, homeownership rate, percent rent-burdened households, and share of metropolitan area population.
Memphis peer cities in housing are:
*  Baton Rouge
*  Greenville MS
*  Jackson MS
*  Laurel MS
*  Lynchburg VA
*  Mobile
*  Muncie IN
*  Mukegon MI
*  Muskogee OK
*  Philadelphia
*  Savannah GA
*  Shreveport
*  Terra Haute IN
*  Vicksburg
*  Williamsport PA
Federal Reserve Bank's Peer Cities – Economic Resilience
The resilient category measures economic changes and labor market conditions.  It includes the unemployment rate, labor force participation rate, change in labor force participation rate, labor share of manufacturing, change in labor share of manufacturing 1970-2017, median family income, change in median family income 2000-2017, and share of metropolitan area population.
Memphis' peer cities are:
*  Fayetteville NC
*  Gulfport
*  Harrisburg PA
*  Hattiesburg MS
*  Jackson MS
*  New London CT
We have no criticisms of the peer cities set by economic development.  We never criticize anyone for aiming high, but rather than become hypnotized by our hyperbole, it is worth remembering who our peer cities are in key areas so that we can redouble our efforts to move up on the lists.
***
Join us at the Smart City Memphis Facebook page for daily articles, reports, and commentaries that are relevant to Memphis.