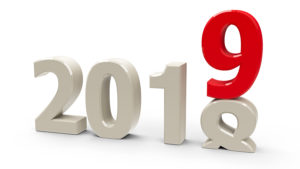 We're winding down our posts of Memphians' resolutions, predictions, and insights for 2019.
Steve Bares, Executive Director, Memphis Bioworks Foundation:
As I think about the year past and the opportunities in 2019 in Life Sciences, several things come to mind. We have a lot to celebrate that further reinforces our opportunities as a community in which discovery and businesses in this area are embraced and supported.
Positives from 2018 include our ZeroTo510 Medical Device Accelerator being rated as one of the top 25 accelerators in the country for the fourth consecutive year; our INNOVA $31 million Ag Innovation Fund continuing to make investments; Bioworks spinoffs of its Epicenter entrepreneurship connecting organization and of its AgLaunch agricultural entrepreneurship organization as they both reached a maturity level to operate independently; creation of  CommuniTech Research Park as a part of the Division of Research and Innovation at the University of Memphis; and the remarkable growth of Indigo Ag in Memphis.
Of course, there were some bumps as well in 2018, including the setbacks at a local biopharmaceutical company, GTx Inc., in meeting clinical trial endpoints, and the continuing healthcare uncertainty in Washington.
For 2019, I believe there are more opportunities to expand our Memphis ecosystem as we take our rightful leadership position in the National Life Science community. The FDA is revamping its 510(K) premarket submission in 2019 and given our industry and start-up successes in medical devices, Memphis must lead the discussion and ensure that our medical device ecosystem continues to grow. As Memphis 3.0 takes shape, we must embrace Life Science innovation and business attraction as a critical, strategic and potentially lucrative arm of overall economic development. And, we can build on our resources such as the Plough Center for Sterile Drug Delivery Systems, including its recent attraction of RevoTech, and our corporate experience at medical device companies like Smith & Nephew and Medtronic to position Memphis as an international center for regenerative medicine.
In short, our opportunities for Life Science leadership in 2019 are many, we just need to take advantage of them.
Barbara Holden Nixon, ACE (Adverse Childhood Experiences) Awareness Foundation:
In mid-January, I went to Novel to meet someone for lunch.  I arrived a few minutes early and stopped to speak with a contemporary.  I inquired how he was doing, mentioning his recent retirement.  He responded he was well.  To the question of retirement, he replied, "not much purpose."
For many of us moving from an active professional and civic life into retirement, a lot was said in those few words.
I sat down to lunch with my friend who is 20 years my junior.  The reason for lunch was that she wanted to share her decision to leave the business world for a non-profit career.   With an empty nest and many working years ahead, she was filled with excitement, ideas, passion and vision for how she can help shape the vitality and viability of our Memphis community.  In 2019, she was being called to a new life purpose.
In less than ten minutes, my own 2019 "life purpose" flashed in front of me.  After 46 years as a Licensed Clinical Social Worker, I was pondering retirement…..for the third time!  Having already failed at retirement three times, I sat at the table with about as much wonderment, anticipation and anxiety as my friend.
After leaving lunch, I thought about how much it meant to share the future with this young, talented, and ambitious friend.  I also reflected on my contemporary, a very successful businessman and civic leader who is also contemplating his life purpose.
As a graduate student in social work, we studied Erik Erickson's 8 Stages of Psychosocial Development.    As a professional, my career focus was early childhood.  Therefore, I spent the better part of my career focusing on the first three stages in the life cycle, ages zero to five.  Now I was being tasked with looking at the last (8th) stage,  Maturity (65+).  Individuals who meet the challenge of one stage move to the next.  Those who do not may get "stuck" in a stage.
Based on my three retirement failures, I think I successfully fit into the "stuck in stage" category.
So, once again, I contemplated how I got where I am, and what the future might look like.  It seemed a double-edged sword.  I loved the idea of more time with family and friends.  I was not thrilled with the idea of an absence of purpose.
At this point in my life, discussions range from pondering the meaning of life to the height of toilet seats. Erikson says the first stage of the life cycle is the development of trust vs mistrust, with basic trust being the obvious desired outcome.  The final stage is ego integrity vs despair.  During the final stage, the challenge is to see one's life with wholeness toward acceptance of lifelong accomplishments.  Successful completion will lead to the virtue of Wisdom.  To all of this, I say, "no wonder I've been stuck in Stages 6 and 7 for the last ten years!"
This leads me to one essential thread for all baby boomers and others contemplating retirement:  we have to celebrate the completeness of our own accomplishments and trust the generation behind us.  Their generation had little choice but to lean on us.  We have an opportunity to continue our purpose, but it calls us to now lean on them.  That doesn't mean we don't have a significant role in furthering the well-being of our community.   Actually, it calls us to further obligation and responsibility.
I am reminded that new evidence points to the role of grandmothers in helping our species live longer lives and develop essential social skills. "Grandmothering hypothesis" explains menopause by citing the under-appreciated evolutionary value of women living long past their reproductive years .  Grandmothers make it possible for their offspring (in Stages 6 and 7) to provide extra attention to the development of their children, to birth additional children to sustain the species, and to enhance their ability to carry out their defined life task.
I am choosing to see my life purpose through this newly acquired lens.  But, this lens doesn't  apply only to grandmothers.  If an entire generation Trusts (Stage 1) the next generation, and brings the Wisdom of Stage 8 acquired through a lifetime of experiences, we have the opportunity to fully participate in an intergenerational life purpose.  Maybe we should add a ninth stage to the developmental cycle: "Grandwisdom?"
Grandwisdom  seems to give power to the future and an opportunity for sharing and supporting the good works of those who come behind us.  For me personally, it means after three attempts, I may actually achieve retirement.  By doing so, I may successfully "unstick" the drawn out drama that has dominated my Stage 6!
Joining forces brings together the best of all the developmental stages.  For those of us entering retirement, it means supporting, not doing.  Listening, not lecturing. And most importantly, it brings the power and privilege of nurturing the future of our beloved community.