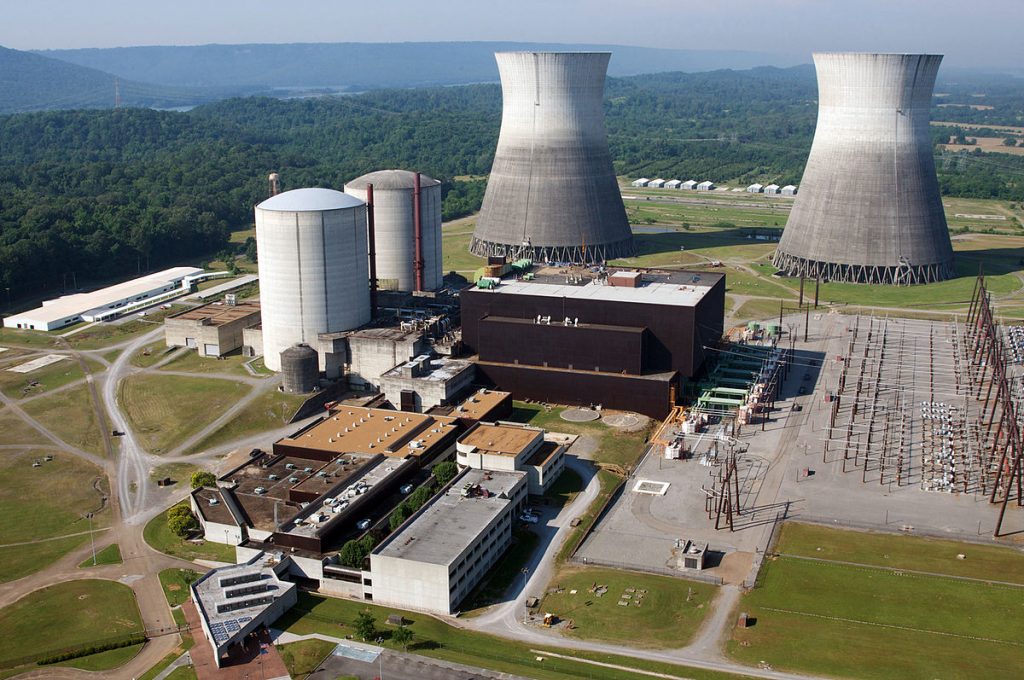 Bellefonte Nuclear Plant
So, what could Memphis do with $487 million a year for 30 years?
It could reduce the city property tax to zero and have tens of millions left over.  Or maybe the property tax rate could be cut by more than half and eliminate the entire local option sales tax.  Or dramatically reduce utility rates for Memphians, who pay Tennessee Valley Authority $1 billion a year for electricity.
It could pay for the riverfront plan, the convention center renovation, the Fairgrounds plan for youth sports, and the Pinch Historic District revitalization, and then it could decide what to do in year two.
Maybe it could fund two neighborhood rejuvenation plans like South City or a massive park program or a dramatic downtown improvement program.
You get the idea: $14.1 billion over three decades is a lot of money.
Nonbinding Next Step
To keep this prospect alive, all it takes is for Memphis Light, Gas & Water Division to sign a nonbinding – underline nonbinding — letter of intent with a company selected to be the new owner of Bellefonte Nuclear Plant in Hollywood, Alabama.
And yet, MLGW decided not to sign a letter to keep the idea alive and commissioned a study that won't be complete until after the U.S. Department of Energy deadline for moving ahead passes next month.  It sounds suspiciously like it's making a decision without really making a decision.
The company, Nuclear Development, LLC, has already produced its own in-depth study of the project by a leading expert in the field.
The nuclear plant 260 miles from Memphis was the biggest construction project in the history of Alabama, with Tennessee Valley Authority saying it spent $4 billion – others say it was more like $9 billion – on the plant's construction between 1974 and 1988.  The company submitted a purchase bid of $111 million in 2016 after TVA put it up for sale.
Keeping Options Open
The company estimates that it could cost $12 billion more to complete the nuclear plants with its two pressurized water reactors.  TVA salvaged some parts and components from the plant when it tried to recoup some of its investment.
The 1,300-acre Bellefonte site has plenty of equipment—including two partly-built reactors, cooling towers, water pumping stations, switch yards, warehouses, office buildings, parking lots, a helicopter landing pad, and railroad spurs—still in place.
A University of Alabama economic study said Bellefonte Nuclear Plant will generate $12.6 million in economic input, so it's no surprise that economic development officials in North Alabama are generally enthusiastic about its completion.
It appears that the company has been talking with MLGW for the entire year, and in fact, former president Jerry Collins signed a nonbinding letter of interest in January.  New president J.T. Young balked at a similar letter that is needed now, and as a result, Memphis may not have the option for a source other than TVA.
Cutting Costs By Half
Here's the kicker: Bellefonte Unit 1 could supply MLGW with up to 80% of Memphis' electricity needs at almost half the cost that TVA charges our local utility now.
Currently, MLGW customers consume about 13 million megawatts each year. With its pending $8.6 billion federal loan to complete the plant, Nuclear Development LLC said it would charge MLGW's customers only $39 per megawatt hour for electricity, compared to TVA's cost of $76 per megawatt hour – a cost TVA already has said likely will rise to $80 by 2024.
All in all, it seems that MLGW is failing to exercise its fiduciary responsibilities by not considering a source for electricity other than TVA.  We can appreciate its responsibility to make sure that the citizens of Memphis are not placed at risk, but the greater risk at this point is not keeping the options alive.
Memphians, Not TVA, Are The Priorities
This is not the first time that it's seemed that MLGW is more solicitous to the interests of TVA than to its customers.  Back when Memphis Mayor A C Wharton was pursuing the "Blueprint for Prosperity," a plan to reduce poverty in Memphis by 10 points in 10 years, there was a similar indication.
A major part of that plan required the support of MLGW in order to achieve its core premise – that reducing the basic living costs of families in poverty could free up discretionary income that could be spent to improve standards of living while better opportunities were being created from the economic development component of the plan.
The word from City Hall was that MLGW was not going to ask TVA for funding or any other changes that could have been helpful to the plan.  We were told that MLGW did not want to upset TVA.
While we are all proud of the red letter day in 1934 when TVA began to deliver electricity to Memphis (we even named November 6 Alley for it), but that does not mean that Memphis should be deferential or compliant to TVA.  After all, we are customers and no one insults TVA by considering if there is a better – and more economical – method for providing power in two ways – the power of electricity and our power of consumers.
Keeping The Door Open
Considering that MLGW has already received Memphis City Council approval for an increase and has warned Memphis about needed future increases and that the system needs about $1 billion in infrastructure improvements, it seems only logical that the utility should not close any doors that might give the city more financial options for the future.
If that door is kept cracked open by a nonbinding letter of intent written mostly on MLGW terms, it seems prudent to take the next step.  This does not mean that City of Memphis and its Division of Light, Gas & Water should not move ahead with all deliberative care and without a serious commitment to the best possible next steps, which would be about negotiating a concept that should be presented to and considered by the citizens of Memphis to determine if it's in their best interest.
To this end, MLGW should commit to transparency in its discussions with Nuclear Development LLC.  After all, it was concerning that at yesterday's City Council hearing, Councilman Kemp Conrad expressed surprise and frustration that he had just learned about the conversations between MLGW and the company.
We are confident that he will make sure that he – and ratepayers – know more about this in the days ahead.  Some decisions are too important not to be considered except in the full light of day.
**
Join us at the Smart City Memphis Facebook page for daily articles, reports, and commentaries relevant to Memphis.