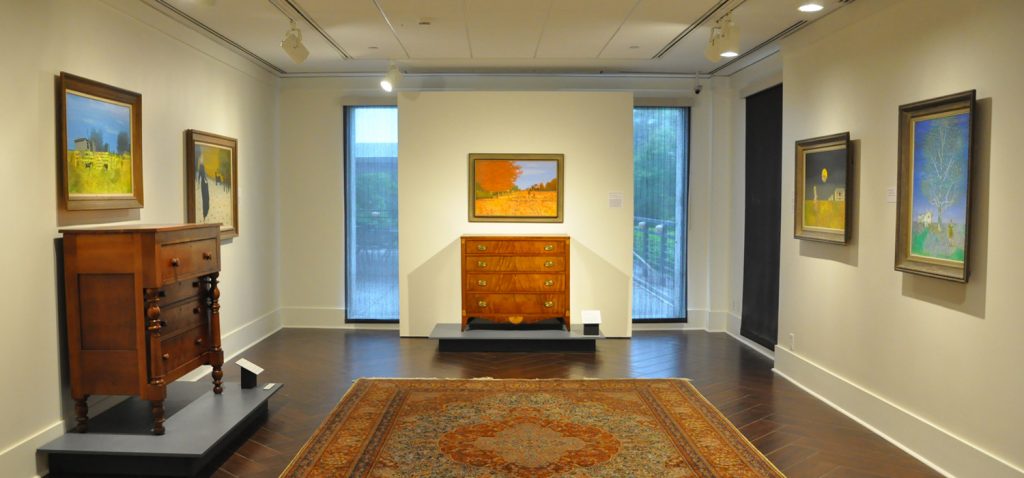 This post is written by Emily Ballew Neff, executive director of Memphis Brooks Museum of Art, a singular cultural amenity for this community.
By Emily Ballew Neff
When we celebrated our 100th birthday in May 2016, a day-long event that included singer Joyce Cobb, a New Ballet Ensemble performance in front of RedBall Project, and 1,500 cake pops, I walked by our giant birthday card and noticed hundreds of brightly-colored well wishes written by party-goers.
This message stood out: "Brooks has brought Memphis together." While I have no idea who wrote it, that wish was the best birthday present of all.
Those five words perfectly articulate one of the many ways art museums function in communities across America. A professor of mine once said, "Art Museums are a playground of the mind." I always liked this analogy because while you can't run as you would in a park, you are basically flexing the same muscles. They're where the eyes and the mind go to hang out, mess around, explore, and open up whole worlds.
Like all art museums, the Brooks is an aggregator of art and people that provides elevating experiences in infinite combinations of awe, wonder, surprise, inspiration, and fun. And as those experiences are shared, they build community.
Every time someone says, "Oh, I loved those giant bunnies in the park" or "Remember when the Brooks did that Marisol show?", they reference those shared experiences that both celebrate what brings us together and illuminate our differences.
Can you name an American city that doesn't have a thriving art museum? Art museums and thriving cities go hand in hand.
The Brooks is a necessity, not a perk; a fundamental part of a healthy public ecosystem, not a cherry on top.
We don't save lives, but we help make lives meaningful. Just yesterday, we learned that a one-hour art museum tour is linked to relieving chronic pain and has the potential to redirect the misuse of opioid analgesics. Another study notes that just one student field trip to an art museum equals 53 days of additional learning in school and results in more engaged students better equipped to think critically.
Economic impacts are also significant: 78% of all leisure travelers participate in cultural activities, including art museum visits, spending 63% more on average than other leisure travelers while doing so. Those concerned about government support (or sometimes the relative lack thereof) of the arts should know that for every $1 that the government invests in the arts, they see an average return on investment of more than $7 in taxes.
We don't really need these arguments to know that art museum access is one of the secrets to a well-lived life. At the Brooks, we hope that we inspire, lift, confuse, amuse, and provoke all sorts of responses that connect us to what it means to be human, a question that we will always explore and never be able to answer definitively. That's the beauty of it.
Come see for yourself what's happening at the Brooks, and don't forget, the museum is free on Wednesdays! Here are some highlights:
*  the latest iteration of Rotunda Projects with Federico Uribe's 24-foot tall tree made out of khaki pants;
*  Brooks Outside with Julien de Casabianca's murals of enlarged details from Brooks paintings, selected by community members, that will pop up in surprising places around Memphis;
*  Jaume Plensa's Talking Continents, an archipelago of steel sculptures that mark the first time the sculptures of this internationally-renowned Spanish artist will be seen in Memphis;
*  And, in time for the winter holidays, Georgia O'Keeffe's Visions of Hawai'i, a small blockbuster that the New York Times calls, "eye-popping."
*  Music, photography, and history lovers will especially enjoy Ernest C. Withers: A Buck and a Half Apiece, which includes photographs of famous musicians and nightclubs (yes, you will see the late, great Aretha Franklin here);
*  American Haiku: The Woodcuts of Ted Faiers, the Memphis artist and Memphis College of Art legend;
*  Community collaborations with MCA, Rhodes College, University of Memphis, and Christian Brothers University in the nationwide For Freedoms, which models how art and conversation can urge communities to greater civic action;
*  The Dia de los Muertos (Day of the Dead) parade and festival on October 27;
*  And a new series of figure drawing sessions and Art & Wellness programs, plus we continue our popular series Yoga in the Galleries;
The Brooks is many things: a place to view great art: a source of civic pride, a key piece to what makes Memphis an excellent choice to live and work, a provider of unparalleled educational opportunities, including art therapy for students and community members in need, to name a few.
But I hope you will just remember this: we are also your playground of the mind.
***
Join us at the Smart City Memphis Facebook page for daily articles, reports, and commentaries relevant to Memphis and the conversations that begin here.