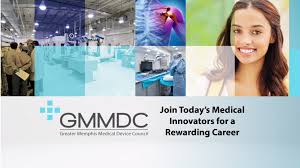 This post is wrtten by Joe B. Kent, local researcher, who has a BBA with a Major in Finance from the University of Memphis and Masters of Science in Instructional Technology.
By Joe B. Kent
The data is conclusive: a locally focused tax incentive-heavy approach to economic development that focuses on local companies and real estate development does not work.
It's an approach that has led to forgone investments in education and public transit resulting in workforce unreliability, taxpayer losses and below peer average total wage growth rates.
The Greater Memphis Medical Device Council (GMMDC) has a better way, and it adds significant capacity to local economic development efforts through workforce development.
GMMDC, located in Bartlett, collaborates with 27 biomedical member companies to identify biomedical occupational requirements to close the skills gap to help drive growth of the biomedical industry. This work is done while also meeting student career needs at an accelerated pace.
Getting the skill gap closed is a major priority for Memphis overall but particularly for the medical device industry.  Closing the skills gap means providing industry recognized credentials and work-based learning opportunities, including apprenticeships, on-the-job training, and internships that prepare participants for careers in the medical device industry.
Memphis hosts 43 medical device companies that generate $2.7B in annual economic impact with 6,500 direct and 10,000 indirect employees. It's a growing industry and GMMDC stands to become an economic growth engine for the local economy through innovative educational programming.
GMMDC Responds
The "Room to Grow" report published by Complete Tennessee – whose mission is to increase completion rates statewide – approximately a year ago reported frustration by local industry leaders about the timeliness of student completion, and GMMDC has  responded to this pressing local workforce and economic development need.
Roy Smith, GMMDC's Executive Director said: "The GMMDC counsels parents, students and teachers to help them better understand the great benefits of a career in the medical device industry. While still in high school, students can use the Tennessee Promise grant and dual enrollment classes to complete a diploma and then go directly into a job or an apprenticeship with no college debt."
There may be no better way for families and students to get ahead than to start a career with no college debt. According to MarketWatch and Edvisors, the class of 2016 graduated with approximately $37,000 in debt while student debt soars toward $1.5 trillion.  Further, about 70% of bachelor's degree recipients have student load debt and one in four borrowers are delinquent on their loans.
To provide students and their families with an alternative to graduating with debt, GMMDC announced the approval of the GMMDC Machinist Apprenticeship through the U.S. Department of Labor.  In the program, an apprentice learns a trade from a skilled employer, while agreeing to work for a specified period at lower wages.
As a GMMDC Machinist Apprentice, students become proficient with the following career skills:
* Reading blueprints (GD&T), sketches or CAD/CAM files
* Understanding the fundamentals of machining different metals
* Operating and monitoring manual equipment and CNC machinery
* Shaping metal into machined parts that match product specifications
* Performing required job functions in compliance with Good Manufacturing Practices as defined by the company's Quality Management System
This win-win programming meets both student and employer needs through thoughtful and collaborative curriculum alignment while propelling the local economy.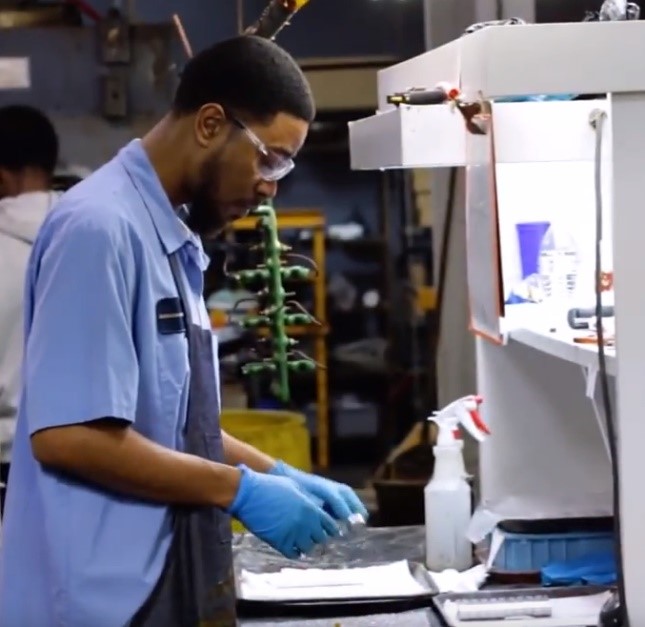 Customer-Driven Partnership
The career ready programming is the result of a collaborative customer-focused effort of multiple organizations which include the following:
Bartlett Area Chamber of Commerce – The Bartlett Area Chamber of Commerce (BACC) led the creation of the GMMDC in 2011 by researching the local business landscape which revealed a concentration of medical device companies. These findings resulted in the BACC closely listening to the needs of medical device manufacturers which revealed a skilled worker shortage was constraining business growth.
The BACC – whose president is John Threadgill – then led a successful collaboration between 27 medical device companies which resulted in 2014 in the creation of the GMMDC, which thriving and housed at Bi-monthly meetings, held in a board room funded by a Delta Regional Authority grant, focus on building a talent pipeline for careers in the medical device industry and building linkages with educational and workforce delivery organizations.
Bartlett City Schools – GMMDC collaborates with Bartlett City Schools and area systems such as Arlington Community Schools  and the Tennessee College of Applied Technology (TCAT) in talent pipeline development efforts. TCAT helped establish a modern showcase machine shop at Bartlett High School as well as a dual enrollment program where high school students earn dually both credits and college hours towards a TCAT diploma.
The partnership between Bartlett City Schools, Arlington Community Schools, Bartlett High School, TCAT and the GMMDC has resulted in the planned construction of a new 40,000 square foot TCAT facility to open in early 2020 that will host a flagship medical device machining program.
Greater Memphis Alliance for Competitive Workforce (GMACW) – While GMMDC collaborated with TCAT in 2014, GMACW was being formed as a facilitator for development of a talent pipeline. GMMDC helped provide GMACW with a framework to scale these efforts into other industries in order to serve regional workforce and economic development needs. The collaboration resulted in a GMACW-led U.S. Department of Labor's America's Promise $6M grant award that supports the local Move-Hire program that pays for: 1) tuition for individuals who are unemployed or underemployed, 2) educational equipment purchases and 3) partner organizations that help individuals connect to post-secondary educational, career and job opportunities.
Listening Pays
Listening to customers in area employers as demonstrated by the Bartlett Area Chamber of Commerce can lead to collaborative innovative economic development solutions like The Greater Memphis Medical Device Council.
It's a solution that stands to move the Memphis community beyond a real estate/corporate tax incentive economic development approach to more locally balanced economic development efforts.
While companies will come and go in many cases beyond the control of the community, the one area that the community controls is the development of a proficient workforce.
GMMDC shows us the way. Why not Think BIG and launch a Nation Leading Career Education initiative to fully own what we can control while squelching concerns regarding the availability of a skilled workforce? After all, the GMMDC provides the community with momentum and a model for such a bold approach.
It would seem taxpayers would agree with this type of Nation Leading approach to economic development.  In a recent survey administered by the local social media activist group, Memphis Raise Your Expectations, respondents ranked the importance of the six criteria of The University of Memphis Amazon Road Map of The Memphis Economy  in support of economic development efforts. The survey results revealed the following choices: 1) Career Ready Workforce -21%, 2) Public Transit – 19%, 3) High Quality University – 17%, 4) Quality of Life – 17%, 5) Efficient Air Transportation – 14% and 6) Tax Incentives – 12%.
The Greater Memphis Medical Device Council and the Bartlett Area Chamber of Commerce have proven that listening to the customer taxpayer and fully implementing funded initiatives are keys to addressing Memphis economic development needs. In this case, it has resulted in an innovative economic development model with workforce development becoming an economic growth engine for the regional economy.
**
Join us at the Smart City Memphis Facebook page for daily articles, reports, and commentaries relevant to Memphis.