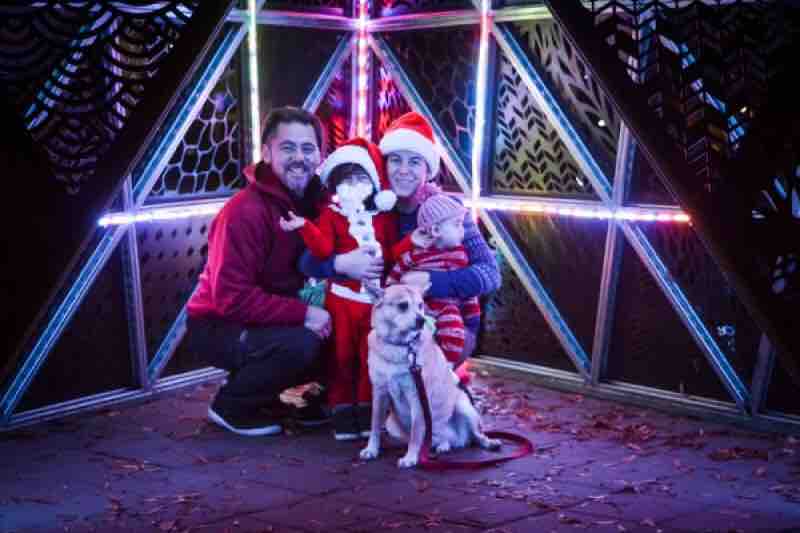 Update: General Sessions Court Judge Lonnie Anderson today sided with the Chicago hotel company and evicted Christopher Reyes and Sarah Fleming from their home of 25 years.  The boycott of all things Madison Hotel that has been simmering seems about to flare into the open. 
Christopher Reyes and Sarah Fleming – longtime creative forces in downtown Memphis – are on the verge of eviction, and if takes place, all of downtown will be diminished.
That especially goes for the Downtown Memphis Commission.  We are told by a DMC member that the downtown redevelopment agency's position is that it has "no dog in this fight" and we understand that; however, if it sits idly by while two people whose sweat equity in reviving core downtown's image are removed from their home at 1 South Main, it will undercut its message of commitment to downtown as a cradle for creativity.
Since we began this blog 13 years ago, we have made no secret of our admiration for the vision and work demonstrated by Mr. Reyes and Ms. Fleming, dating back to the days when he gave birth to Live From Memphis.  Through this enterprise and others, they have donated hundreds and hundreds of hours in the filming of art and music events that became some of the city's strongest marketing hooks for creative workers and young professionals.
It was typical for them.  They have engaged in numerous other ventures that have cast Memphis as a welcoming environment for creative workers.  These include the widely celebrated "Fish" immersive art installation at Crosstown Arts in July, 2016, which they co-created with Laura Jean Hocking, and which featured projected images, videos, and animations suggesting a whimsical fish tank.
Another is the popular "Back in the Ponds," part of the murals project in Barboro Alley, where he and Michael Roy created a work called by I Love Memphis as a "a showstopper of a piece that will immediately draw you in with bold colors and a unique look. A longtime downtown resident, Reyes was excited about contributing awesomeness to his neighborhood, and he loves the allure of having the piece transform from mural by day to a stunning visual experience at night."
No One More Influential
We could go on and on with Mr. Reyes and Ms. Fleming's production of the Li'l Film Festival, a quarterly event that showcased up and coming talent and connected filmmakers, actors, and crews; Bikespoitation, a bicycle film festival that celebrated and fueled Memphis' cycling culture; and My Memphis, a film that for the first time had young professionals speaking to their peers about what made the Bluff City so special.  Their clients have included ArtsMemphis, Memphis Convention & Visitors Bureau, Greater Memphis Chamber,
There is more, but it's no wonder that John Beifuss, Commercial Appeal's knowledgeable movies and pop culture reporter, said: "Nobody has been more influential (than Christopher Reyes and Sarah Fleming) in the encouragement and development of the Memphis film scene in the past two decades."
We say all that as prologue so you'll understand why we – and so many others – have always regarded them as gifted professionals but also as gifted citizens who have given generously of their talents to support and celebrate their city and its downtown, regularly without compensation and regularly portraying downtown Memphis in ways that engage creative workers and young professionals to consider our community for their futures.
Today, Mr. Reyes, Ms. Fleming, and their two young children are fighting to remain in their second floor home in the face of an eviction effort by the new owners of the Madison Hotel, Chicago-based Aparium Hotel Group and G4, a New York Equity Partner, which bought the hotel from the previous ownership group led by respected hotelier Mohamad Hakimian.
Bleak House
That's where it gets confusing.  In 1993, Mr. Reyes and his mother, Vernie Kuglin, were sold the second floor of the building at the southwest corner of Main and Madison for $55,000 by premier downtown developer Henry Turley.  He sold the first floor to Mr. Hakimian's group.
In a lawsuit being heard now by General Sessions Judge Lonnie Thompson, the new owners often seem to treat Mr. Reyes and Ms. Fleming alternately as owners of the second floor and residents of the second floor.  It seems to depend on the argument being pursued at the time.
There are times when the new owners suggest that if Mr. Reyes and Ms. Fleming would pay them upwards of $50,000 for their share of improvements, its pretty clear to court observers that the owners aren't interested in the money.  They are clearly interested in kicking them out of their home for 25 years.
In a tangled set of facts that would do justice to Charles Dickens' Jarndyce v. Jarndyce, Mr. Turley's tax freeze (PILOT) for the building in 1986 through the Center City Revenue Finance Corporation (CCRFC) was unilaterally extended by 15 years in 2001.  It was Mr. Turley who set up the condominium association, and while the CCRFC technically holds title to the building – which is required by state law for the tax freeze – Mr. Reyes and his mother were told that when the PILOT expired, their claim to the second floor would be honored with a title to the space.
Hoping for Reason and Fair Play
In 2007, Mr. Turley sold the basement and ground floor of the building to the original owners of the Madison Hotel.  Mr. Hakimian's comments in a May 10, 2016, Memphis Business Journal article acknowledged that the second floor was not his to sell.  He announced that in addition to the sale of the hotel and restaurant and its offices at 79 and 83 Madison Avenue, "part of the deal are the first floor and the basement of 1 South Main Condos at the corner of Madison and Main at the corner of Madison and Main and the Banquet Center at 9 and 11 South Main."
The tax bill for 1 South Main mailed to the Chicago owners is only for the ground floor of 4,212 square feet.  Mr. Reyes' rights remained intact until Aparium Hotel Group bought the building in 2016 and claimed that those rights expired 15 years earlier.
All that said, we're not really here to argue legalities and rules of evidence.  Rather, we are appealing for reason and fair play.
We are impressed with the improvements that Aparium Hotel Group proposes to make to a key downtown corner that has been underused and has often been unsightly.  We hope that the Chicagoans will show as much sensitivity to the special status in downtown given to Mr. Reyes and Ms. Fleming as they are showing to the exterior improvements to the first floor.
Searching For Solomon
Hopefully, Judge Thompson can bring a Solomonic wisdom that understands that justice is not just about the letter of the law and the winner of a legal argument, but that it calls for a sense of equity that can't be calculated on a spreadsheet or captured in a legal summation.
Sometimes, it requires a special judge to understand that the intangibles are as important as the tangibles.  The history of the South is replete with the powerful landlords undercutting the property rights of people with fewer resources, and as a result, judges have been called on to be arbiters of fairness as much as arbiters of fact.
The General Sessions Court website says the hearing to evict Mr. Reyes, Ms. Fleming, and their two young children is set for tomorrow, Tuesday, March 27, at 9 a.m.  It is said that General Sessions Court is not a court of record, but when it comes down to whether your furniture will be moved out to the street, such nuances are of little importance because it has the power to up end your life.
Technically, the motion by the Chicago hotel company's high-powered attorneys is for a Forcible Entry and Detainer (FED) Warrant, and the legal title alone suggests the hardball context for the hearing.
Putting Company Values Into Action
Meanwhile, we understand that the Downtown Memphis Commission may not have any official role or responsibility (although it did approve a façade loan for the new hotel owners) in this case.  However, downtown is not just about property but about people.
If the downtown agency be an advocate for mediation, there might be a way to protect the investment from a high-quality and valued hotel company while also demonstrating the agency's commitment to the special people downtown who make it such a distinctive place to live and two of them who have helped to make it so for 25 years.
We also appeal to the Aparium Hotel Group which says its hotels reflect the unique personality of the cities where they are located and that it is committed to a true celebration of independent identity.  It also states that it takes "everything that makes a city great," including heart and passion, and brings "them together into one extraordinary piece of the cultural puzzle."
We are hard-pressed to think of two people who are more identified with the "independent identity" of the downtown core than Mr. Reyes and Ms. Fleming.  We can only hope that Aparium will translate its words into action and move ahead in an attitude aimed at finding a resolution to this dispute without creating ill will and hard feelings at a time when downtown is finally on the move.
*****
Note: Fighting the eviction sought by Aparium's major Memphis law firm costs money.  We invite you to join us in contributing to the gofundme account that is raising money for Mr. Reyes and Ms. Fleming's legal fees.  They need our help now, so time is of the essence.  Give now to Save Christopher and Sarah's Home!