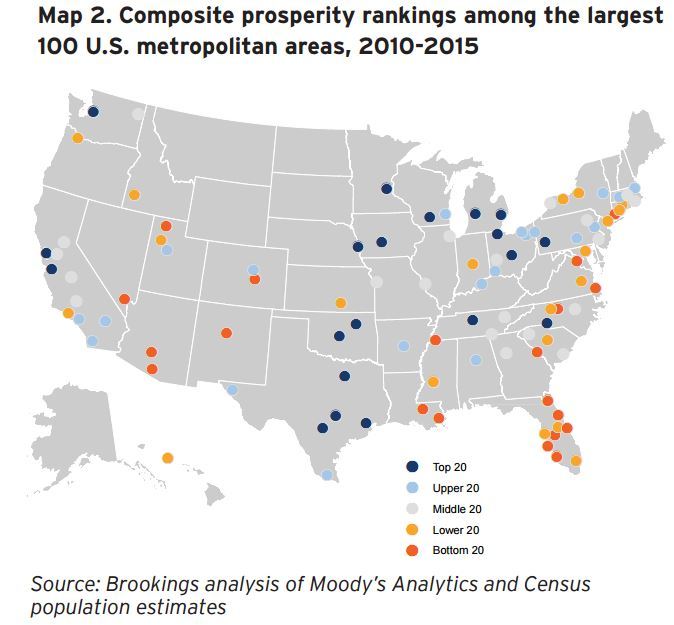 The following post was written by a favorite Memphis economist of ours, David Ciscel, former Chair of the Economics Department, Associate Dean of Fogelman School of Business, Dean of the Graduate School; Dean of the School of Business at Christian Brothers University; and Senior Consultant for the Federal Reserve Bank of St. Louis.  He has published more than 200 academic articles and monographs ranging from executive compensation level, value of household labor, regional economic development, and urban sprawl. 
His perceptive, scholarly analyses of the Memphis economy are required reading for anyone looking to understand the history of the Memphis economy and gain insight into its current lethargy when compared to cities it previously outperformed.
By David Ciscel
A recent blog by Paul Krugman (12/30/2017) got me thinking about Memphis in a slightly different way. The smaller cities and towns in the US have always provided specialty services that the rest of the nation needed, and this has linked them to the major cities. However, Krugman has argued that, geographically speaking, this is less important than in the past. This brief essay thinks about this change as it applies to Memphis.
Historically, Memphis has been a rail and river hub. In the old days, hardwood, cotton and agricultural products were bundled, re-packaged, and shipped through Memphis. Memphis also produced a lot of things in the city for the Southern market from cars and agricultural implements to fans, bubble gum and pianos. Memphis was more important to national economy than places like Nashville and Atlanta.
A lot of that has changed.
In the 1980s, it looked like things would be better than the old days. FedEx was prospering, providing a 21st century version of the old transportation hub. The city was rising above the cultural shame of 1968. The rural areas around Memphis were still an agricultural powerhouse; corn and soybeans now. The remnants of the manufacturing sector seemed to hold on.
But as the new century arrived, Memphis (while prosperous) had seen many business changes. Not only had human-fueled agriculture declined and deindustrialization had hit the area in a major way, locally owned businesses were in decline in retail trade, in finance, and in some aspects of service.  Memphis had become more dependent on the business decisions of outsiders. And the specialties of the region no longer strongly differentiated it from other mid-sized cities.
Had Memphis gambled wrong as Krugman argues many smaller cities had done?
With FedEx and I40/I55 trucking, Memphis seemed poised to succeed as it had in the past. We knew we needed to be a specialty city – providing services and products to the global mega-cities.
But we goofed.   Most specifically, we maintained the labor force of the past.
The city had always prospered on a hardworking unskilled and semi-skilled work force. That work force was segmented by race. African-Americans provided a large unskilled labor pool that worked anywhere, anytime – agricultural or industrial. White workers, though poorly educated, provided the industrial proletariat of the Mid-South economy.
By the end of the 1980s, this kind of labor force was no longer a road to prosperity.
Unskilled now meant a job in the newly growing custodial or private security business. Semi-skilled now meant a technical degree from a community college, working in medicine, retail or information services. But the city was still paralyzed by racial hostilities that partially crippled the education system, sending black children into the public schools and white children into private schools where forward-looking skills were often not a priority. The local Universities and Colleges did not expand sufficiently to turn the labor force around – or they produced educated adults who found career opportunities out of Memphis.
Memphis entered the 21st century with a logistics specialty that was not sufficient to bring growth or prosperity to the region. Air, rail and trucking just rolled through Memphis. These industries did not build a new economy that the rest of nation needed.
That is, we did not carve out a new specialty, or a unique labor force. And the Great Recession just brought our lack of uniqueness to the forefront. Rather than needing us, the rest of the U.S. economy exploits us. We beg for industry, giving away our fortunes into something called PILOTS, rather that using local monies to make ourselves great again.
Is this our fate forever?
There is no permanent determinism in the economic sphere of human life. Memphis still has a unique cultural landscape and it is an easy place to live – compared to other cities in the region. But Krugman's insight into the geographic relevance of mid-sized cities should be a warning about the future of the Memphis economy.