Our friends at Jewish Community Partners are publishing a fascinating series of posts as part of its citywide commemoration – and celebration – of the 70th anniversary of the founding of Israel.  Jewish Community Partners is the parent to Memphis Jewish Federation and Jewish Foundation of Memphis, and the Memphis Celebrates Israel at 70 articles includes a feature, My Israel Story, which spotlights Memphians' personal stories.  You can see all the stories on JCP's blog, JCPConnect.
In addition to reflecting on seven decades of Israel's history, it is also an opportunity to celebrate Memphis' rich history and the debt that we owe to our Jewish friends and neighbors.  The first Jewish citizen of Memphis settled here only 14 years after the city was created, but by 1847-8, Memphis already had a Jewish city alderman, a Jewish cemetery, a Hebrew Benevolent Society, and only a few years later, Memphis had its first congregation, B'nai Israel, and by 1858, its first synagogue.
The civic, charitable, and business history of Memphis is replete with the contributions of its Jewish citizens, and so, for us here, the Memphis Celebrates Israel at 70 has an added reason to look back – the 70th anniversary of Israel becoming a nation also marks 175 years of Judaism in Memphis.
But back to the commemoration of Israel's 70th anniversary, we're posting one of the articles that we especially enjoyed.  It's by Bluma Zuckerbrot-Finkelstein, director of community impact at Jewish Community Partners, where she manages Memphis Jewish Federation's grants and allocations processes, community planning, and community relations and Israel and Overseas agendas and activities.
She also teaches Judaic and Israel-related topics in both the Jewish and broader Memphis community, speaking and leading discussions in diverse settings on issues relating to Israel and the Middle East.  Prior to moving to Memphis 20 years ago, Bluma was director of Middle Eastern Affairs for the national office of the Anti-Defamation League. She holds a BA and MA in Middle Eastern Studies from Barnard College and Harvard University, respectively.  She is married to Rabbi Joel Finkelstein, senior rabbi at Anshei Sphard-Beth El Emeth Congregation and they have four children.
Here's her Israel story:
It's early Friday morning 2016 at the Kotel, the Western Wall. We have just arrived in Jerusalem after an emotionally difficult and exhausting trip to Poland. I have been to the Kotel many times before but there is something different about this visit. Looking up at the ancient stones, I feel as if someone is physically lifting from my shoulders the weights of the evil, death, and destruction I bore witness to in Auschwitz only hours earlier. The Jews there were trapped inside gas chambers; they uttered the Shma Yisrael (Hear O Israel) prayer as the last words on their lips. The Jews here are also chanting the Shma Yisrael prayer, but as free Jews praying in a Jewish homeland.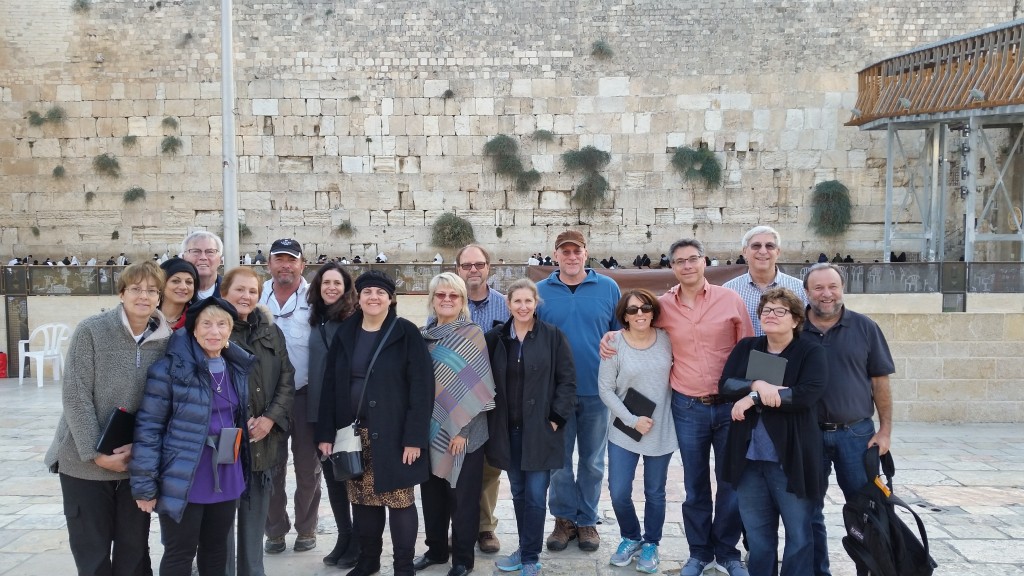 This is My Israel – a place steeped in Judaism, Jewish history and tradition. A place of refuge for persecuted Jews all over the world. A place for Jews to engage in meaningful Jewish prayer, and enjoy a vibrant and all-encompassing Jewish experience.
It's late Friday afternoon 2014, Erev Shabbat, at the bustling central bus station in Jerusalem. Outside, buses are pulling in and out transporting frenzied passengers rushing to get to their destination before bus service ends and the tranquility of Shabbat descends. I'm standing and waiting for my son who is with the other contestants in the International Bible Contest. Amid the dozens of other people waiting and searching for family members and friends, a woman gives me a knowing glance. I look at her and while I am certain that I do not recognize her, I sense an immediate connection between us. Somehow, we know that we are both waiting for the same bus to arrive.
We walk towards each other and chat in Hebrew, our only common language. She is from Buenos Aires and her daughter is also a contestant in the Bible Contest. She is mercifully saved from having to answer more of my questions about Jewish life in Argentina by the arrival of the bus with our children. When we see each other again several days later at the Contest, we embrace as if we were long-lost friends.
This is My Israel – a place where two Jews from different countries and vastly different cultures effortlessly recognize their bonds with one another.
It's Friday night 1983, Shabbat. I'm spending my gap-year in Israel. I ask my madricha (counselor) if she could arrange for me a more "Israeli" Shabbat experience. Next thing I know I am on a bus headed south for Yerucham, then a poor, sleepy development town, to spend the next 25 hours with a Yemenite family. While their mud house is small, their home is large, filled with joy, warmth and the beauty of Shabbat. The interesting Sephardic salads come out with abundance. Melodious Shabbat songs fill the room. Certain that the salads are the "main course" given the obvious lack of resources, I eat a lot of them. But then my host brings out the meats and the side dishes and I am overwhelmed by their hospitality.
This is My Israel – a place where Sephardic and Ashkenazic Jews come together in a joint project to build a Jewish homeland. A place where Jews of limited means open up their homes to American Jewish strangers seeking an "experience" but emerging profoundly changed by the meaning of family and Jewish peoplehood.
***
Join us at the Smart City Memphis Facebook page for daily articles, reports, and commentaries relevant to Memphis.