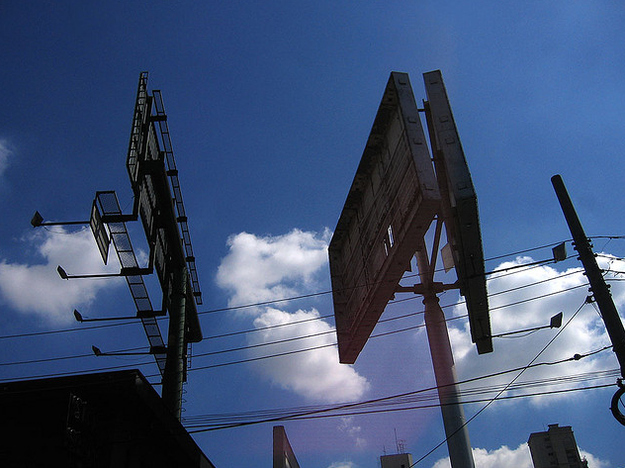 If it wasn't bad enough that the U.S. Supreme Court put our political system up for sale when it inexplicably ruled that corporations are people, our local U.S. District Court has added insult to injury.
It ruled this week that the Tennessee Billboard Regulation and Control Act is unconstitutional because it is restriction on free speech, opening the door to even more than the 3,300 billboards that we already have.
Perhaps, it takes the Supreme Court's 2010 Citizens United ruling to its logical, if inane, conclusion. That said, if corporations are people, then billboards are the yapping dogs in their backyards – a constant irritant by an uncaring neighbor.
It is an industry that allows Memphis to compete for the title of city with the most billboards per capita of any city in America.  But when it comes to the billboard industry, enough is never enough.
They want more, higher, bigger, and now digital.
Guilty On All Counts
Today, they offend our interstates with one billboard almost in the shadow of another.  In our inner city neighborhoods, they target low-income Memphians with advertisements for tobacco, alcohol, and gambling.  They reduce property values in neighborhoods that are viewed as too unimportant to protect.  The digital variety reduces safety by distracting the eyes of drivers off the road.
As for us, we simply abhor them for the obvious aesthetic pollution they bring to our community.  A Texas A&M University study concluded that billboards don't just blight the landscape, they also contribute to commuter stress and its attendant health concerns.
At a time when Memphis is making important investments in quality of life amenities and livability as part of a stronger city brand, it is impossible to escape the impact caused by thousands and thousands of billboards that are like mushrooms along the roads and highways of Memphis and Shelby County.  Few things destroy the beauty of our landscapes as much as billboards and so strongly contradict our rhetoric about the quality of public places (highways are public places) and neighborhoods.
The federal court ruling sided with a billboard company with a reputation for a carefree disregard for regulations in the first place. It has erected billboards without permits, refused to remove them when ordered by code officials to do so, and attacked anyone who did not do its bidding.
The NRA Of Advertising
We can only hope that the Tennessee Department of Transportation will appeal the federal court ruling.  After all, the ruling here put a stake in the heart of a law that has served Tennessee well for 45 years, and looking at the proliferation of billboards in our community, it's impossible to feel any sympathy for any positions of the industry.
All in all, the callousness of billboard companies and their owners to put their own financial gain ahead of their own community's best interests is boundless.  The billboard industry is the NRA of U.S. advertising.  It feels that it should never be regulated and that every rule is a reason to fight reasonableness and to ignore the overwhelming public opinion in support of common sense rules.
The Tennessee Legislature could conceivably enact legislation to correct the concerns identified in the court ruling, but we're not counting on it.  When the state law was passed in 1972, it was a simpler time.  Today, every issue is a test of party loyalty, but more to the point, it's hard to think of a narrow, well-financed special interest that does not have a majority of legislators in its pocket.
The Tennessee Billboard Regulation and Control Act was passed seven years after the Highway Beautification Act was passed by the U.S. Congress at the urging of President Lyndon B. Johnson who in turn was being urged skillfully by his wife, Lady Bird Johnson.  Nothing gave her more pride from her time as First Lady than her work to improve highway scenery.
Her husband three years after passage of the Highway Beautification Act said: "This damn billboard lobby has run this country.  I have never seen such a goddam group of selfish, eager hogs.  They won't even let people sit down and try to reason with them."
Loopholes
We need our own LBJ because we've been talking for a couple of decades about reducing the number of billboards in Memphis, and when the smoke cleared each time, there were loopholes and more billboards than there were before.
Remember two years ago when we watched when a planned development application for a phantom mixed-use development was actually a ruse for a billboard on an acre bounded by North Main, Jackson, Second, and I-40. There was no imminent plan for new businesses or residences.  The only goal was to protect the billboard which blights Memphis' first commercial district, Pinch Historic District.
It shouldn't be this way.  One of the goals for the new Unified Development Code was not to treat urban areas as disposable commodities ripe for "anything goes" uses.  Come to think of it, it was also intended by the national experts writing the new code for it to reduce the overuse of planned developments as an "end around" loophole so developers can sidestep requirements for smarter planning and context sensitive projects.
It is yet more evidence of Memphis' lack of self-worth: we are so unworthy that we will take anything and act like we're lucky.  Thankfully, that attitude is vanishing, but the ultimate proof will be when our rules, regulations, and codes reflect greater emphasis on urban design and a commitment to protecting the urban fabric from suburban-style development and demanding higher quality development more in keeping with the qualities that a consensus of Memphians want.
New Opportunities
It's been 12 years since the city planning staff attempted to restrict the number of billboards, but it was defeated by a narrow vote and we largely returned to business as usual.  Seven years ago, the Unified Development Code was adopted as a vehicle to mitigate a suburban ethos in the urban core.
With a new city administration and the development of Memphis 3.0, Memphis' first comprehensive plan in almost 50 years (the plan approximately 35 years ago was more of a policy plan), it's a good time to do whatever can be done to create the city that its citizens want.
Memphis 3.0 is a historic process to develop a vision for Memphis and a map to get there.
One indicator that we're making progress is getting the billboard industry under as much control as possible.  We're about 20 years late, but there's no time like the present.
**
Join us at the Smart City Memphis Facebook page for daily articles, reports, and commentaries that are relevant to Memphis.