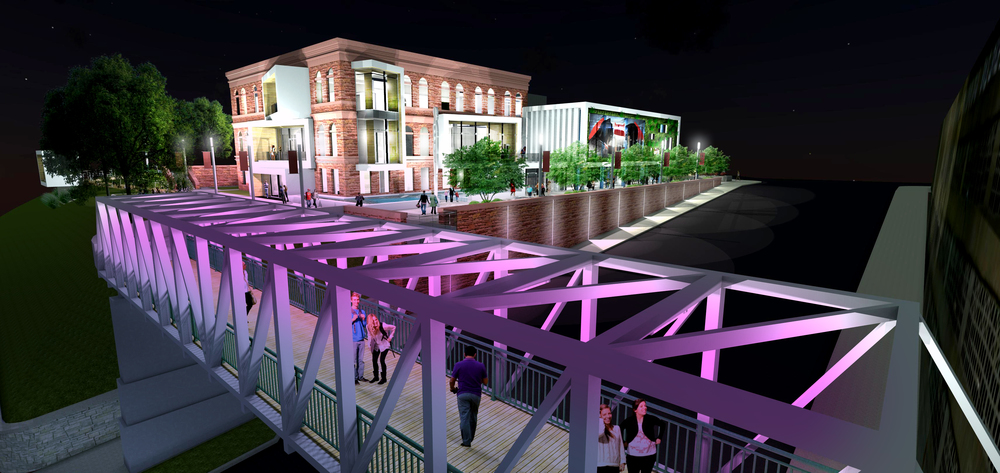 Memphis Art Park has posted designs from its latest master plan online, and once again, it's plowing the way for smarter thinking about a higher and better use of prominent downtown real estate.
We've made no secret of our support for this plan since it was first unveiled about eight years ago by John Kirkscey in a burst of creativity about how to transform moribund downtown sites in activated, vibrant arts and cultural spaces.
Some years ago, on a different project, a young visionary said to us: "Memphis is a hard place for young people to do good things.  It grinds you down. Often, all the talk about the creative class is just that – talk. As soon as you have an idea, other people want to defend their turf and power."  We'd like to think that things have fundamentally changed in the years since that was said to us, and there would be no stronger proof than Memphis Art Park getting the consideration, support, and advocacy that it deserves.
That's what we admire most about Mr. Kirkscey.  Most people would have been ground down by now, but his response has been to produce a 75-page business and organizational plan in support of a bold vision for an incubator for emerging artists, a hub for artistic and creative collaborations, an arts and entertainment entrepreneurial center, and community outreach to "enrich communities, bridge racial divides, and foster social harmony."
Boldness
The key element to Memphis Art Park is a community arts center that reimagines Cossitt Library – the architect is the talented Mario Walker, project manager for Self+Tucker Architects, who first reimagined the entrance to the library off Front Street – with a film center, digital-media/arts resource center, music center, performing arts center, observation decks, dance center, and flex space and offices.  It could also be home to Christopher Reyes' ahead-of-its-time Live From Memphis.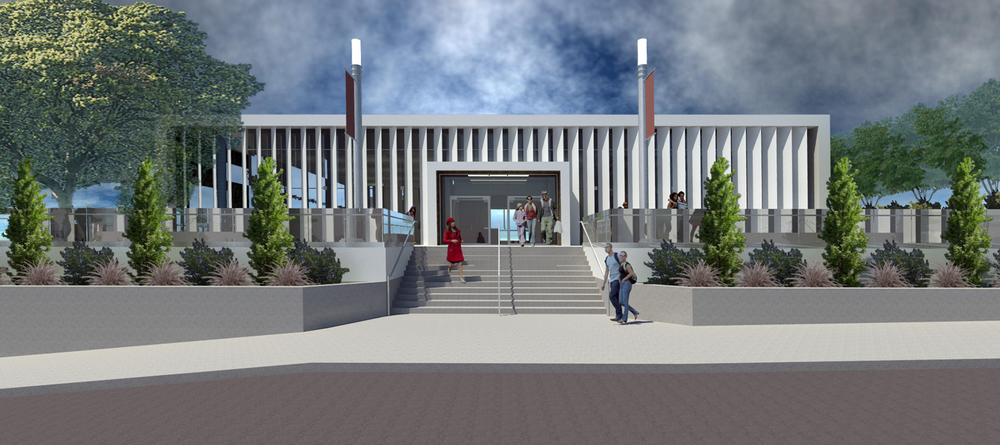 There's also a visual arts center at the Memphis Fire Department headquarters at Front and Union, where underused space could be put to better uses that activate this key corner of downtown.  And that doesn't include the artists markets, performance pavilion, and more.
We've written several times about Memphis Art Park since our first post in 2009.  It was even endorsed in the platform of Memphis Mayor A C Wharton who encouraged the project's development but failed to send that word to his staff.  As a result, Mr. Kirkscey was greeted with fits and starts from city government, whose support was key to obtaining the philanthropic support.
Meanwhile, elements and concepts of the plan began to show up in other people's proposals and there were even meetings where MAP's previous business plan was handed out without his consultation.
More Than Incremental Improvements
At any rate, we admire Mr. Kirkscey for keeping on and his willingness to keep answering questions when he has presented the most fleshed out concept of its kind that we've ever seen.
Members of the MAP development team along with Mr. Kirkscey and Mr. Walker include general contractor and construction manager Montgomery Martin Contractors LLC and PR/marketing firm Walker & Associates.
It is often said that Memphis needs to think more boldly and aim higher (yes, we've written that for years).  Memphis Art Park is the opportunity to put our money where our mouth is.  Rather than settling for piecemeal solutions or incremental progress that can activate the core of downtown, it's an opportunity to do the kind of ambitious, high-quality, visionary idea that we so often envy in cities like Nashville.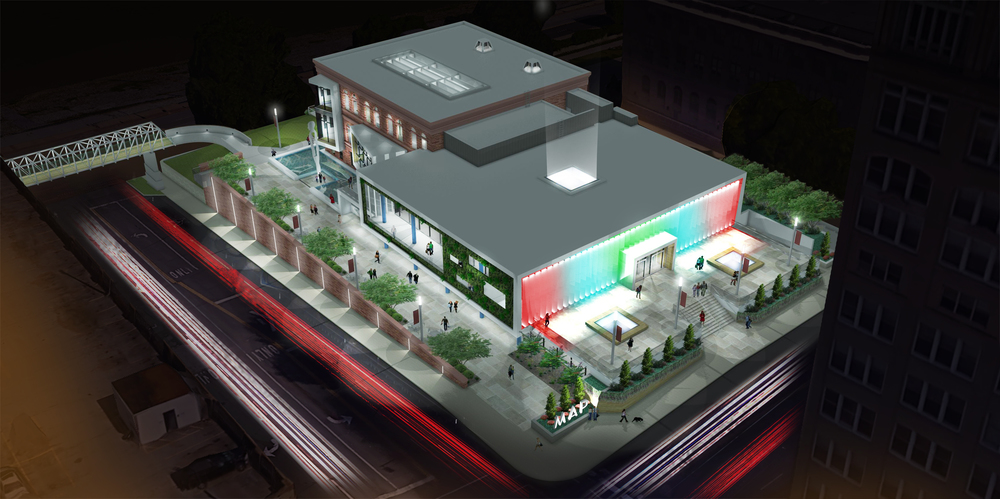 So Little Has Changed
Here's an excerpt from our first post about MAP from September 20, 2009:
"When Memphis decided to turn its back on the river, it did so with a vengeance. But that's a common tale for cities on American rivers. Riverfronts were rowdy, dirty and commercial, so cities didn't place much value on them as iconic landmarks or competitive platforms for the future. They were simply ignored.

But we know better now. So it's nothing short of astounding that the northern entrance to Riverside remains as dismal today as it did 30 years ago.
Driving off I-40, we are greeted with fences that do little except to send the message that this must be a city with a lot of crime and little design ethos. The chain link fence on the west lines a parking lot and the chain link fence on the east follows the trolley line (and makes visitor's walk from the Welcome Center to the Mud Island tram circuitous and indirect).
If this entrance into downtown is anything, it is a juxtaposition, killing the chance for a strong first impression.
Across from the Tennessee Welcome Center is an austere, crumbling oatmeal-colored, bunker-like parking garage whose better days are long past, and a large motor home seems perpetually parked there. There's brief respite passing between Confederate and Jefferson Davis Parks, and about the same time that Mud Island comes into view on the right, there's promising work taking place on the left as the old Custom House is being converted into the University of Memphis law school (and thanks to the Hyde Family Foundations, the face to the river is being made greener and more attractive).
But the boost doesn't last long. Immediately past it are the ignored rear of the old Cossitt Library, another godawful garage facing the river and a parking lot and more fencing behind the first station – all of which would be transformed by Memphis Art Park. Finally, at Union and Riverside, where you expect a breath-taking experience, the high ground – Wagner Place – is lined with commercial garbage dumpsters and hundreds of parking spaces where green space and seating overlooking the river would be gifts to downtown.
Greater momentum for elimination of the prevailing ugliness on this section of the riverfront should be a cause that all of us could rally around. For now, we'll start with Memphis Art Park.
Its creator, John Kirkscey, reminds us about what's best about Memphis: the ability of one person with a dream and an entrepreneurial and creative spirit to inspire others to rally around him.
***
Join us at the Smart City Memphis Facebook page for daily articles, reports, and commentaries relevant to Memphis and the conversations that begin here.