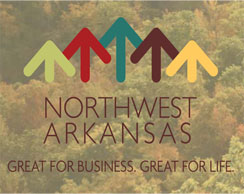 We recently realized that we often treat news about the Memphis economy the same way we treated news about the War in Vietnam decades ago.
We tend to ignore much of it.
In the late 1960s and 1970s, news about the war was so often the play stories in the upper right corner of the front pages of the daily newspapers, Memphis Press-Scimitar and The Commercial Appeal, that we became accustomed to simply ignoring the play stories altogether.  Even today, decades later, we often miss the big story of the day because we still fail to check out the upper right corner of the newspaper.
We regularly treat the news about the Memphis economy the same way.  There is a limit in how much bad news we are prepared to accept.
Walton World
That said, we were recently mailed publications from Northwest Arkansas, and one advertisement in them boasted that the area was #2 in Milken Institute's 2013 rankings for jobs growth percentage; #3 in 2013's best cities by newgeorgraphy.com, #4 in private jobs growth by U.S.  Bureau of Labor Statistics, and #28 in Forbes' 2013 rankings for best places for business and careers.
It piqued our interest since we haven't checked those sources in several months.
First, we checked out the Milken Institute's Best-Performing Cities index, which suggests that it indicates which U.S. metros are thriving or merely surviving.  It was pretty obvious which of the two groups the Memphis region falls into.  Our region was listed among those MSAs that had recorded the biggest declines in the ranking.  We were #16 in that list as Memphis MSA fell from #99 in 2012 in the list of best-performing cities to #150 in 2013.
Actually, Northwest Arkansas MSA was #34 in the rankings for jobs growth, but that area's economic development officials keep digging in search of a measurement that would move them to the top of the list.  For them, it was the jobs growth percentage, one of those measurements that often sound more impressive than it really is. After all, if you have two jobs and you create two more, the percentage looks pretty astounding, but it's because your baseline number was so small to begin with.
Take What You Can Get
Memphis got the same benefit with its ranking of #22 in high tech GDP Growth from 2007-2012.  We benefited from a low base to begin with, but like Northwest Arkansas, we still think it's worth celebrating that we are making headway in creating more tech jobs.
The individual rankings that made up the Memphis region's #150 ranking (for the 200 largest metros) were #155 in overall jobs growth from 2007-2012; #122 in jobs growth from 2011-2012; #143 in wage growth for 2006-2011; #154 for wage growth in 2010-2011; #121 in short-term jobs growth from July, 2012, to July, 2013; #22 in high tech GDP growth from 2007-2012; #54 in high-tech GDP growth from 2011-2012; #147 for high tech GDP concentration in 2012; and #133 in number of high-tech firms with LQ>=1 for 2012.
Ouch.
Meanwhile, the Nashville MSA was ranked #14 for best-performing cities; Clarksville MSA ranked #40; Knoxville ranked #64; and Memphis (#150) did at least do better than Chattanooga at #174.   Atlanta ranked #41, Little Rock ranked #71, New Orleans #88, Jackson (MS) #120, and Birmingham #179.
Smarting from the Milken rankings, we then turned to the 2014 Best Cities for Job Growth by newgeography.com.  Northwest Arkansas bragged about its #3 ranking for jobs growth.  Memphis MSA ranked third from the bottom – #64 – in the ranking of 66 large cities.  The only two cities ranked lower were Detroit and Camden.
In The Middle As Progress
After that demoralizing ranking, we were anxious to move on to Forbes Best Places for Business and Careers.  Northwest Arkansas shouts about its #28 ranking, so we hoping that Memphis MSA charted better than it did on the Milken and newgeography.com lists.
It was better.  We found Memphis toward the middle of the pack of the 200 MSAs – #84.  It was the low cost of living that moved Memphis from its normal place on the lower rungs for many economic indicators.  Among the 200 MSAs, our cost of living is the 22nd best, but it is dragged down by the #155 ranking in jobs growth, and #124 in education.
Our #82 ranking compares to Nashville at #5; Atlanta at #22; Little Rock at #32; Knoxville at #42; Jackson (MS) at #119; Chattanooga at #142, and Birmingham at #167.
Finally, on Northwest Arkansas's #4 ranking in private jobs growth by the U.S. Bureau of Labor Statistics, it was again based on percentage of growth.  The statistic that caught our eye about the Memphis MSA was that our civilian labor force declined by 13,200 from March of last year to March of this year.
Digging Out Of A Hole
In checking out the Northwest Arkansas bragging rights, we learned once again what a serious economic hole the Memphis MSA is in and how we can't keep doing what we've been doing and expect different results.
Because of it, we are pleased that EDGE is reviewing its PILOT program and expanding its economic gardening program and that the Greater Memphis Chamber is setting the creation of a cadre of new entrepreneurs in the coming years as a "moonshot."
While there are some who instinctively defend the present tax incentives and policies, it's difficult to ignore the fact that they have not prevented the most serious erosion of jobs and the economy in modern history of our region.  Because of it, we need a more strategic and more modern approach to economic development and to develop a well-rounded toolkit of incentives to support it.
Thinking Differently
As we considered these troubling economic measurements, we thought about the 2010 advice of Harvard University professors Edward Glaeser and William R. Kerr, because it seems even more relevant today than when he made them four years ago.
Quit putting your attention on attracting large firms. "These firms may provide an immediate headline associated with new jobs, but growth is more reliably correlated with small, independent firms," they wrote.  It is a fact underscored by the fact that between December 2007 to August 2010, the region lost 43,000 jobs.
Put another way, we lost the equivalent of FedEx, and we're struggling as a result.  It's  impossible to land a big fish to solve this problem.  We can continue to emphasize business recruitment to Memphis, but a sounder strategy for the long haul is to turn our focus to entrepreneurs and start-ups.
Don't expect government to succeed as venture capitalist. Instead of trying to pick winners and losers with its incentives, local government would do better if it encouraged competition between banks and financiers.
Acting Differently
Focus on quality and smart people. "There is much to be said for the strategy of focusing on the quality of life policies that can attract smart, entrepreneurial people," said Mr. Glaeser and Mr. Kerr.  "The best economic policy may be to attract smart people and get out of their way.  This approach is particularly appealing because the downside is so low. What community ever screwed up by providing too much quality of life?"
It's about the robust link between universities and entrepreneurship. "Good universities have faculty members who are involved in local start-ups and train students who may become entrepreneurs and the employees of entrepreneurs.  These facts do not suggest that universities should be locally subsidized, but they do suggest that imposing costs that restrict the growth of such institutions can be costly."   In other words, the State of Tennessee's cuts to our largest university, our largest community college and our medical university are devastating and strike at the heart of efforts.
As we struggle to develop a coherent economic development plan that can lead us out of the economic Bermuda Triangle where we find ourselves, it's imperative that we are honest about the situation and to tap into the current of creativity that runs through Memphis's history to respond with boldness and courage.