Jeff Speck is a city planner and architectural designer who, through writing, lectures, and built work, advocates internationally for smart growth and sustainable design. As Director of Design at the National Endowment for the Arts from 2003 through 2007, he oversaw the Mayors' Institute on City Design and created the Governors' Institute on Community Design, a federal program that helps state governors fight suburban sprawl. Prior to joining the Endowment, Mr. Speck spent ten years as Director of Town Planning at Duany Plater-Zyberk and Co., a leading practitioner of the New Urbanism, where he led or managed more than forty of the firm's projects. He is the co-author of Suburban Nation: The Rise of Sprawl and the Decline of the American Dream as well as The Smart Growth Manual. He serves as a Contributing Editor to Metropolis Magazine, and on the Sustainability Task Force of the U.S. Department of Homeland Security. His new book, Walkable City: How Downtown Can Save America, One Step at a Time, is now available in print, digital, and audio format.
We received several emails asking for more information about Jeff Speck's riverfront report for Memphis Mayor A C Wharton.  As a result, we'll continue to post sections of his report here.  This week, we'll focus on two riverfront parks:
Briefly, the key findings are as follows:
*  As the northern bookend to the Cobblestones, Jefferson Davis Park should be remade as an active waterfront park, including dramatic water features and a stair/elevator connection to the Mud Island monorail bridge.
*  Both Tom Lee Park and Beale Street Landing, receiving dozens of new parking stalls within a reconfigured Riverside Drive, should remove their surface parking lots.  Working with Memphis in May International Festival, the City should redesign Tom Lee Park as a series of grassy "rooms" separated by trees and shrubs.
Jefferson Davis Park
 Just as Beale Street Landing serves as a southern bookend to the portion of the riverfront that engages the downtown, Jefferson Davis Park is poised to play the same role to the north.  Its presence on the east-west park axis and its potential connection to Mud Island make it the proper location for the City's next major investment in a waterfront park.  Its prime location and small size make it a place where a reasonable investment could have a transformative effect in short order.
A number of site features add promise to this proposal.  The presence of the State Visitors' Center provides a physical anchor and an opportunity to amenitize the park with food and drink.  Its parking lot, oversized for the Visitors' Center itself, could also serve the park.  The planned addition of parallel parking along Bass Pro Drive and Riverside drive (discussed ahead) would provide yet more parking.  The development of the Blind Spot parcel immediately north of the park would create an audience of residents within walking distance.  Indeed, an improved Jefferson Davis Park would add to the value of this proposed new housing.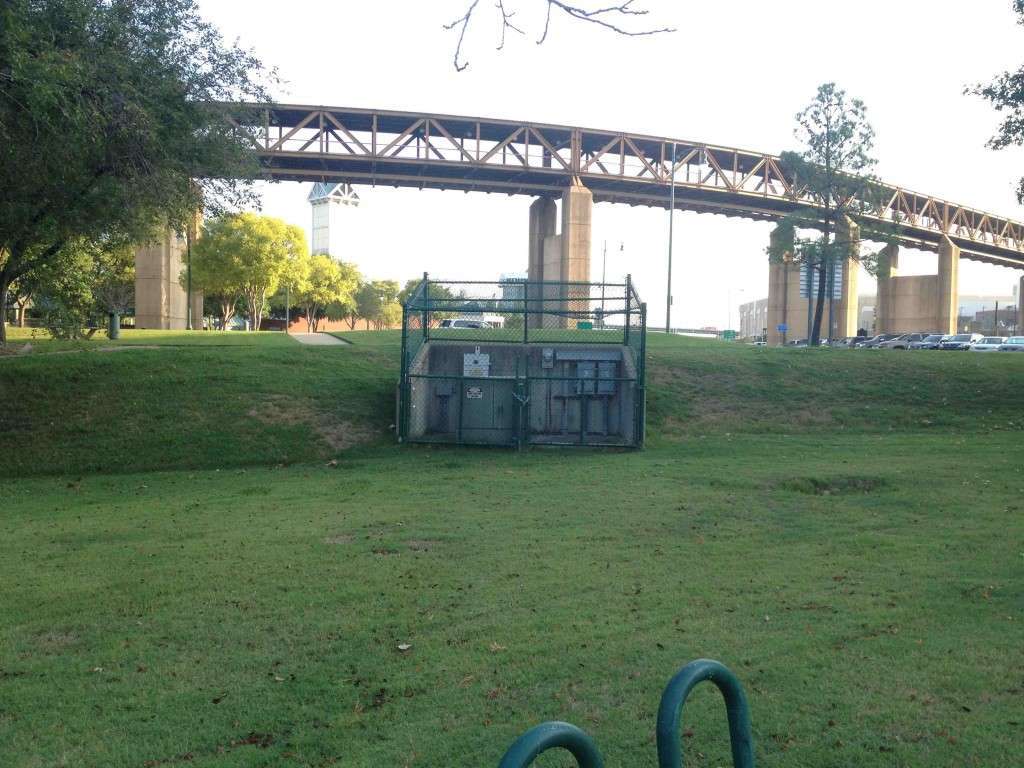 Jefferson Davis Park drops about one story in elevation from the State Visitors' Center parking lot.
Finally, the park's one-story north-to-south drop in elevation, just south of the Visitors' Center parking, would allow for a multi-level waterfall feature of the sort that brings life to other successful new parks, like Washington D.C.'s popular Yards Park.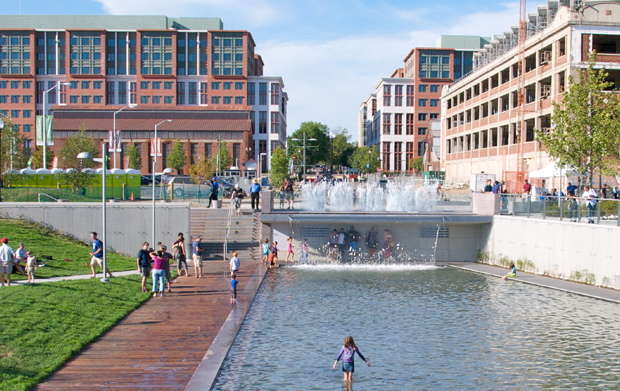 Yards park in Washington, D.C., shows how a grade change can be put to good use.
Tom Lee Park
Most people feel that Tom Lee Park is a missed opportunity, a place that could offer visitors much more than it already does.  The key impediments to achieving this goal are described as "funding" and "Memphis in May."  Presuming the former to be potentially surmountable, it is worth delving into the latter.
A number of plans have been made for beautifying Tom Lee Park, with the main strategy of using copses of trees and shrubs to divide the 4000-foot-long park into a series of "rooms."  People complain that all of these plans have been rejected by Memphis in May as conflicting with its needs, specifically the demands of its large concerts and barbecue cook-off.  Conversations with Memphis in May suggest that such a reconfiguration of the park is not at all in conflict with its needs, but that prior design efforts have not included the organization as an active participant, which kept these from meeting the festival's needs.  Based on these discussions, there is good reason to expect that a new design effort that acknowledged Memphis in May as a key client could produce a satisfactory "outdoor-rooms" proposal.
As a side note, some voices have suggested that one solution to this apparent conflict is to move Memphis in May from the riverfront to the Fairgrounds, where it has been located on occasion.  For a city that wants to better celebrate its relationship to its river, such an outcome would be extremely counterproductive.  Having Memphis in May on the riverfront gives the festival an unmatched setting, gives a boost to downtown businesses and hotels, and is also a great convenience to festival visitors, many of whom are liberated from the risk of drinking and driving by the festival's current location.
As a redesign moves forward, it is worth noting is that, having been constructed of fill, Tom Lee Park has soil that needs amendment and or replacement to properly support plant life.  Any plans to add trees to the park must include a soil plan, and also a temporary fencing plan to protect landscape from trampling—and human "watering"—during Memphis in May.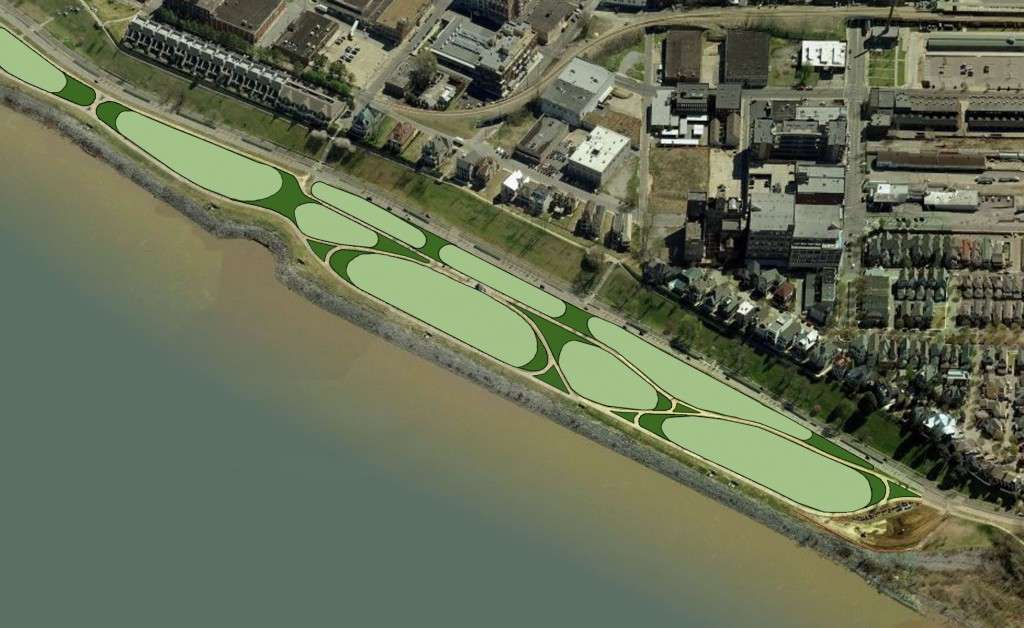 A conservative approach to improving Tom Lee Park would use areas of trees and shrubs (in amended soil) to shape "outdoor rooms" of grass.
A more elaborate plan is not recommended, for several reasons.  First, Memphis in May still requires that most of the land remain grass, which is not out of keeping with an "outdoor-rooms" scheme.  Second, Tom Lee Park is so very large that any commitment to change it dramatically will necessarily be very expensive.  Third, while the park is a missed opportunity, it isn't broken.  It still presents an attractive edge to the Mississippi, and it serves many users in its current state.  Finally, Tom Lee Park sits below the bluff, away from the area where downtown Memphis reaches toward the riverfront.  There are no cross streets approaching it from the east, unlike north of Beale Street.  For all of the above reasons, Jefferson Davis Park is seen as a much better place to invest in the interest of attracting waterfront activity.
Still, while not being the highest priority, Tom Lee Park warrants a limited investment in beautification in conjunction with the reconfiguration of Riverside Drive, which will attract more potential users to its edge.  The creation of a continuous parking lane on
Riverside will create more parking spaces than the 120 spots located within the park.  This parking lot, which even Memphis in May doesn't like, should be removed, as no truly urban American park includes a parking lot.  Also slated for removal should be the parking lot serving Beale Street Landing, which—added during the value engineering phase—betrays that project's design conception of a grass field rising to become a roof.

Accomplishing this integration requires paying special attention to a number of initiatives already mentioned, as follows:
1.   The Beale Street Axis needs to be reinforced as a walkable corridor from 2nd Street to the Beale Street Landing.
2.   Jefferson Davis Park needs to be remade as a destination, and its connections eastward enhanced.
3.   Both Jefferson Davis Park and Beale Street Landing need to establish direct, quick, connections to Mud Island, likely in the form of a stair/elevator tower for the former and a two-point water taxi for the latter.
4.   Mud Island needs to be remade along the lines envisioned by its recent Land Use study, and not only beautified from its tip to beyond the monorail landing, but enlivened with amenities that keep it active from dawn to after dark.
5.   Finally, the Cobblestones need to receive an armature of additional "temporary" construction that allows it to be used in a more active way than is currently contemplated.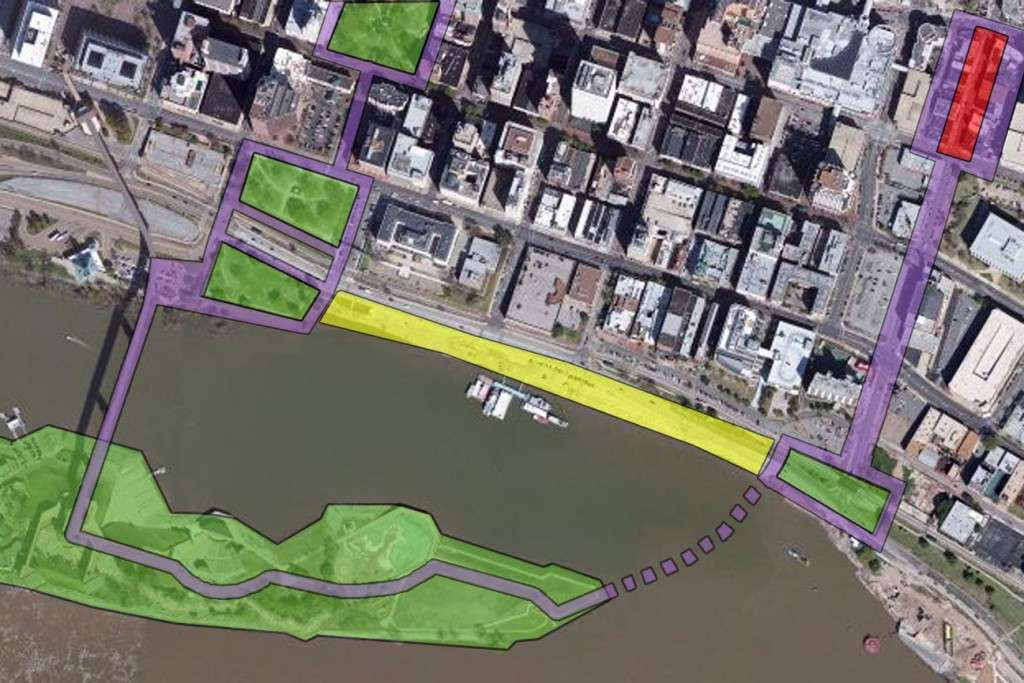 A reconceptualized riverfront has two coasts and reaches into downtown where it connects to a revitalized Mud Island.
There are additional long-term interventions that will also have a profound positive impact, such as the replacement of the two City parking garages with bluff structures that line Riverside drive with active building fronts.  But the diagram above emphasizes the key aspect of the riverfront's reconceptualization, which is as a two-coast loop that reaches into downtown at its two river crossings.
This drawing is intentionally a diagram and not a plan, because it could be accomplished in a wide variety of ways.  But the best plans are reflective of simple underlying diagrams that show what a site "wants to be."  In this case, the location of Mud Island a short distance from the very heart of downtown, and the presence of Beale Street Landing and Jefferson-Davis Park as bookends to the underutilized Cobblestones, all suggest the integration of these features into a continuous circuit that will allow the whole to be greater than the sum of its parts.
PRIORITIES
The remaking of Mud Island and the activation of the Cobblestones are the sort of long-term transformations that will allow the Memphis riverfront to reach its full potential.  However, by focusing short-term efforts on those few centrally-located places where immediate change is possible, we can fundamentally alter the riverfront in a way that achieves dramatic outcomes at limited cost.
These interventions should be selected from the long list already presented based on the combined criteria of visibility, affordability, and connectedness:
*   The goal of visibility acknowledges that the most impactful investments are those that can be seen and visited the most easily by the greatest number of people.  This goal suggests that areas along Riverside Drive have more immediate potential than areas elsewhere.
*   The goal of affordability acknowledges that high cost/acre investments should be focused in relatively small areas (like Jefferson Davis Park), while low cost/acre investments can be spread over larger areas (like Tom Lee Park).  It also acknowledges that it is cheaper to ask for modifications to other people's investments (like Bass Pro) than to fund new investments.
*   The goal of connectedness acknowledges that investments are much more likely to achieve critical mass if located adjacent to one another, and also that those investments which connect other things together are likely to have disproportionally large impacts.
Based on these criteria, it is strongly recommended that the City of Memphis immediately move forward on simultaneously accomplishing the following six interrelated initiatives:
1.  Making Riverside Drive a complete street
2.  Making Bass Pro Drive a complete street
3.  Encouraging development along Bass Pro Drive
4.  Remaking Jefferson Davis Park
5.  Completing the central Riverwalk; and
6.  Improving Tom Lee Park.
Each of these initiatives is described briefly below, while also referencing the larger discussion that has already occurred in the body of this report.
1. Making Riverside Drive a Complete Street
Nothing separates downtown Memphis from its riverfront as powerfully as the current pedestrian-unfriendly condition of Riverside Drive.  The experience of Memphis in May demonstrates that the city can function properly with this road reduced from four lanes to two.  Effecting this narrowing without rebuilding any of the street's curbs makes room for the addition of a protected bicycling facility and a full flank of parallel parking, which would protect sidewalk edges while also allowing for the removal of unattractive parking lots in Tom Lee Park and at Beale Street Landing.  This dramatic change could be accomplished for little more than the cost of a new top coat, although we encourage a concurrent investment in shade trees where they are missing along the street's length.  Thus transformed from a highway to an urban boulevard, Riverside Drive would bring the city back in touch with its river.
2. Making Bass Pro Drive a Complete Street
Bass Pro, with some help from the City, is about to make a major investment turning Poplar Avenue / Fulton Street into a road that, unfortunately, will not encourage walking or biking along it, nor enhance the value of its adjacent real estate.  Unnecessarily sized at four lanes, this road will encourage speeding, and lacks parallel parking protecting the sidewalk to its west.  This sidewalk enfronts the State Visitors' Center as well as a prime developable parcel that would benefit from a safer and more comfortable eastern edge.  Properly resized to two lanes to include ample sidewalks and cycle facilities, and ideally shifted slightly east within its current right of way, this street can both provide an appealing route to the Bass Pro Pyramid and contribute to the size and value of abutting property.  Indeed, by including parallel parking, this street can allow for the removal of the bus parking lot at the State Visitor's Center, further enlarging the area available for redevelopment.
3. Encouraging Development along Bass Pro Drive
As just discussed, the removal of the concrete plant has resulted in a large city-owned property being made available for redevelopment alongside Bass Pro Drive.  Bounded to the west by the Riverwalk (against the Wolf River Harbor), this site is well located and amenitized to receive a significant quantity of medium-density housing with a limited mixed-use component.  If it is properly planned prior to its sale, the City can both control its quality and raise funds for the transformation of Jefferson Davis Park, which could potentially be redeveloped as part of a developer RFP for the two parcels together.  In fact, the City may want to consider creating a master plan for this area that also includes the State Visitors' Center and its parking lots.
4. Remaking Jefferson Davis Park
Because it is not large, Jefferson Davis Park can be remade dramatically for a relatively small cost.  Doing so is not essential, but makes sense in the context of its role as the northern bookend to the Cobblestones, opposite Beale Street Landing, and its location along an east-west park axis that connects Court Square through Confederate Park to Mud Island.  This Mud Island connection should be enhanced by a stair/elevator tower that allows Riverwalk users to access the monorail bridge without first doubling back uphill to Front Street (See Section II.7).  As suggested just above, the improvement of this park would further amenitize the City-owned parcel just north of the Visitors' Center, and should perhaps be redeveloped in conjunction with that site.
5. Completing the Central Riverwalk
Memphis downtown now includes a nice Bluff Walk south of Union, a short Promenade Walk from Monroe to Jefferson, and a Riverwalk growing north from the State Visitors Center.  These three brief experiences can be combined into a single worthy stroll for the slight cost of one staircase (at Union), two speed tables (crossing Union at Riverside and Riverside at Jefferson) one block of boardwalk (from Union to Monroe), and a very limited amount of additional walkway and wayfinding.  Thus connected to itself, the Memphis Riverwalk will provide a delightful multi-mile meander from Ashburn-Coppock Park to the Bass Pro Pyramid.  This effort can be supplemented, in conjunction with the calming of Riverside Drive, with a path down the hillside that allows bluff walkers to directly access Tom Lee Park rather than all being diverted into the South Bluffs neighborhood. (See Section II.17.)  Given its small price tag and great connective potential, there is every reason to make this proposal a high priority.
6. Improving Tom Lee Park
If there is a single initiative among these six that can be delayed, it is this one, the improvement of Tom Lee Park to include "outdoor living rooms" of grass separated by copses of trees and shrubs in a manner that supports the activities of Memphis in May.  However, this proposal makes the A-List for a number of reasons, including its tremendous visibility from Riverside Drive and beyond; its adjacency to the almost-complete Beale Street Landing; and the fact that adding parallel parking along Riverside Drive will allow both Beale Street Landing and Tom Lee Park to eliminate their unattractive parking lots.  Tom Lee Park covers half of the downtown Memphis riverfront.  Making it beautiful at limited cost seems a promising path towards transforming the city's relationship to the Mississippi.
The above six initiatives have been put forward for immediate action because they all seem affordable, quickly achievable, and mutually supporting.  That does not mean that none of the dozen other proposals above merit short-term attention.  Indeed, some of these are only considered long-term because, even if initiated right away, they will not be achieved for years.  There is no reason to delay any of them, with the possible caveat that certain tasks, such as the redevelopment of Mud Island, will be easier to achieve once the higher-priority items have been accomplished.  That said, we must always be wary of casting our gaze too wide, lest we lose our focus and distract attention from the easy wins that we can chalk up first.
For that reason, it is recommended that the six items discussed above be specifically identified for short-term promotion.  Some must be begun immediately—such as the modification of Bass Pro Drive—while those that require additional study should be consolidated into a single planning effort to be undertaken this Spring.