This is the month when we all get to see what a better Riverside Drive could look like – two lanes of traffic driving slower on a safer street with more parking than presently exists in the two parking lots marring Tom Lee Park.
In fact, the ugly parking lots could be moved completely out of the park if Riverside Drive went the way of Madison Avenue – a "complete street," two lanes complete with bike lanes and parking.
With the collapse of contract negotiations with a restaurateur for Beale Street Landing, one excuse given was there wasn't enough parking.  We suspect there was no real market survey conducted, and as a result, it's another one of those times when suburban thinking gets applied to a highly urban landscape, and we don't seem capable of doing the same things that are common in other cities.  Instead, we continue to treat downtown projects as if there is supposed to be large asphalt lots for parking right next door.
If the Riverfront Development Corporation and City of Memphis had started with a truly urban approach, there are innovative answers and creative ideas that could have been applied here if we could shake the problem-solving from those who bring suburban sensibilities to downtown and from unimaginative traffic engineers who are more apt at telling why cars should rule than how the experience for human beings can be maximized.
As for the restaurant, instead of taking another traditional approach, what if the RDC applied the lessons of tactical urbanism and creative placemaking to the restaurant question?
Riverside as a Drive
But, back to Riverside Drive, as urbanist Jeff Speck said in his report commissioned by Memphis Mayor A C Wharton, there is a better option than Riverside Drive as it is today.  The engineering analysis for his recommendation was done by the highly regarded Nelson-Nygaard firm.
Mr. Speck wrote: "Riverside Drive, which is annually narrowed and closed with little negative impact on the downtown, should be converted from a four-lane speedway to a two-lane 'complete street,' including parallel parking and a protected bicycle track along the Mississippi River.  This change can be accomplished through a mere restriping, with no curbs reconstructed.  Canopy trees should be added where they are lacking and can be planted at limited cost."
In addition, the full section about Riverside Drive in his final report is this:
"The potentially easiest win on the Memphis riverfront is the reconfiguration of Riverside Drive.  While a vast improvement over the interstate highway that was once planned for this corridor, it still functions much like a highway, moving four to five lanes of traffic speedily through downtown, creating a high-speed barrier that discourages pedestrian activity and river access.  Landscape improvements along Tom Lee Park have already made it more attractive, but have not changed its non-pedestrian nature.  Does Riverside Drive need to take such a strictly automotive form?
May Lessons
"The answer to this question can be found each May, when one-half of the street is closed for two weeks and the entire street is closed for three weeks.  While presenting some temporary inconvenience as people adjust their paths, it is clear that the City's grid of alternative north-south streets contains more than adequate capacity to absorb the trips typically handled by Riverside Drive.  Such an experience has been mirrored in American Cities from coast to coast, where highway removals have repeatedly failed to cause traffic crises.  From New York's West Side Highway to San Francisco's Embarcadero Freeway, removed road capacity has not had a negative impact on travel times.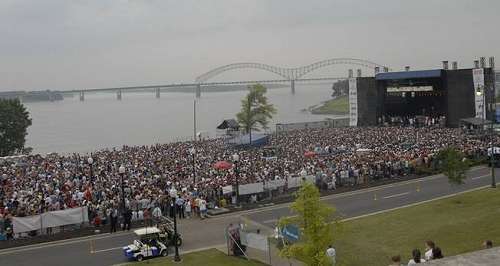 For a month each year, Memphis in May reduces the width of Riverside Drive, first by two lanes, then entirely.
"For this reason, and as further studied by transportation engineers at Nelson/Nygaard Consulting Associates, we have the luxury of asking ourselves what kind of street Riverside Drive wants to be.  Surely it can still hold cars, but the downtown would benefit tremendously if it were to hold cars moving a bit less speedily, alongside pedestrians and cyclists.  Additionally, the inclusion of parallel parking would both provide protection to its sidewalks while eliminating the need for parking lots within Tom Lee Park and at Beale Street Landing.
"These changes, happily, can be achieved without any reconstruction to the street or its drainage facilities; a new topcoat and restriping will be enough.  This report's proposal is as follows:
*   Keep the two center travel lanes, as well as turn lanes at intersections, although these turn lanes should be shortened to the length of the typical queue;
*   Replace the easternmost lane with parallel parking, clearly marked, and priced to encourage proper occupancy—approaching 80% around the clock.  (During many times of day, that price will be $0.)
*   Replace the westernmost lane with an ample two-way bike lane, separated by a painted buffer.  This buffer should receive inexpensive breakaway metal posts at its center, each about 3 feet high, spaced about 20' apart.
"This proposal is recommended for the entire stretch of Riverside Drive between Bass Pro Drive and Georgia Avenue.  An alternative, compromise solution would not place parallel parking any further south than Tom Lee Park, but that solution would require a two-lane-to-one-lane northbound merge in this location.  This transition is better handled at Georgia Avenue, where the right-hand lane can become a right-turn lane onto Georgia.
Better Options
"Before and After plans by the engineers at Nelson/Nygaard are provided on the next three pages for three different locations along Riverside Drive.  Since the street varies in width along this stretch, and we wish to limit expense by not moving any curbs, the plans necessarily vary along their length.  In all locations, however, two travel lanes are removed and replaced by a lane of parking to the east and a protected bike lane to the west.
"The parking lane receives its own buffer zone in some locations, so that the travel lanes maintain a proper width.  The bike facility is located on the western flank because that edge is uninterrupted by intersections for its entire length, close to two miles.  Such an uninterrupted path will be especially attractive to bikers, but it is essential that this route is clearly and safely connected to the larger regional biking system.
"Also in need of attention is the tree canopy over the Drive.  While prettified in front of Tom Lee Park, it is still more decorative than sheltering.  True urban boulevards are planted continuously with a single tall and broad species on both flanks and in the center.  At maturity, the top branches of the trees touch, forming a dramatic ceiling. Memphis' North Parkway, just west of I-240, shows what this configuration is like, and how effectively it contributes to the beauty and comfort of a space.  Riverside Drive deserves no less.
"North of Beale Street, we face a different challenge, which is a paucity of both trees and places to put them.  But opportunities do exist, and a tree plan needs to be completed for this stretch, with the objective of creating as complete a canopy as possible, given the limitations."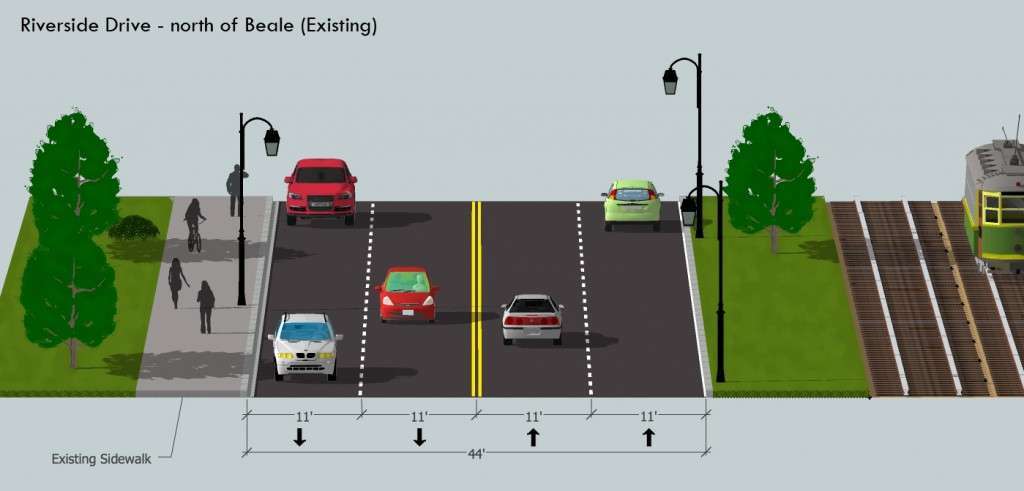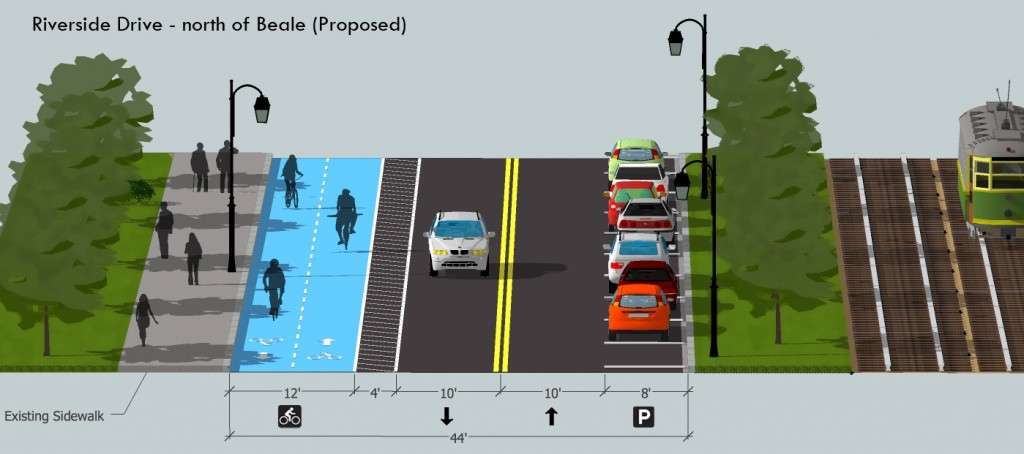 Along its narrowest stretches, Riverside Drive includes a generously sized cycle track against a street sized for urban travel speeds.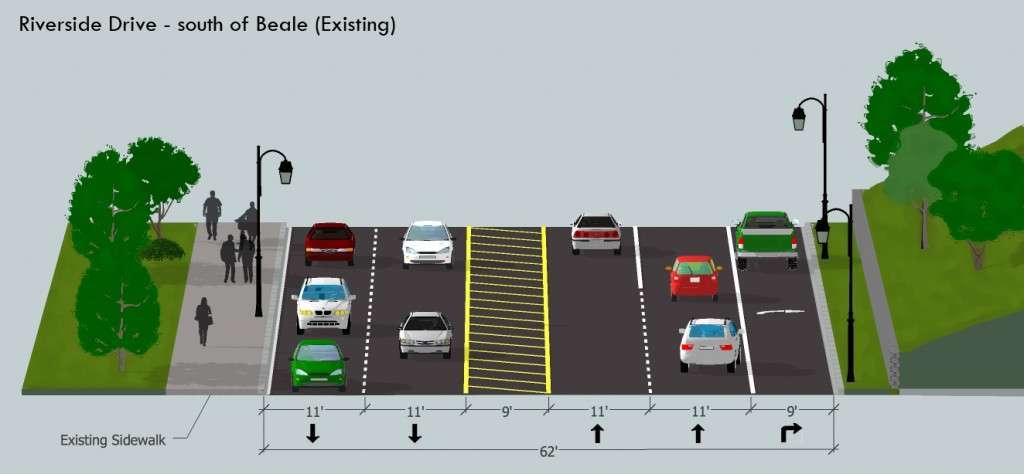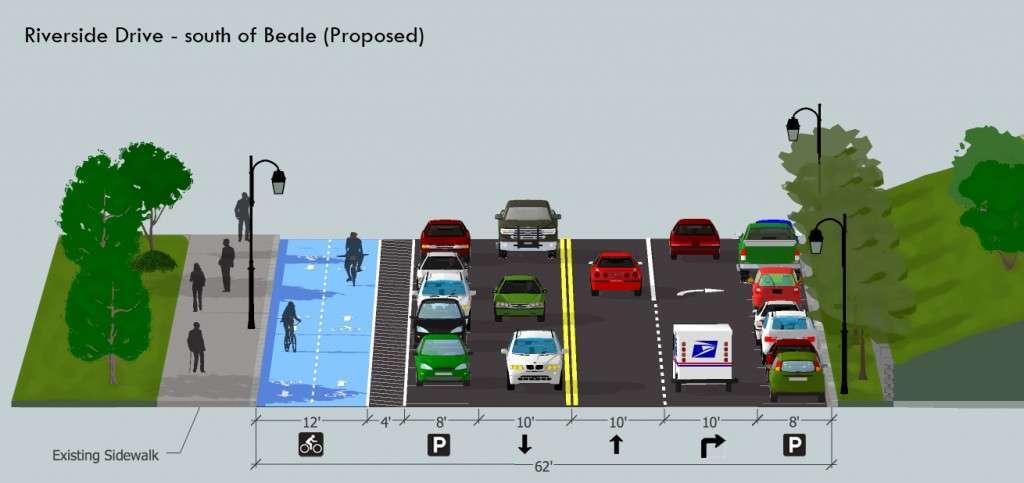 In the wider section south of Beale Street, but north of where it has a median, Riverside drive is here shown maintaining its right-hand turn lane onto Beale, since there is room for it.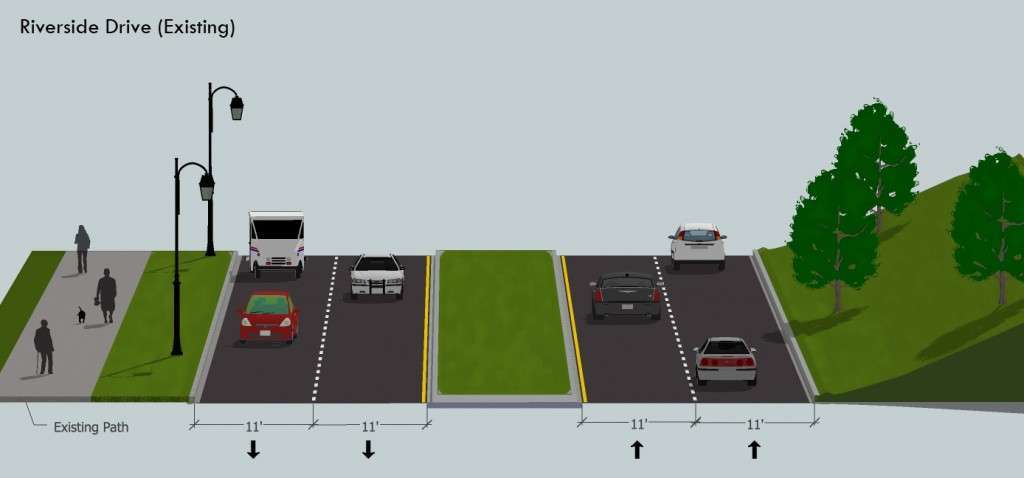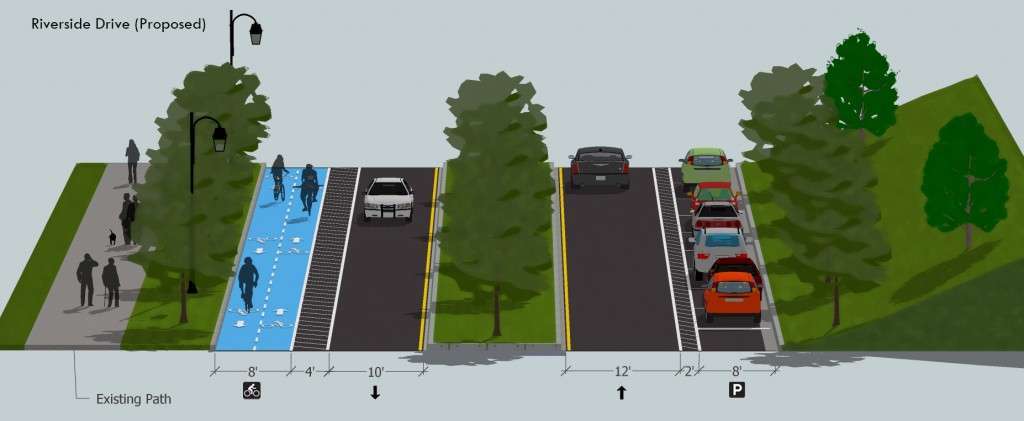 Where it includes a median, each 22-foot roadbed is simply re-apportioned with paint.