This is the latest installment of our occasional feature, Urban Indifference, which focuses on problems that are pock marks on our urban environment.
There are a number of cities across the country that are fighting the big boxes.
Of course, in those cities, it's about big box retail.  Here, we'd be happy if we could just do something about our apparent obsession with boxes everywhere – boxes to hold the mechanicals for traffic lights, boxes to hold electrical access, and now a box on top of Beale Street Landing.
It's yet another sign of our lack of emphasis on good urban design and a reminder of our continued pursuit of a city known for its cheap choices rather than its investments in quality.   Given the choice between putting the contents of these boxes underground or make them more unobtrusive, we always go for cheap.
All of this is also a reminder of the warning about allowing engineers to determine a city's quality of life.
Every day, people walk down Union Avenue from the Peabody Hotel to the riverfront.  They are greeted at the foot of Union by a collection of ugly boxes that detract and obscure the spectacular view of our biggest attraction, the Mississippi River.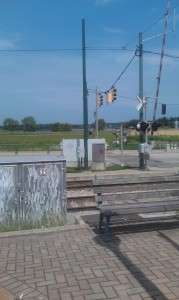 Oddly, we are apparently so proud of these ugly silver boxes that we often put them on pedestal so they are even more impossible to ignore.
Here are two typical ones on corners near the Peabody Hotel.
Then there are the big boxes in some of Memphis' most popular places – like Tom Lee Park.
But perhaps the most incredulous box of all is the one for the elevator on top of the sloping green roof of Beale Street Landing.  We've been long-time, vocal supporters of the project but it's hard to make a case that the box is anything but an incongruous aberration atop the first major investment in a riverfront attraction since Mud Island opened 30 years ago.
Speaking of questionable design decisions, we hope that before Beale Street Landing is opened, the gates to the parking lot at Tom Lee Park will get a do over.  They looked like a school shop class project from the beginning, but these days, sitting in its present condition next to Beale Street Landing, they say volumes about how little concern we have about the tears in our urban fabric.