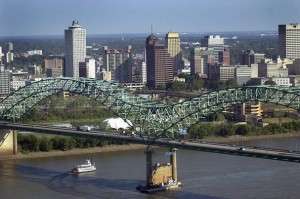 It is easier to imagine Memphis without music than without the Mississippi River.
After all, the city's name itself stems from the impact that the river flowing by the wilderness settlement had on the founders of Memphis, inspiring mental images of the legendary Egyptian capital.  Ever since those founding real estate investors stood on the Fourth Chickasaw Bluff and named their ambitious real estate development, the river has flowed through and shaped the history, culture, cuisine, and the quixotic civic character that is quintessentially Memphis.
That's why in our city, it's not called the Mississippi River.  Or Big River. Or Old Man River.  Or the Father of Waters.   Here, it is simply the river.
That's why it seems to us that it's time for Memphis to develop its own major river event.  With the opening of Beale Street Landing (complete with riverboat) and Bass Pro Shops, the demolition of Lone Star concrete plant, and interest in better connectivity, a signature event offers powerful symbolism, connecting the city's past with its future ambitions.
Context
Five facts of life about consumer behavior suggest to us that a river event is an idea whose time has come:
Principle #1
Like never before in history, consumers are being pulled in a multitude of directions by new and convenient opportunities for entertainment that are increasing exponentially.  There are opportunities to tap into the growing interest of consumers in being participants, rather than merely observers of activities and events.
Principle #2
Every event today exists as a small island in a sea of bounty.  To succeed, it must be a peak experience, that is, best in class.  It is in this way that it stakes out a distinctive niche and differentiate itself as the best at what it does.
Principle #3
Audiences are declining for events that have thought to be cultural anchors and invincible.  The winners in this environment are those who fight generic, derivative events.  Authenticity and intimacy are ways to stake out this territory, and self-discovery and adventure are two primary attractors for consumers today.
Principle #4
To paraphrase Walker Percy, the problem with events today is that we must wrest meaning from experiences that come to us prepackaged and disconnected from our own assumptions and expectations.  Ways to connect people more viscerally and more personally build binding narratives for an event, jolt the imagination, and raise expectations.
Principle #5
Special events are proven ways to animate and punctuate the life of the city, and as vibrancy becomes more and more a competitive advantage, an event can become an important vehicle for economic growth.
Take Us to the River
A river event in Memphis would be a source of entertainment, enrichment, and fulfillment for participants; a source for the preservation and transmission of culture, history, and values; and a source for vibrancy, personal connections to the community, livability, and diversity.
There are dozens of river-themed events in the U.S., but the two big mid-America river events are the Tall Stacks Festival in Cincinnati and International River Days in Detroit.  Neither is on the Mississippi River.
Detroit's event features free gospel showcase, a parade of decorated boats, free symphony concerts of water-themed music, fire boat demonstrations, fishing tournaments, boat tours of the riverfront, fireworks, tug boat races, dog dock jumping, and big name performers in special concerts.
The Cincinnati event began in 1988 and the seventh edition is scheduled for next year.  The stars of the five-day event are the riverboats, and the highlight is the riverboat races.  There are four stages with music, nightly fireworks, Civil War reenactments, hot air balloon races, and more.  Attendance at the last Tall Stacks Festival was 800,000.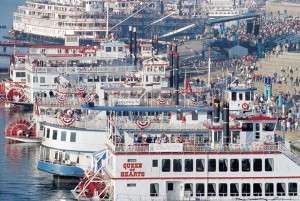 The Experience
There is a vacuum that Memphis could fill with a big-time, river-based event that embraces music, food, culture, and outdoor recreation.  "Experience the River" has been a theme used by city government in its work, and that seems to capture the ambition for a new event that once more positions Memphis as a city of festivals and as a city offering new ways for every person to explore it and experience it.
Perhaps one "hook" for a new event could be "50 ways to experience the river" and focus on the many ways that we engage and enjoy the Mississippi River.  It also sets up the potential of bikers peddling in from Shelby Farms, kayakers racing from Shelby Forest, canoes racing on Wolf River, and more.
There could be a competition in which participants build and race a boat; there could be races of all kinds – kayaks, canoes, tugboats, sailboats, and speed boats; a gathering of antique wooden boats; kite-making and model airplane-building; birding; water skiing exhibitions; lighted boat parade; fishing, shooting, and archery competitions; historic walks and ghost tours; family picnics; and multi-cultural performances celebrating the river.
It seems that the riverfront may be on the verge of a new era, and although there may be disagreements about projects, we all want a riverfront that is vibrant and alive and a major river event is a major step in the right direction.