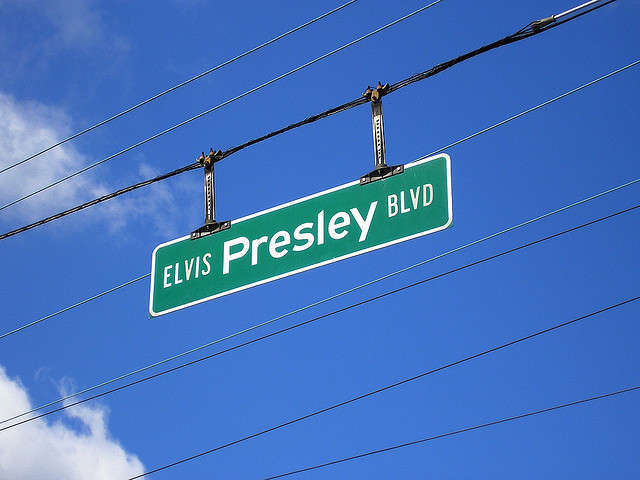 We're about to find out if all the talk about a livable Memphis and placemaking was just that – talk.
The answer will be delivered in Whitehaven in how city government handles improvements to Elvis Presley Boulevard.
It will either be a $47 million engineering project – more of the same – or it will be more about creating place.  Memphis City Councilman Harold Collins has made it clear that he's looking for the latter, but at this point, he's not likely to get it.
All signs now point to a fairly typical road project whose success will be measure in cutting a few seconds off a drive up the street.  In the public hearings in Whitehaven, it's been more about lanes, traffic, and asphalt than streetscapes, bike lanes, street trees, and other investments that would tell visitors who come from around the world to visit Graceland – not to mention the active small business community in Whitehaven – that Memphians value them.
Engineering Value
More to the point, we have the chance for Elvis Presley Boulevard to become model public realm that is attractive, pleasing, welcoming, and sustainable.  It's anything but that now – it's a damning indictment of Memphis urban indifference.
Here's the thing: at this point, the words ring in our ears of the former NEA director of design who cautioned us that we should not let engineers determine our quality of life.  That's what got Memphis overbuilt with highway lanes, it's why engineers are still intent on plowing through Shelby Farms Park with an ill-conceived highway, and it's why our local sense of place was undermined by car-centric thinking.
An emphasis on placemaking would be something altogether different.  It's about designs that produced by a team with engineers, planners, landscape architects, architects, and urbanists.  In the words of the Metropolitan Planning Council of Chicago, it's about "both an overarching idea and a hands-on tool for improving a neighborhood, city or region. It has the potential to be one of the most transformative ideas of this century."
That said, this isn't exactly brain surgery.  It's a concept that dates to Jane Jacobs and William Whyte, and yet, here, we adhere to a engineering hierarchical approach that ensures that roads are the products of a one-dimensional understanding of the opportunity to create something other than more lanes and more asphalt and measuring success by how many seconds can be shaved off the travel time of car drivers.
People and Placemaking
The good news is that we now have a better sense of how much better a place can be – think Madison Avenue – when more emphasis is put on people than cars.  It may have taken an edict from Memphis Mayor A C Wharton to make city engineering get serious about bike lanes, but at this point, he shouldn't have to get involved to make sure a project like Elvis Presley Boulevard is not simply more of the same.  City engineering should do it on its own.
We know that some people are concerned that former city engineer Wain Gaskins, now with Kimley-Horn and Associates, is in charge of the Elvis Presley Boulevard project.  But we're not prepared to blame Elvis Presley Boulevard's shortcomings on Mr. Gaskins, because in his current position, he is working for a client – the City of Memphis – and if his client said that it wanted a placemaking, rather than roadbuilding, approach to Elvis Presley, we believe that Kimley-Horn and Associates would do it.
After all, Kimley-Horn has a well-deserved reputation for green engineering and placemaking itself.  The company's website said: "Renowned for our work on redevelopment, streets, and urban revitalization, Kimley-Horn creates memorable places. With specialties including urban design, redevelopment, entitlements, community planning, and recreation, our planners and landscape architects deliver award winning, practical, and sustainable design solutions.
"Known for our public involvement programs, workshop facilitation, and consensus-building, we respond to the unique needs of each client–mindful of the role effective planning and design plays in enabling stakeholders to establish priorities. Working side-by-side with engineers, architects, and construction professionals, we ensure the realization of our clients' vision while solving the challenges of each site."
ROI
Perhaps, the best solutions for Elvis Presley Boulevard is as simple as asking Kimley-Horn to treat this as a placemaking opportunity.
The importance of getting the Elvis Presley Boulevard project right was underscored by comments by Strong Towns Executive Director Chuck Marohn during his recent trip to Memphis.  We understand that he expressed his concerns about the Elvis Presley Boulevard project being treated as business as usual.
He said creating productivity and value requires Memphis to change our standard approach to roads and streets, and the standard approach is to focus almost exclusively on moving automobiles rather than creating value for neighborhoods.
It all comes down, Mr. Marohn said, the return on the public investment must increase taxes by creating stronger neighborhoods, connectivity, shopping opportunities, and greater densities.   Otherwise, $47 million is being spent for cars and there is no reasonable potential for a payback in economic terms with the present plans for Elvis Presley Boulevard.
Doing It Right
When the Urban Land Institute and the Mayor's Innovation Delivery Team brought Mr. Marohn to Memphis, Doug McGowen, director of the Innovation Delivery Team, said his interest dovetailed with his program's work to "accelerate economic vitality in some of our city's most disinvested areas…fiscally sound, forward-thinking planning principles will be the keys to our success."
He summed up the objectives for Elvis Presley Boulevard well.  The definition of its success is in whether it accelerates economic vitality, embraces forward-thinking planning principles,  or if it is just a political bone thrown to the Whitehaven community that deserves as much attention as all of us can give it.
It was January, 2007, when we first blogged that Whitehaven needs to be a top priority for our entire city.  If Memphis is worth fighting for, there is no battle line more important than Whitehaven.  The city undermined Whitehaven's future with its long-time disregard for planning and as a result of swallowing developer's claims that all the apartment complexes were good for the economy and as a result of the city grabbing whatever federal money was available for affordable housing even if it was ultimately a detriment to the neighborhood.
Whitehaven has so much going for it.  It has engaged leadership, good housing stock, key institutional anchors, involved neighborhood associations, and committed businesspeople, but it needs government investments that strengthen its infrastructure, reward minority businesses, reinvest in its neighborhoods, and unleash confidence that things can change.
It deserves to get this highway project done right.  It starts, as Mr. Marohn said, by committing to an Elvis Presley Boulevard that adds value and creates a strong sense of place.