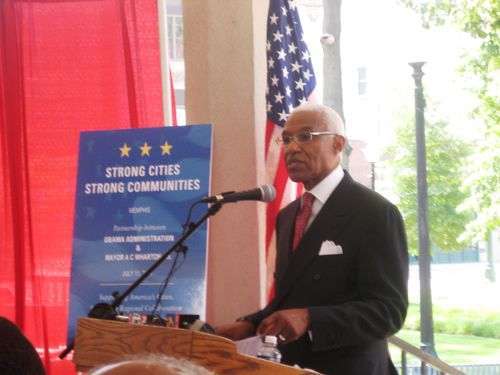 About 50% of the metro population lives in Memphis, dwarfed only by San Antonio's 62%.
The population density of Los Angeles, is four times more than Memphis – 8,092 people per square mile compared to 2,053.  The density of the L.A. MSA is 10 times greater than the Memphis MSA.
The cost of transportation and housing in the Memphis MSA as a percentage of median household income is one of the highest in the U.S. – 55.4%.  Only Miami is higher at 59.6%.
In the Memphis MSA, 28.5% of all home mortgages have negative equity.  In Nashville, it's 11.8%.
The Memphis MSA is at the bottom for the percent of people with advanced degrees – 8.7%.  The U.S. average is 11.8%.  Only 15.5% of the people in the Memphis MSA over 25 have a bachelor's degree as their highest level of education, one of the lowest rates in the U.S.  Denver is 24.7% and Nashville is 20.8%.
Only 17.4% of children under 5 in the Memphis MSA are enrolled in preschool, at the bottom of major metros.  That compares to 28% in St. Louis and 24.4% in Nashville.  The Memphis MSA has the highest percentage among major metros for families headed by single parents — 37.3%.
The Memphis MSA's infant mortality rate leads the country at 12.5 deaths per 1,000 births.  It's twice Nashville's rate.  In addition, this MSA leads the nation in percent of total births to teen mothers – 14.9% — and Nashville MSA is at 9.8%.
Finding Answers
Just these few facts underscore the importance and the potential of Memphis being chosen one of six cities in the Obama White House's Strong Cities, Strong Communities initiative.  Most of the initiative's 18 members from 10 federal agencies – headed by Sarah Ray who will take up residency in the mayor's office – were in Memphis this week, and if they know anything about Memphis as they prepare to leave Friday, it is that we are enthusiastic about making the most from this special opportunity in the city's history.
After all, there has been no time in history when as many national organizations and programs have selected Memphis for their work.  Even Memphis Mayor A C Wharton's biggest supporters never expected this kind of success after he promised in his 2009 campaign that he would get Memphis into the "national conversation" about the future of cities.  At this point, the Social Innovation Fund (public/private funds administered by the Corporation of National Service) is replicating anti-poverty work piloted by New York City Mayor Michael Bloomberg's administration and in this case will use cash incentives to encourage positive behaviors by families in poverty; Brookings Institution continues to work with Memphis on economic issues; Bloomberg Philanthropies selected Memphis for a $4.8 million grant that uses innovative teams to address two priorities selected by Mayor Wharton: core city economic growth and juvenile handgun violence.
We understand that other nationally prominent organizations have contacted the city administration about the possibility of working in Memphis, and the convergence of all this new interest not only get Memphis into national conversations about cities, but make us a major hub for them.
Back to Strong Cities, Strong Communities 2, it was launched with the usual flurry of bureaucratic buzzwords and government-speak that did little to explain what the program was going to do: "aims to strengthen neighborhoods, towns, cities and regions around the country by strengthening the capacity of local governments to develop and execute their economic vision and strategies."  In an attempt to explain what Ms. Ray and her colleagues will be doing, the news media have portrayed them largely as redtape snippers.
Our List
In truth, they are much, much more.  They're like a policy think tank that can spark new ideas, shape new possibilities, and inspire new thinking about Memphis' challenges.  Yes, they can wield scissors when they are needed to clear a path for help for Memphis by the federal government, but just as importantly, they will consult, brainstorm, and implement with the Wharton management team to create momentum and change.
Already, the Stronger Cities, Stronger Communities team has said they have special interest in spurring economic development in the core city and in increasing the density of Memphis.  We're sure other priorities will be added, but here's our list:
Entrepreneurship – The biggest return on investment for Memphis is to create more African-American entrepreneurs but a toolkit of incentives is needed to move the needle from where it is now (less than 5% of the total business receipts are minority firms) to a city known for its culture of minority entrepreneurship.
Density – The density of Memphis is half of what it was 30 years ago, driving up the cost of city services and producing entrenched poverty in half-empty neighborhoods in the urban core.  Smarter programs to attack the root causes of poverty and to provide wrap around social services for at-risk families, particularly those with young children, and we need waivers for people in public housing who face a financial disincentive if they get a job.
Help Wanted
Sprawl – The federal government is the enabler in the unneeded, sprawl-inducing I-269 project, a political gift to the development industry. Memphis needs help in developing ways to mitigate the damage of this new interstate and to make it a toll highway.   A co-conspirator to sprawl here was the Metropolitan Planning Organization, and these federal officials should be asked about much-needed reforms for our local MPO, which is one of the most unrepresentative and undemocratic in the U.S.
Early Childhood – For every child we have in Early Head Start or a pre-K program of Memphis City Schools, there are about 30 kids who should be attending but there is not enough money to make it possible.  Memphis should be a pilot city for increasing the number of young children in these programs with an eye to a full funding partnership with city government.  Early childhood interventions like these are proven answers to giving every child a fair start in life, regardless of their economic status.
HUD policies – HUD policies for housing vouchers and other programs should be aligned to support the city's vision and strategies.  Often, while the city is moving in one direction to implement a specific vision, HUD is doing just the opposite.  The federal government should make sure it's on the same page with City of Memphis or operate with the conception that it knows best what works in a city.
Public Transit – Memphis needs a high-quality public transit system to eliminate the "hidden surcharge" in Memphis – yes, we have a low cost of living but there is the hidden cost that comes from the necessity of owning a vehicle.  Too few people in the urban core have the opportunity to work in many job centers in Shelby County because of transportation problems, and there's broad consensus that our current transit system is inadequate and problematic.  This team should help us think how we can have a 21st century transit system.
Fast Start
Regionalism – Despite the high-flown rhetoric out of the White House about regional cooperation and regional solutions, our 20 year-emphasis on regionalism has produced no real benefits for Memphis.  There is no correlation between regional economic growth and jobs growth in inner city.  In the past, Memphis has given more than it has gotten from regional initiatives, and if we are to consider regional initiatives, this time, they need to be built from the city out for a change.
Health care – We lead the nation in obesity and high blood pressure.  Our children lead the nation in childhood obesity.  There's no better place for a pilot wellness program by the federal government than ours, and to develop it in partnership with our strong medical resources.
These aren't all of the things that we need help with, but they would be a great start.