A couple of good- and hopeful – things to report this week:
The ever-conscientious Environmental Court Judge Larry Potter ordered the partial reopening of Madison Avenue between Main and Second.  Memphis Mayor A C Wharton said that the opening will be "soon."  He tweeted: "It should be soon. A barrier must be constructed around the 118 Madison demolition project. After that, one lane of eastbound traffic will open and the Madison Avenue trolley line will re-open."
Progress.  One lane at a time.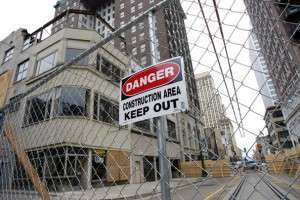 Meanwhile, the equally responsive, conscientious Memphis City Councilman Bill Morrison reports that MLGW will be correcting the mismatched sidewalk at Tiger Lane in the coming days.
He reported that MLGW President Jerry Collins said that his crew was given a "recipe" so the sidewalk would match, but once it dried, it was obvious that it didn't.  A work order was already under way to get it "fixed."  We were asked by MLGW to be more patient.
As of two days ago, a reader emailed that MLGW continues to block Union Avenue between Fourth and Danny Thomas.  The email said the lane has been blocked for roughly three months.  Hopefully, Mr. Collins can get that moved up on the priority list too.  We were told by City Hall that the delay stems from a problem with the company hired to do the job.  As Urbanut put it, sometimes there's a reason they're the low bid.
A plus to the Pyramid redevelopment is that part of it involves the removal of the Lone Star concrete silos, a long-time eyesore on the riverfront.  Until then, however, someone in Shelby County Government should pay some attention to it.  Sadly, this photo of the sign is out-of-date and today, lighted letters on both the south and west sides of the sign are missing letters.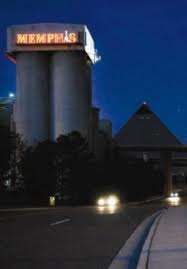 The sign was installed by county government in cooperation with the Memphis Convention & Visitors Bureau, but as part of the deal, former Shelby County Mayor Jim Rout agreed that his government would pay the sign's utilities and keep it maintained.  That worked fine until former Public Works Division Director Ted Fox was not reappointed by new Mayor Mark Luttrell.
Mr. Fox was determined to keep the sign fully lighted.  We're told that the CVB has suggested to county government that if all the letters aren't lighted up, it would be better to turn the sign off altogether.
It sounds like a good idea, because a neon M mphis sends asmessage to visitors.  It's just not the one we want.
Memo to Shelby County Government: turn off the sign.
Following up our post about Memphis' infatuation with razor wire, John pointed us to the First Tennessee Bank razor-wired parking lot across from the downtown elementary school.   It seems largely superfluous since there are various entry points to the lot for any potential thieves, while at the same time telling parents at the adjacent school they should be careful because they're leaving their kids in one tough neighborhood.  We know we're demanding on government, but the private sector needs to develop a better-honed sense of place and urban design too.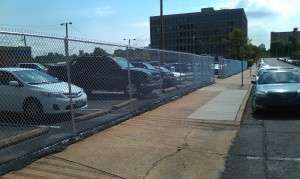 John also directed us to the "temporary" fence that was erected at the Hickman Building on Madison Avenue near the downtown YMCA.   There are a lot of these kinds of "temporary" things downtown that someone become permanent without anyone checking back on them.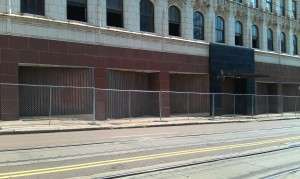 Finally, we got a photo from a Germantown reader illustrating "some of TDOT's favorite pasttimes – knocking down trees."  It's part of the widening of Poplar through the suburban town and it "feels an awfully lot a solution in search of a problem.  But such is roadbuilding in Tennessee."