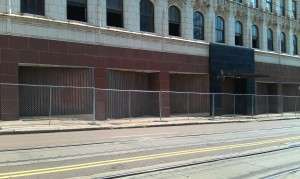 We were writing again Friday about examples of urban indifference, and it sparked a conversation about the derelict Hickman Building, a prominent eyesore for the YMCA/downtown school neighborhood, and its "temporary" fence.
First, here's some information on the building:
From Memphis Daily News, 2005: The Hickman Building is located at 240 Madison Ave. Built as a medical arts building, the property is being marketed for residential use with possible commercial retail space on the first floor. The 99,159-square-foot property is owned by Hickman Properties Inc. and was appraised in 2005 at $277,900. Joe Cooper transferred the property for $35,000 to Hickman Properties Inc. in 1993, after Thomas Cates quitclaimed the property to him in 1993.
One downtown observer says tenants vacated the Hickman Building April, 1971.  Downtown Memphis Commission said asking price is $1.9 million and agent on property is Chris Agee at 767-1383 or 484-5740.
Here's the conversation:
John said:
The Hickman has ridden out the wave of unprecedented residential development, the lowest interest rates in history, the highest condo prices in history, the development of a $72 million ballpark across the street, a new elementary school next door, 400 new(ish) neighbors and the introduction of the trolley. Its current owner has outlasted this and two city mayors, three county mayors and three downtown development agency administrations. During this time 20 year tax abatements, subordinating low interest loans and historic preservation tax credits have all come and gone. Granted, its across the street neighbor is in a similar state… just with the lipstick in mural form… but surely the residents, visitors and employees of this area deserve a better effort than a fence?
Urbanut said:
The Hickman Building is an especially interesting case. The building serves as a high rise neighbor to an elementary school. Aerial photographs show that the annex structure to the north of the Hickman building now lacks a roof and the interior is open to the elements. Adjacent sidewalks are blocked by chain link fences presumably in order to safeguard the public from falling debris. That in and of itself should be reason to move against such owners in court. If a building presents a risk that warrants such a barrier and closing of the public domain, then should the owners not be financially responsible for their own negligence? In this case, the same records reflect that the building is not owned by a some financial institution or some absent landlord. No, we can find that the Hickman Building is owned by a local resident located in East Memphis. I for one would be very interested to understand such an individual's motive in purchasing such a property and facilitating its continued decay and endangerment to the public.
Seeing as a common element and practice of owners that are incapable of maintaining their properties is to simply erect a chain link fence to absolve themselves of the risks inherent in the structure, I would propose the city enact a hefty right-of-way fee be enforced where any structure requires the closing of a sidewalk or street (or any public right of way) due to negligence or lack of maintenance for the property owner's structures. If a daily fee is assessed for these situations we might see owners take more interest in their properties. Simple maintenance would be far cheaper than the daily fee and a lack of fencing would risk a lawsuit should someone be injured by these properties.
Gwyn said:
Urban: Love the right-of-way fee! If the government has to compensate landowners for taking their property (eminent domain), then landowners should compensate the government for taking their property (chain-link fences).  Now, how to implement this strategy…   I wonder if Judge Potter could use his Environmental Court?
Andy said:
Tom Leatherwood's site says the Hickman Building at 240 Madison is owned by Hickman Properties at 5478 Pecan Grove Lane in Memphis. Maybe people should look up that phone number and start calling.
Urbanut said:
Andy, It is definitely tempting, but anything beyond neutral questions might have the opposite effect from a personal initiative standpoint.
Gwyn, These are the "standard" steps one must take to pass a local ordinance (you may already be familiar with these steps. If so chalk it up to general information. I borrowed this information from the web):
1. Research laws governing the issue.
Become familiar with the state and local laws addressing your selected issue. Information will be available from your city or county clerk and the appropriate state agencies. Local libraries and law libraries may also be useful places to conduct research. No need to create a new law when and where one already exists.
2. Find a model ordinance.
You will need a model ordinance to present to the city or county council. No need to reinvent the wheel here; simply find a sample ordinance or an actual ordinance that has previously passed in another locality. It is important that the language you submit has been reviewed thoroughly by you, by experts on the issue, and, if possible, by attorneys. Born Free USA can provide model ordinances on a variety of issues and assist with wording of ordinances.
3. Reach out to allies.
Developing a broad base of support will greatly increase the chances that your ordinance will be adopted. Look for support in the likely places, such as the Downtown Memphis Commission, Memphis City Schools (in this case seeing as an elementary school neighbors one of the sites mentioned), neighborhood residents, as well as neighboring business and property owners.
4. Know your opposition.
It is essential to become knowledgeable about the people and entities that your proposed ordinance will affect. Identify and understand potential objections to the ordinance and be able to present well thought-out counter-arguments.
5. Introduce your proposed ordinance.
Find a sympathetic council member to introduce the ordinance. Try to identify one who has introduced or supported quality of life and urban design legislation in the past, or ask your own councilperson to introduce the ordinance.
6. Start lobbying.
Once you have a sponsor and a bill number for your ordinance, you should begin lobbying. Provide the city or county council members with information packets about the bill. These packets should clearly and succinctly illustrate the need for the proposed ordinance. Mobilize a group of people, including grassroots organizations and local residents, to help publicize the issue through action alerts, letters to city councilpersons, op-ed pieces, etc.
7. Attend a public hearing.
Once the ordinance is introduced, a public hearing is likely. If a public hearing is scheduled, arrange for strong witnesses from diverse backgrounds to testify. Rally supporters to attend the hearing, as well.
8. Prepare for the vote.
When it is time for the vote, you will want to contact your city or county councilperson via phone, fax, or mailed letter to encourage him or her to vote in favor of the ordinance. Encourage as many other residents as possible to write their representatives.
Gwyn said:
Urbanut – Thanks! This is a great list & I will definitely use it.