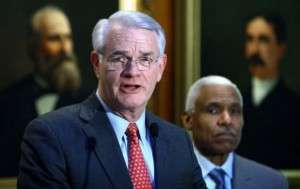 Not since the days of Larry Finch and Ronnie Robinson has a Memphis duo received reviews as good as A C Wharton and Mark Luttrell.
They're scoring points, maybe not on the hardwood, but with the public where their teamwork is getting widespread praise.  At no time since the county mayor's office debuted in 1976 have the city and county mayors set aside issues of turf and ego to work together as closely as Wharton and Luttrell.  Already, in the nine months since Luttrell took office, they have tackled issues from economic development to homelessness.
It stands in stark contrast to a few years ago amid the "on again, off again" resignations of Memphis Mayor Willie W. Herenton.  During his last years in office, Herenton rejected entreaties from Wharton, then county mayor, with dismissive comments and public belittlement.  The friction was worse than the public ever knew, but any serious city-county cooperation became almost nonexistent.
Following Luttrell's election, expectations were that his relationship with Wharton would be respectful and civil but the fault lines between their political philosophies and their constituencies would prove too much to overcome.  It's been just the opposite.  They speak frequently, avoid the oneupsmanship that has always been part of the city-county relationship, and work to avoid controversy and division.
When Wharton was county mayor and Luttrell was sheriff, they worked together in county government, but there, the sheriff has as much influence and standing as the mayor, not to mention a larger budget.  County budget debates sometimes found them on opposite sides, and the referees – the county commissioners – who generally side with the sheriff did the same with Luttrell.
As a result, most people did not foresee the camaraderie that has developed.  They are not in lock step on every issue, but they have no intention of disagreements being played out in the media or using controversy for their narrow political advantage.
Some politicos suggest that discord and conflict between the city and county mayors solidify their respective bases of support, but decades of polling show that there are no real winners in the midst of controversy.  The truth is that when our dual mayors are dueling, approval ratings for both fall, and it's unsurprising that both Wharton and Luttrell have some of the highest approval ratings recorded for local elected officials.
Following the Herenton fatigue that set in for the last six years of his terms as mayor, it's natural that the Wharton-Luttrell combination would offer relief, but so far, they have done more, symbolized best by the new city-county economic development umbrella organization.  The new agency, EDGE (Economic Development and Growth Engine) was created in response to the dire economic performance of Memphis and Shelby County over the past decade.
Because of fragmentation and lack of communication in the past, city and county governments often felt like they were negotiating themselves to close a deal with a company.  With EDGE, most public incentives (except for the Airport Authority) are brought under one roof where they can be more wisely targeted toward specific objectives.
For the first time, the Industrial Development Board, Depot Development, Frank Pidgeon Industrial Park, Port Commission, city-county Office of Economic Development, and Foreign Trade Zones, will be brought under the same organizational structure, which will also have a new Rail Authority and a new Economic Development Finance Corporation.
In the past, putting together an incentive package for new jobs has been an ad hoc affair because there was no over-arching plan for what we wanted to attract, how we wanted to invest our incentives for the greatest return on investment, what we could do to become more competitive in a knowledge economy, and what the complete toolbox of incentives should even look like.
Creation of EDGE says volumes about how hungry Memphis is for new jobs, but it says even more about the impact of two mayors working together. Wharton first suggested an organization like this when he was campaigning for county mayor in 2002, but it could never get any traction because of lack of interest in the city mayor's office.  A similar fate befell the joint Office of Early Childhood and Youth (which became a county-only agency) and ideas to coordinate social services and crime prevention.
Getting EDGE off the ground was one of the first things that Wharton and Luttrell discussed after the county mayor's election.  An idea that had languished for eight years became a reality in weeks.  At a time when we're looking for a competitive advantage, this new shared sense of urgency may just be it.
Previously published in the June edition of Memphis magazine.