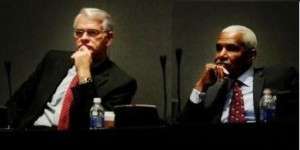 There is nothing more faddish than economic development.
Cities centralize economic development, cities decentralize economic development, cities create five-year economic growth plans, cities renounce five-year economic growth plans, well, you get the picture.
But one thing is undeniable: there is no substitute for an actively involved city mayor.  That's why Memphis paid a high price for the last lethargic Herenton years.
We've seen what happens when the mayor isn't interested in staying engaged in economic development.  We are now beginning to see what it looks like when we have just the opposite. 
Something Different
As Kip Bergstrom, a really smart thinker about economic growth, said in a recent video conference with Leadership Memphis: "Nothing is more potent than a visionary mayor – an entrepreneurial, visionary mayor – because it gives a city its strongest competitive advantage."
In other words, there is nothing as important as a city mayor who sees himself as the chief economic development officer for his community.  The fact that we have a county mayor who also sees himself the same way is producing big results, according to people on the inside of recent economic development projects.
It's the ultimate "one stop shop."  Once given the pledge by the leaders of both city and county governments, corporate leaders have a higher degree of comfort that promises will be met and that the full resources of government will come to bear to make the project a reality.
It's pretty obvious that something different is going on.  A few weeks ago, 1,300 jobs were announced for the Electrolux project, and what wasn't announced at that time was equally impressive – three impressive projects in the pipeline, including Mitsubishi and Kruger Inc.
One-Two Punch
It's rare – although not unheard of – for the first calls from a prospect to go to the mayor's office, but what's rarer – and the impact is never lost on corporate officials – is a mayor who's willing to pick up the phone to promise help or to fly to company headquarters to personally try to close the deal.  In our case, both Mayor Wharton and Mayor Luttrell have been willing to do this in recent weeks.
The fact that two mayors are making these calls and demonstrating the most cooperation that's been seen here since the days of Memphis Mayor Dick Hackett and Shelby County Mayor Bill Morris gives us a potent one-two punch.  That said, the current collaboration is much different than the effective one forged by the past mayors, which was forged largely on a sense of competition. 
The most convincing evidence of the involvement of mayors was seen between 1979 and 1991 when Memphis became a hub of Japanese business.   Newly elected Tennessee Governor Lamar Alexander took office in 1979 and set Japan as a key economic development target for his administration.  Mayor Morris, who was the first leader here to talk about the emerging importance of international business, saw it as a key opportunity for Shelby County and joined with Governor Alexander in becoming active members of the S.E.U.S/Japan Association, a trade, investment, and understanding association established in 1975. 
Mr. Morris became an expert in Japanese protocol and customs – like identifying shared symbols like the iris flower, family values, and work ethic – and got on a first name basis with a number of leading Japanese CEOs, including a personal friendship with the head of Sharp Corporation worldwide.   When Mr. Hackett took office in 1982, he assumed a strong supporting role, and between them, they became a tough act to beat, as proven in the fact that Tennessee became a big winner in attracting Japanese companies and Shelby County had more of them than any other place in the state.
こんにちは。, Ya'll 
The SEUS/Japan Association met alternately in Japan and in the U.S., and the Shelby County delegation led by Mayor Morris became a fixture at the meetings.  When held in Japan, the Shelby County delegation also traveled the length of Japan to meet with executives of the parent company for every operation located in our community.   These visits yielded even more investments.
It was an exciting era for Memphis and Shelby County as economic strategies was creating jobs, attracting new business investment, and most of all, creating a buzz that attracted national attention.    Of course, a number of factors influenced the decisions of nationally prominent companies to invest in Memphis, but at the top of the list was the leadership of both mayors.  
That same type of partnership seems to be coalescing again, and the best thing about it is that we're just on the front cusp of what can be accomplished when city and county mayors are working together to fight for business investment and new jobs.   As they do, Mr. Bergstrom said they should focus on "what you do have, not what you don't have."  In other words, Memphis should resist the temptation to play copy-cat and promise things that aren't authentic. 
Most of all, Memphis must show that it wants, cares, and honors entrepreneurs, and that it will do what it takes to put the whole ecosystem for entrepreneurs in place – access to capital, specialized services, incubator space, and champions for them.   Finally, the mayors should think in a non-linear ways, ready to call audibles and to adapt rather than stick rigidly to a five-year plan.