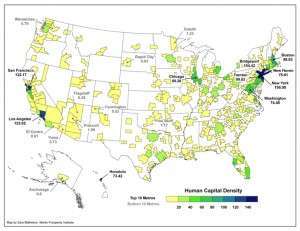 We may talk a good game about talent, but it's time that at the top of our leaders' priorities is to make Memphis a city of choice for college students.
We may tend to lean on the ropes and take punch after punch from study after study, but it's time to realize that we may no longer even be in the fight.
We may pretend that Atlanta and Nashville are our peer cities, but there are growing indications that it's a civic exercise in wishful thinking.
These are conclusions that we've reached after reading reports released in recent days that should jolt all of us into action.  It's just no longer possible to pretend that somehow things aren't dire and that we're competing powerfully in today's economy.
The Deficit
We've written often about Memphis's talent deficit and how it dramatically limits our economic potential.  At a time when about 60% of a city's economic success is tied to the presence of college-educated people, we seem to be bleeding out when it comes to keeping young talent.  We're losing an average of five a day, which sets the bar even higher as we try to add 8,000 college graduates a year to achieve the "Memphis Talent Dividend," the 1% increase in college-educated students that produces $1 billion in new economic impact.
In other words, when we talk about Memphis becoming a "city of choice," it has to become the place where students with choice go to college.  It won't be easy, because we're in a deep hole, and also, because we talk a much better game than we play.  For example, we talk a lot about the need for more talent and childhood intervention, but when it's time to prepare state and federal legislative agendas, they are overlooked.
It reflects a trait we've mastered.   When new defining issues appear that are shaping the future of cities – from regionalism to the creative economy to tax breaks to talent – our leadership does a great job of learning the language and co-opting the vocabulary, but rarely do their behaviors change.   As a result, while using the right words, we do little to change our strategies or to reward the groups that are innovatively dealing with them.
We'll spend millions chasing traditional economic development ideas while programs outside of the mainstream to create entrepreneurs or to attract more talent languish for lack of a fraction of the money.   We'll send legislative agendas to Nashville year after year that chase tougher sentences and more prosecutors while ignoring interventions to remove juveniles from the criminal justice system that often sets the arc of their lives.
Bottom of the List
But to get back to the subject at hand, we need to have programs and investments that establish Memphis as a college destination city.   We have a ways to go.
The American Institute for Economic Research (AIER) publishes a yearly ranking of the best cities in which college students should live.  Factors include student concentration per 1,000 residents; student diversity; research capacity, per cent of 25-34 year-olds with college degrees; cost of living; arts and leisure; commuting by foot, bike or public transit; presence of creative class; entrepreneurial activity, and brain gain/drain.
We've written often about most of these data points, so it should be no surprise that of the 31 mid-sized cities (1-2.5 million population), Memphis is ranked #30 as a college destination city.  Only New Orleans is lower.  In the three broad categories that create the overall rate, Memphis finishes next to last (#30) in academic environment, last (#31) in quality of life, and next to last (#30) in professional opportunity.
The top 10 rankings for mid-size metros in order are San Jose, Austin, Raleigh, Hartford, Portland OR, Pittsburgh, Salt Lake City, Rochester, Buffalo, and Nashville.
More Density Needed
There's no argument that the concentration of college-educated and highly-skilled workers is a key determinant in economic growth.  It's also well-accepted that density of talent matters.
The map above shows college degree holders per square kilometer, and it's pretty easy to see the connection between higher density and economic success of cities.  Interestingly, especially for the people who are always talking about how the tax rate here drives away jobs and why we need more tax freezes, many of the most successful cities have high taxes.  It's not so much how much someone has to pay in taxes, but whether those people feel that they receive value for them.
To complicate things, besides our low talent density that we have in Memphis, we also underperform for a city of our size.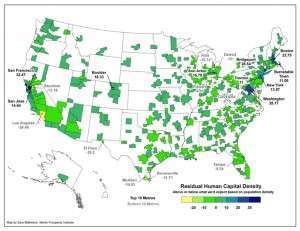 It's Not Comforting
Further insight comes from the Federal Reserve Bank of New York in its "Knowledge in Cities" report, since it looked beyond college degreed residents to think about the type of knowledge used in the workforce.  The "clusters" range from Making Regions, characterized by knowledge about manufacturing, to Thinking Regions, noted for knowledge about the arts, humanities, information technology, and commerce.
The report said: "In addition these knowledge-based clusters help explain the types of regions that have levels of economic development that exceed, or fall short of, other places with similar amounts of college attainment. Regression results show that Engineering, Enterprising, and Building Regions are associated with higher levels of productivity and earnings per capita, while Teaching, Understanding, Working, and Comforting Regions have lower levels of economic development."
Memphis is a "comforting region" and that's bad news.  We're with a group of places we'd rather not be in company with: Abilene, Atlantic City, Buffalo, Columbus GA, Lubbock, Fayetteville, El Paso, Hattiesburg, Monroe, Shreveport, Spokane, Syracuse, Topeka, and Waco.
None of the cities that we regularly name as our peers are in this "comforting region."  Most of them are in "enterprising regions," including Atlanta, Birmingham, Indianapolis, Jacksonville, Louisville, Milwaukee, Nashville, Oklahoma City, Tampa, Richmond, and Minneapolis.  Enterprising regions have high knowledge about commerce and IT while comforting regions like ours have lower engineering and production knowledge and high mental health knowledge.
Cold Water Facts
There's nothing comforting in being called a "comforting region."  More to the point, "comforting regions" like ours have lower economic growth than the "enterprising regions" that we like to say we're competing with.
All of this data should be the equivalent of a jolt of cold water on those who engage in happy talk about our city, who act as if we can just limp along with no ill effect until Superman rescues us and who try to convince us that it's more important for them to be in power than for us to do something to turn things around.
We have to change the trajectory of Memphis.  There's no denying it any longer.  Is there really any need for a wake-up call more convincing that the reality that our peer group is now Shreveport and Lubbock?