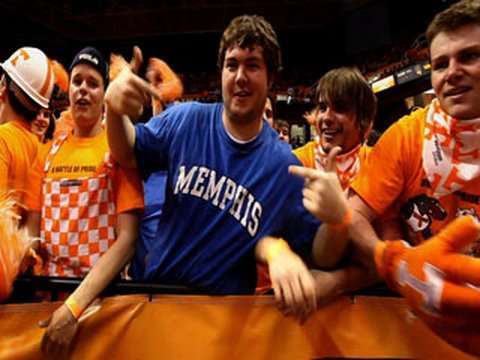 We guess that we should be as surprised that the state administration is shafting us as Charles Carpenter is that he's losing city government's bond business.
Here's the deal: voters in this solidly blue city have strongly supported our blue governor at the polls twice, and as a result, he only gives us the blues in return.
After all, it's hard sometimes to imagine what Memphis has really gotten in a transformational way from Governor Phil Bredesen, and that point was underscored this week as he shafted the University of Memphis while sending more and more money to University of Tennessee in Knoxville, an area known for its red voters.
It just goes to show that it doesn't matter what party a governor comes from, as long as he is not from Memphis, we're end up treated as a pariah and as place they'd just rather forget about.  Governor Bredesen has been heard to say that Memphis is nothing but a problem for him, and going back a few years, Governor Lamar Alexander said to his staff: "I just don't get Memphis" and for that reason, it was always last on his travel list around the state.
It's No Picnic
Truth is, we don't get them either.  Their attitudes have been uniformly cavalier and on our best days we get lip service rather than public service.  There are jokes in the Capitol about third world Memphis and there are stereotypes taken as fact in development of policies there.  We are seen as a welfare state and our treatment reflects it.
A University of Memphis official summed up his institution's feelings, but he could have been speaking for all of us: "We used to feel like we were the red-headed stepchild at the family picnic.  Now we know we're not even considered part of the family."
Apparently, the family picnic is held on an orange picnic table with orange table cloths, but the obsession with the Big Orange simply makes us see red.  In his proposed higher education bill, Governor Bredesen dissed Memphis yet again.
This is the same governor who pledged to help University of Memphis get its own board of trustees, so we would have the chance to control our own destiny and to chart our own ambitious plans of action.  But all he has done on that one is to break trust with the people of Memphis who rely so directly on our university.
Running the Clock Out
Yes, these are difficult budgetary times for Governor Bredesen as the dire shape of the economy and dried up revenue sources made this an especially hard budget year, so we guess the University of Memphis should understand that this was a time for mutual sacrifice to help out state government.  The problem is that it just doesn't feel mutual.
Economic realities didn't keep him from throwing his support to ambitious expansion of the University of Tennessee Knoxville's research capacity through an arrangement with Oak Ridge National Laboratory.  The governor said it could double the UTK research fund to $400 million in a few years.
All of this is nothing so much as the governor sticking his finger in the eyes of the University of Memphis Board of Visitors – whose members are some of our leading citizens and philanthropists – after taking their campaign contributions, promising help and then taking them for granted as his term draws to an end.
It's the political equivalent of the bait and switch.  Every year, these boosters were told that the governor was with them and that he valued University of Memphis and the strides that are being made here.  Every year, he told them that he was just about to do something to help them.
Now there are no more years.
Tough Talk
He managed cynically to get eight years of support from Memphians by holding out the hope that if we could be just a little more patient, he would get to us.  The frustration was palpable in statements by Memphis Board of Visitors members, who generally have honed the kind of diplomatic-speak that ruffles no feathers.
Charles Burkett, First Tennessee Bank president, complained about the emphasis that UT gets with the Memphis economy receives nothing approaching parity.  "We thought we had the governor's support," he said.  "We thought he was going to recognize the university as a research institute, that he was going to help with economic development toward us.  We've had these discussion with the state and with the governor and thought we were headed in the right direction and once we saw this bill, we didn't see much of that coming to fruition."
Larry Papason, former head of Memphis Light, Gas and Water and Smith Nephew Richards, said Governor Bredesen's treatment of University of Memphis was unfathomable considering his many discussion with local leaders as far back as his candidates.   "We've worked so hard for really the last 10 years," he said.
It was the private sector equivalent of calling out the government for bad faith.
Separate but Equal
We guess that by now we should be accustomed to the double standard that State of Tennessee has when it deals with Memphis and the rest of the state.  We don't know the source of this benign neglect, and we want to resist the obvious differences in race, city character and grittiness that preoccupy so many in the Capitol.  We also fight hard to convince ourselves that comments in Nashville that University of Memphis is a "black university" doesn't have anything to do with this separate but equal attitude toward our university.
We just expected better from the governor and think maybe it's time to send a message in the next election.  We can do it by voting Republican.  After all, they can't do much worse – unless they take up the cause of allowing students to carry guns in class.
Maybe all of us like-minded U of M supporters need to form a political action committee.  If anything is as predictable as Nashville's dismissive attitude toward Memphis, it is that only money talks in state politics.  A University of Memphis PAC is a good place to start.  It will command attention.  It will create the kind of influence that our fractured legislative delegation has never been able to wield.  One thing is clear: we have to do something to change the present dynamic.
A few months ago, we wrote about the myths of Memphis and one of them was about the university that gets so little respect – University of Memphis.  It "has methodically improved its faculty so that it now has people and programs that are competitive with most universities. For example, this year's Distinguished Faculty Award winner, Robyn Cox, is recognized as a leading international researcher in audiology and hearing aid research, and Provost Ralph Faudree is a world-class mathematician specializing in the field of combinatorics that is understood by only a few people on the globe. Director of the Graduate Program in City & Regional Planning, recently moved here from Cornell University, is the oft-quoted and widely respected Ken Reardon, an activist for neighborhood redevelopment.
Wanted: State Help
"Robert Neimeyer, professor in psychotherapy research, is the author of 21 books with emphasis on finding meaning in grief. Communications professor David Appleby is well-known for his nationally broadcast documentaries, which have won almost every award in his field. Meanwhile David Cox, Laura Harris, and Karen Weddle-West spoke at a Congressional hearing earlier this year, an invitation that is often used as the marker for a major university."
The governor's action denigrates the hard work and progress being made at University of Memphis, but what is most devastating about his tone deaf reading of the needs of Memphis is that we could use his help as our community embraces the "Talent Dividend," which calls for increasing the percentage of college graduates by 1%.  That 1% spawns $1 billion in economic activity.
In recent weeks, a coalition convened by Leadership Memphis joined hands to make this 1% happen (while simultaneously improving the entire pipeline for students).  It means that we need about 8,000 more graduates to reach our Talent Dividend.  Among the 51 largest metros, Memphis is #47 in percentage of college-educated residents, and whether we are successful in increasing this percentage will largely determine if we are successful in today's economy and whether we can break out of our cycle of low-wage, low-skill jobs.
Pledging their support to Talent Dividend were Memphis Mayor A C Wharton, University of Memphis President Shirley Raines, Memphis City Schools Superintendent Kriner Cash, Memphis City Schools Commissioners Tomeka Hart and Martavius Jones, BRIDGES President Jim Boyd, Memphis Chamber President John Moore, Rhodes College President William Troutt and others.
No Help
In other words, the defense of University of Memphis is more than school boosterism.  As the major university in our region with more graduates each year than the others combined, it is the vehicle to achieving the Talent Dividend.
Unfortunately, Governor Bredesen, instead of helping us with this civic priority, throws up another barrier to the ambitions by U of M President Shirley Raines and the Board of Visitors and to the needs of our city for the intellectual capital and the engaged academics that our university possesses.
Memphis is faced with some hard choices, most notably what it will take to compete in the global economy and what it will take to wean economic development from the cheap labor and cheap land mantra. If nothing is changed, one thing is certain: Memphis will be relegated to the also-rans of American cities, the cities that could never seem to get their acts together in the face of transformative change.
Government Bredesen had the opportunity to be a partner and a catalyst to getting that act together.  Sadly, he simply gave us more of the same.