In the wake of the Tom Lee Park grand opening – and grand never had more meaning than this – Fast Company said it well in "This $61 million riverfront park turns Memphis into a natural wonderland." 
The magazine wrote: "In Memphis, Tennessee, a remarkable new public park has just opened. Filling 30 acres along the edge of the Mississippi River with active, social, ecological, and architectural spaces, it could reframe the city's fading connection to the riverfront. It could also set a new standard for what waterfront parks can do."
In the wake of the grand opening and as local and national accolades piled up, a City Council candidate ramped up his reductive complaints about parking and obfuscated why an urbanism commitment is key to downtown's ultimate success. 
As a result of the reprised rants about parking, I'm reprising a blog post from July 26, 2021,
**
It's often hard to translate policy into practice.
That's especially true when it comes to making Memphis walkable rather than car-centric.
City planners are doing a lot but they can only do so much.  They need support of boards like the Land Use Control Board, EDGE, and Board of Equalization, and governing bodies like Memphis City Council.  Most of all, they need the support of the public, including candidates for City Council.

In particular, there is a reticence to follow recommendations in City of Memphis' study after study calling for cars to be last when it comes to city priorities – after pedestrians, bicycles, and public transit.  What's needed is an understanding of the successful city these reports would create. 
That's what makes the debate about parking spaces so misdirected – if not manufactured.  After all, capitalizing and strengthening the competitive advantage of a walkable downtown, including the long-awaited connections between the riverfront and downtown, should be at the top of the priority list who cares about downtown.  
How Many Times Does It Have To Be Said?
Memphis 3.0 describes downtown as the "walkable anchor for the City of Memphis."  A theme of the Mid-South Regional Greenprint is walkability.  The Build Downtown: The Downtown Master Plan calls for policy makers to "celebrate walkability" and calls for improved "pedestrian connections west to Tom Lee Park and the Riverwalk to provide better access to the waterfront." 
The City of Memphis Complete Streets Plan says: "70% of adults want more facilities for non-motorized travel.  Building sidewalks reduces pedestrian risk by 88%. 50% of all metro trips are shorter than three miles and many are under one mile; these are bikable and walkable distances.  People without cars make twice as many walking trips."
Meanwhile, Memphis Downtown Commission has touted the walkability of downtown which likely influenced developers to change the name of Union Row to The Walk, a $376 million project which hopefully will soon begin its first phase.  The Downtown Commission also features 13 walking tours by the inimitable Jimmy Ogle and points out that its Facebook page features walking tours by Robert Hamilton.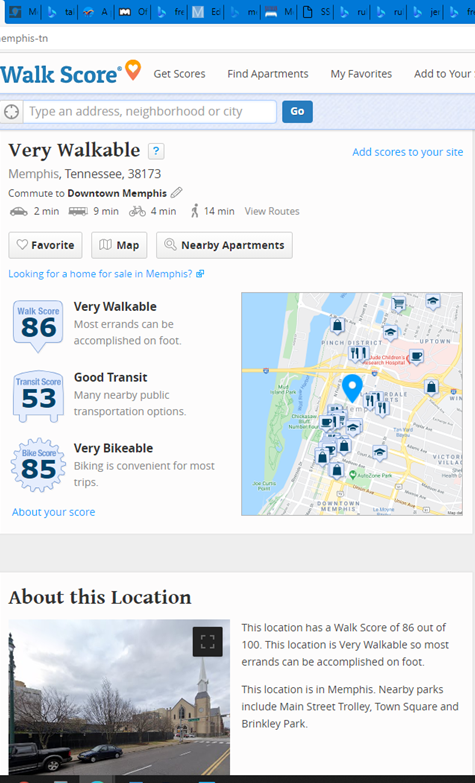 In addition, the Commission's Mobility, Transportation, and Walkability page on its website extols the virtues of the walkable downtown.  "Downtown Memphis is a vibrant, dense, and highly activated area with the highest walkability score in the region," the website says.  In support of a walkable downtown, the Commission  launched a new grant program to repair downtown sidewalks. 
A Distraction 
And yet, parking spaces on Riverside Drive are what has drawn the insatiable attention of some people, including a fabulist's run for City Council. 
It's a peculiar discussion, particular in that it's sometimes asserted to be an issue of equity.

There are plenty of serious equity issues in Memphis.  There are the tax freezes handed out to companies that pay only $15 a hour – while Memphis' income growth trails its peer cities badly and wr42% of Memphis African American workers don't earn $15. There's the need for more funding for the Housing Trust Fund.  There's the largesse for developers building apartments in Midtown and East Memphis and the need for a tax incentive program to support development in disinvested urban neighborhoods.  There's the need for a web of programs to reduce the child poverty rate, second highest in the U.S. (Memphis is #5 in overall poverty rate).  There's funding needed for MATA so more Memphis low-income families aren't forced to buy cars, which gobble up more than 25% of their incomes, according to the Center for Neighborhood Technology, and the data in BLDG Memphis' Walkability Toolkit make a case for how efficient public transit can be a lifeline to more disposable income.
In other words, there are plenty of pressing equity issues that need to be addressed, but some people would focus on parking spaces on Riverside Drive.  Strangely, the people who obsess over parking often push back on the idea of a two-lane Riverside Drive which would in turn open up space for more parking.  Then too there is the anomaly of some strident Memphis in May supporters complaining about Tom Lee Park parking when there is no parking at all on Riverside Drive for the festival.  They simply walk from wherever they park.
As for equity, the reimagined Tom Lee Park features the first ADA entrance and walkway from the bluffs to the riverfront.  It is also an entrance more formally welcoming families from the 38126 zip code.  As for parking, the ADA entrance is at Vance Avenue, which means the MLGW garage with its more than 1,000 parking spaces is about a block away.  The new Downtown Mobility Center with its 1,000 parking spaces is one block up Beale Street.  Overlooked in this discussion is the fact that the new entrance opens up about 20 blocks of unmetered street parking, and on Sunday, a big day for park visits, there is no charge for parking meters at all.

All in all, it's not as if downtown lacks for parking spaces:
14,052 – total number of downtown parking spaces
6,500 – number of parking spaces in garages
7,552 – number of on-street parking spaces (6,886 of them are available to the public)
74% – the percentage of public spaces available at the peak times of 11-1 p.m. weekdays
57% – the percentage of public spaces available at peak times of 3-7 p.m. weekends
More to the point, the reimagined Tom Lee Park is itself an exercise in equity.  First, it is one of the most spectacular waterfront parks in the U.S.  Second, the diversity of the people enjoying the riverfront parks reflect the diversity of Memphis itself, including many people from the high-poverty zip codes adjacent to downtown and where 90% of the people support Tom Lee Park's improvements, according to a scientific poll.  And third, and most importantly of all, the park is free, now and forever, and will always be a park.
Overcoming Amnesia and Lethargy
It's hard for some people to shake Memphis' old way of thinking – the notion that downtown should be like the suburbs or Jonesboro:  that we should be able to drive up to the front of our destination, park out front, and walk in. 
It requires a bout of amnesia to forget that we don't do this when we go to other cities.  When we visit the riverfront park in Cincinnati, we pay to park and walk to the riverfront.  It's the same thing in Louisville, where the best experience is to park a couple of blocks from the river in downtown and walk over.  And that's certainly the case in Chicago and New Orleans and it is now common for Nashville and Chattanooga's riverfront parks.
When we visit other cities, all of us routinely park our cars and start walking, and it's in seeing others doing the same thing that we judge a downtown to be vibrant, active, and appealing.    
Come to think of it, it's what we do when we are in Memphis.  We park and walk blocks to Grizzlies games, FedExForum concerts, and baseball and soccer games.  Now we have a world-class riverfront park to add to the list of amenities that get us out of our cars and on our feet.
City Council members who believe that paying to park at city meters is inequitable actually have an option: they have the power to develop an affordable parking program.  In fact, that's recommendation #5 in the Downtown Parking Plan.  Come to think of it, they could also create a free MATA pass program for low-income people traveling downtown to its assets and riverfront parks.   
Downtown's master plan calls for high-impact pedestrian improvements that "promote access to the riverfront" and recommends comprehensive tree planting "enhancing (the) comfort and attractiveness of walking to the riverfront." 
It describes the vision for downtown this way: "A network of walkable, tree-lined signature streets will connect a series of reimagined parks and public spaces, including the dramatically transformed Mississippi Riverfront.  Improved transit will connect all of Memphis to Downtown and make it a place where residents can live 'car-light' or 'carfree' if they wish.  These improvements will reinvigorate Downtown's role as the heart of the region – and make it a true common ground for Memphis' diverse community."
It's All About Walkability
One thing is undeniable: there is a dominant principle in planning and urban policy today that guides "cities that work." They are walkable.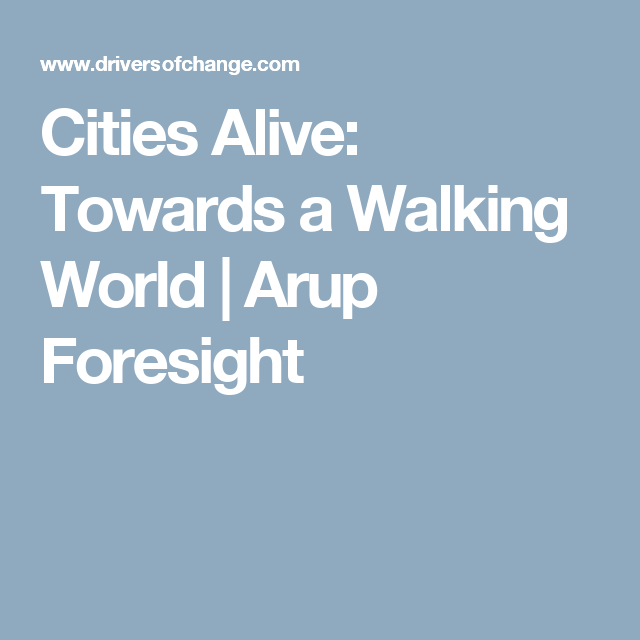 The global engineering firm, ARUP, wrote in a widely circulated article, Cities Alive: Towards A Walking World: "Mobility is intrinsic to the quality of life experienced in cities. But for the past century, the car has dominated how we plan and grow our urban areas. We must now seize the opportunity to place people back at the heart of our cities and drive a human-focused approach to the design of the built environment. With a growing desire to create more livable streets, walkability should be used as a catalyst for developing sustainable, healthy, prosperous, and attractive cities."
It's the reason that walkability is a prevailing theme in so many City of Memphis reports and recommendations; however, it won't be accomplished without every city official doing whatever they can to make the city described in these City Council-approved reports a reality.
Some of the best things about a walkable downtown are that it improves our county's troubling health outcomes, supports retail and restaurants, reduces CO2 emissions and improves air quality in support of the Memphis Area Climate Action Plan, and it benefits tourism.  In addition, walking's benefits cost city government very little when compared to cars.
As for Fast Company, it says there are "50 Reasons Why Everyone Should Want More Walkable Streets" – "from making you live longer to making cities more resilient."
The Closing Argument
At a Memphis City Council parks and environment committee meeting, Councilman Chase Carlisle summed all of this up especially well:
"We designed and elevated this park to increase park participation and connect the river to downtown.  One of the most important things when we talk about neighborhoods is to look at more than a block.  If we want to benefit people, if we want to benefit small businesses that are downtown.  We want people to park at the downtown Mobility Authority.  We want them to park at the MLGW garage.  We want them to walk by restaurants.  We want them to walk by retailers.  We want them to walk because because it's a healthy exercise. 
"We want to get outside of the mentality that we have to drive up to a storefront like it's a Wal-Mart parking lot, park in the first spot, and walk the shortest distance.  We want to enjoy our vibrant downtown and our once-in-a-lifetime riverfront…I would implore the Council to think in of it in a broader context as to what the park can do from an economic aspect for small businesses in the downtown area."
***
Join us at the Smart City Memphis Facebook page and on Instagram for daily articles, reports, and commentaries that are relevant to Memphis.