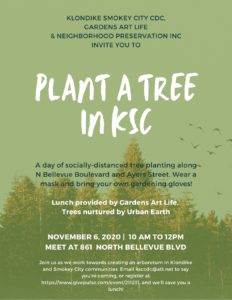 If you need a break from this week's stress, here's a chance to get back to nature and contribute .
Neighborhood Preservation Inc (NPI) is partnering with the Klondike neighborhood and others to plant trees Friday November 6th between 10 am and noon.  Twelve trees will be planeted on Bellevue Boulevard in Klondike and 12 trees on Ayers near Carnes school.
Reginald Randolph of Klondike and Justin Gillis of Speedway Terrace drilled holes with an auger Thursday afternoon, November 5th. 
Friday morning, November 6th at 9 a.m. Reginald and team will move the trees from the Klondike Smokey City headquarters at 943 Vollintine to the planting sites on Bellevue and Ayers.
This is the first event to implement the tree farm program that NPI's Steve Barlow and many partners have been working on for several months.  There are 19 volunteers from the Memphis Area Association of Realtors who will help us plant the trees.  Dr. Ezziza of Gardens Art Life is providing lunch for volunteers.
Earlier this year, Jared Boyd of the Daily Memphian wrote about NPI's program to plant native hardwood trees on vacant lots through Memphis.  It's an ambitious and important program by NPI working in partnership with leading neighborhood groups.