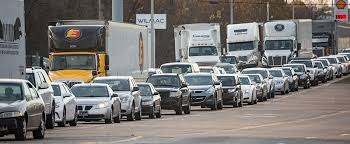 Years ago, we blogged about the deteriorating condition of Lamar Avenue, the negative impact it had on our economy, and the risks that Memphis was about to lose existing businesses on the "logistics corridor."  We were struck at the time by a "heat map" that showed where property taxes and sales taxes were created and the Lamar corridor was a "hot spot" spinning off major revenues for local government.
Because of that, the announcement that the U.S. Department of Transportation has awarded $71.1 million for the improvement of Lamar Avenue was especially welcome news.  After all, the street has 1,300 companies employing about 70,000 people, including 535 truck terminals, 19 freight intermodal facilities, four rail yards, and three air and truck terminals.
The original request was for $106 million but the Tennessee Department of Transportation said the $71.1 million will "help completely pay for the remaining phases of the three Lamar Avenue projects.  The grant is to be combined with funding from Governor Bill Haslam's 2017 IMPROVE Act, which raised gas and diesel taxes by six and 10 cents respectively for the state's highway fund.
Improvements include widening Lamar Avenue from four to six lanes from the state line until Getwell Road.  Three congested intersections will be upgraded to new interchanges.  Construction will begin as early as fall of this year, and the final section will be completed in fall, 2021.
Game Changer
Memphis Mayor Jim Strickland, in his weekly update Friday, wrote that it is a "game-changing improvement that will lead to more jobs and more economic growth in our city."  That is no doubt true.
It is the result of 12 years of hard work by federal, state, and local officials.  Mr. Strickland chalked it up to teamwork, saluting Memphis COO Doug McGowen, City Engineer Manny Belen, Shelby County Mayor Mark Luttrell, Shelby County Engineer Darren Sanders, Bartlett Mayor Keith McDonald, MPO administrator Pragati Srivastava, Tennessee Senators Lamar Alexander and Bob Corker, Congressmen Steve Cohen and David Kustoff, Tennessee Governor Bill Haslam, Tennessee Department Transportation Commissioner John Schroer, TDOT Deputy Commission Lyndsay Botts, TDOT Long Range Planning Director Tanisha Hall, TDOT Region 4 General Manager Steve Chipman, FedEx's Dave Bronczek and Richard Smith, BNSP Railway's Michael Garriga and Michael Smythers, Airport Authority president Scott Brockman, and Greater Memphis Chamber officials and volunteers Phil Trenary, Kelly Rayne, Amy Daniels, Dexter Muller, Julie Ellis, and John Dudas.
Senator Alexander said that only 26 grants were made by the federal government although 235 communities requested $12 billion.  Memphis received the only grant in Tennessee.
In particular, Mayor Strickland sent a shout-out to Mrs. Ellis, an attorney at Butler Snow law firm, who he said had "long led the charge on this."  We can attest to this personally.  As one of our dearest friends, she has been a relentless disciple for Lamar Avenue and anyone who knows her also knows about the street.
Because her passion for the street had triggered our blog post so many years ago, we checked in with her in the wake of the grant announcement.
So, Julie, what does the $71.1 million make happen?
It allows TDOT to accelerate three phases.  We started back in the Obama Administration, but we did not have the new gas tax bill (Governor Haslam's IMPROVE Act) so TDOT didn't have money to finish it on any schedule that made sense.  It could have taken 10 years instead of three.
We had commitments from Commissioner Schroer and Governor Haslam and they were committed to building the Lamar project.  Throughout Haslam's eight years, he has been with us, understanding the need for the improvements for the logistics corridor for Memphis.
Lamar Avenue has a grade of F from TOD.  The plan to rebuilt it is 15 years old.
How did it become a priority project?
It began with the aerotropolis transportation committee, where we realized that it was a critical link for the success of the airport area but it was now a marginalized logistics area.  We learned TDOT had been looking at it for many years, and we realized that Memphis hadn't pushed it as  a priority.  When we made it a priority, TODT joined hands with us and we began working as a team.
It was often said that (improving Lamar) was too hard.  But we have to tackle the most difficult things.  You can't just say it's too hard, just because it's the most difficult arterial improvement except for the I-55 approach to the bridge.
It gained momentum in the aerotropolis effort, a creation of Chamber, which brought in John Kasarda to look at the airport as a true economic development juggernaut.  In looking at all this, to sustain and grow GDP at airport, big elephant in the room was the condition of Lamar Avenue.
We learned it was on TDOT's list of projects, but nothing had been done.  TDOT said it was because we hadn't prioritized it.   It was critical lift for us.  We were looking at every aspect of what brought commerce into our airport.
So, then what?
The project advanced to MPO and the transportation policy committee of Chamber.  The Chamber understood that Lamar services every aspect of commerce moving in and out of our entire region.  It was not just critical to the airport but every investor who ships goods out of airport and on highway.  We saw this was critical investment and we were cognizant of what was happening because of the grade of F for the corridor.  Everyone at Chamber knew it was critical.  Every one had thought TDOT was in charge of Lamar, but it really was Memphis that needed to realize that it was important to us and tell TDOT it's a priority.
The Chamber had several meetings with critical issues related to the condition of Lamar – trucks filing insurance claims, employees unable to get to work because of the traffic gridlock, and lots of safety issues and accidents.
So the purpose of applying for this grant was to accelerate the project, and by accelerating the project, we will reduce costs.
Why does this matter?
The businesses in the logistics corridor have relationships with every part of our community.  They create jobs for the entire community.  We have been told often that in trying to attract high level management – engineers and people out of college – they would be taken to possible employers on Lamar and they would just shake their heads when driving back.  They would lose those talented individuals.
In other words, it's not just an output of businesses but input and attraction of talent.  If we look like we don't care as Memphians along a major logistics artery, it says so much about how we see ourselves.  It doesn't paint a good picture.
The Lamar improvements are absolutely about growth and redevelopment.  We know businesses are not increasing square footage in that area because of the Lamar Corridor.  The Chamber has documented that.
How did this get done?
It was the result of a team in our community.  State officials worked with us every inch of the way on this project.  It was City of Memphis, Chamber, and state TDOT.  We went to Washington over and over.  All of the elected officials from Mississippi and Arkansas were supportive, because our airport is their airport.  It was an amazing team.  The commitment of the team is absolutely irreplaceable.
**
Join us at the Smart City Memphis Facebook page for daily articles, reports, and commentaries relevant to Memphis.